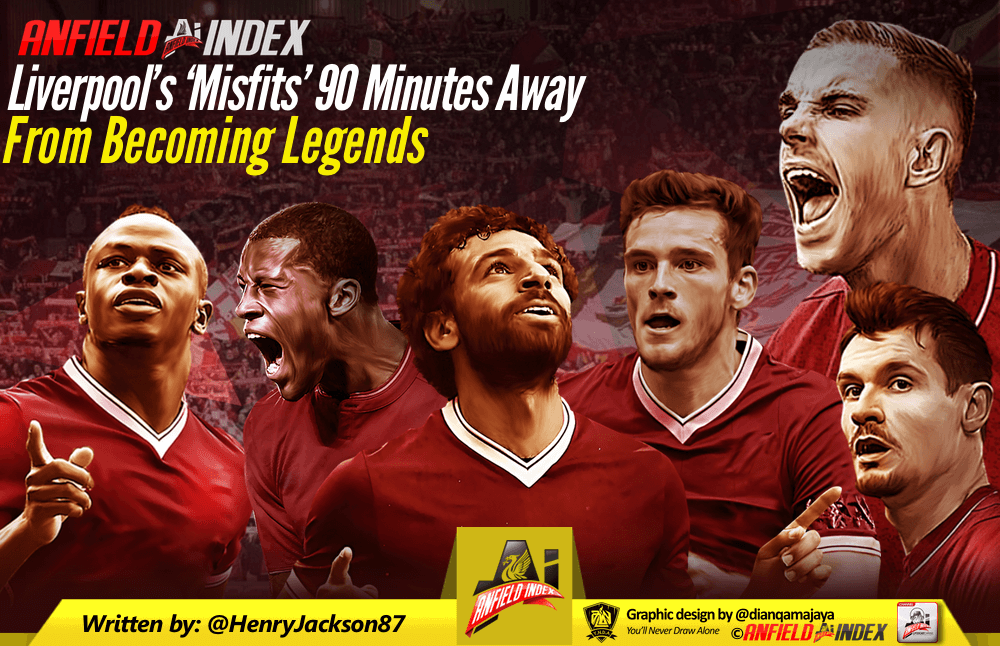 Liverpool's 'Misfits' 90 Minutes Away From Becoming Legends

Liverpool are in the Champions League final. Just keep thinking about that.
The Champions League final – the biggest match in club football – and Liverpool are in it, in their first season back in the competition since 2014/15.
It is a genuinely staggering achievement and one that Jurgen Klopp merits endless plaudits for masterminding. But how has this been possible, considering these Liverpool players are such a bunch of frauds? What kind of sorcery is going on here?
Because if you believe those 'expert' fans, both rivals and our own, sadly, these lads aren't much to write home about individually and should be nowhere near Kiev on May 26th.
Let's take the 11 Reds who took to the field against Roma on Wednesday night, and discuss how supposedly flawed they have been described as.
Loris Karius was a goalkeeper rivalling Brad Jones as the worst in Liverpool's history, with all faith in the German lost because of a below-par first year at Anfield. It was as if he was the only person to have suffered that fate in the club's history.
What do you know, though, he has settled into his role, become the deserved first-choice ahead of Simon Mignolet and now looks the real deal. There is still improving to do without a shadow of a doubt, but at 24, he has several years before he reaches his prime.
Then there are young full-backs Trent Alexander-Arnold and Andy Robertson – what a pair. Alexander-Arnold was apparently not up to the challenge of thriving in the Champions League knockout rounds, especially when the devilish Leroy Sane stood before him in the quarter-finals. Instead, he has thrived, even though a shaky spell in Wednesday's semi-final second leg did remind us that he is still a teenager. He can reach any height he wants to in the future and will learn such a huge amount from this breakthrough season.
Robertson came from relegated Hull City, so he was automatically "not good enough". He wasn't some lad from the Bundesliga who looks great on YouTube, so let's write him off. In the space of nine months, the 24-year-old has become the best left-back in the Premier League, and arguably Liverpool's most consistent performer behind Mo Salah and Roberto Firmino. His attitude, quality and influence have been faultless, and Klopp bringing him to Merseyside is a stroke of managerial brilliance.
Virgil van Dijk arrived in January as the most expensive defender in the history of football, allowing rival supporters to ridicule the £75million fee immediately and decry the Dutchman as "over-hyped". The impact he has made has been nothing short of astonishing, however, and without him there is no way Liverpool would have got this far. Frankly, the price tag looks a bargain now, and it is difficult to justify calling any centre-back in the world better than him right now.
Dejan Lovren gets a harder time of things from Liverpool fans than any other player, with some of the criticism justified and other elements of it completely uncalled for. He is not a "terrible" defender, as so many are keen to profess – he is one who can be excellent on his day, but also tragic on another. He must be improved upon, but can be perfectly useful. In both legs against Man City the Croatian was fantastic, and having been at such a low point after the 4-1 loss at Tottenham back in October, the strength of character shown to overcome what looked like the end for him at Liverpool has been admirable. He has been a firm fixture in a team that has reached the Champions League final, so he can't be that bad.
That takes us nicely to Liverpool's second-most maligned figure: Jordan Henderson.
No English player takes more flack than the Reds' skipper, but he is continuing to silence the doubters in wonderful fashion. We all know that there are limitations to Henderson as a footballer, and as a defensive midfielder, but he is also a good player who remains important to this Liverpool side. As captain, he is doing a superb job, but his influence on the pitch still doesn't receive the praise it deserves when he is playing at his current level.
Just imagine if he lifts the Champions League. Imagine the fume. I think I would have to stay out on the piss for the entire summer off the back of it.
Gini Wijnaldum has been mocked as a ghost-like presence who does nothing during matches, when in fact he is a highly intelligent midfielder who does endless unnoticed work. Yes, his penchant for going missing away from home has been frustrating at times, but the positives conclusively outweigh the negatives. What a time to score your first away goal for Liverpool, by the way.
James Milner, much like Henderson, is as unfashionable as modern footballers come, when you see people like Paul Pogba seemingly changing their haircuts during matches, creating bizarre handshakes and generally epitomising what present-day players are meant to represent. He has incorrectly been called "average" throughout a highly distinguished career, and his importance to Liverpool has come to the fore in this Champions League campaign. Milner has laid-on more assists (9) than any player ever in a Champions League season – just think about that for a second – and his outrageous energy levels have beggared belief at the age of 32. He is a great addition to the squad, both on and off the pitch, and his social media game has completely ripped apart any theory that he is a boring human being with no personality.
We have talked about Salah to death, but I will just say this: he was seen by some as a Chelsea reject who couldn't cut it in the Premier League. Let that sink in, as you watch his 43 goals for the Reds on a loop.
Sadio Mane was seen as an uninspiring, risky signing when he arrived from Southampton nearly two years ago, but he has since scored 32 goals in 70 appearances, and proven to be a key part of Europe's most devastating attacking unit.
Last but certainly not least is Roberto Firmino. What an unbelievable footballer. Let's not forget that some were bemoaning Liverpool lacking a 20-goal striker last summer, with the Brazilian clearly talented but not necessarily banging them in. Fast forward to May, and he has 27 goals to his name and grown into quite possibly the most effective, complete striker in Europe. He is Klopp's main man, without question, and we wouldn't swap him for anyone.
Let's not forget those lost in battles, such as Joe Gomez, Joel Matip, Emre Can, Adam Lallana and Alex Oxlade-Chamberlain. All four have been lambasted left, right and centre, but they all possess positive attributes and have not merited such flack along the way.
Oxlade-Chamberlain's form has been particularly pleasing after his £35million fee was roundly mocked by Arsenal fans.
Look at them squirming now, trying to pretend he hasn't been any good.
So there you have it: a bunch of footballers either not fit to wear the shirt, overpriced or too inexperienced, according to a fair chunk of football followers. A bunch of players who are now in the Champions League final, having played some of the best-attacking football in the history of the competition. Just 90 minutes, or potentially 120 minutes and more, separate these individuals from etching their name into the history of our wonderful club.
Make no bones about it, these much-criticised figures will instantly become legends if they get the better of Real Madrid later this month.
Do you think all of those players to have tasted glory in the five previous European Cup triumphs for Liverpool were universally-loved? Of course not.
But such an achievement means that all that has gone on before it gets rightly forgotten about in general. Just ask Djimi Traore.
Agendas are the very worst things that exist in football these days, with supporters stubbornly refusing to ever change their opinion on a player.
To see so many myths dispelled about this Liverpool squad in no time has almost been as joyous as the Champions League run itself.
New signings such as Van Dijk, Robertson, Salah and Oxlade-Chamberlain have made their critics eats their words, while much-mocked players like Lovren, Henderson and Milner have offered plenty this season.
Karius has made giant strides, Alexander-Arnold has been a revelation, Wijnaldum is a key cog in the wheel, and Mane and Firmino have only gone up a gear.
As individuals, they are all far better than many would make you believe, and as a collective, they are fantastic.
Just one more win, lads. Make yourselves immortal.