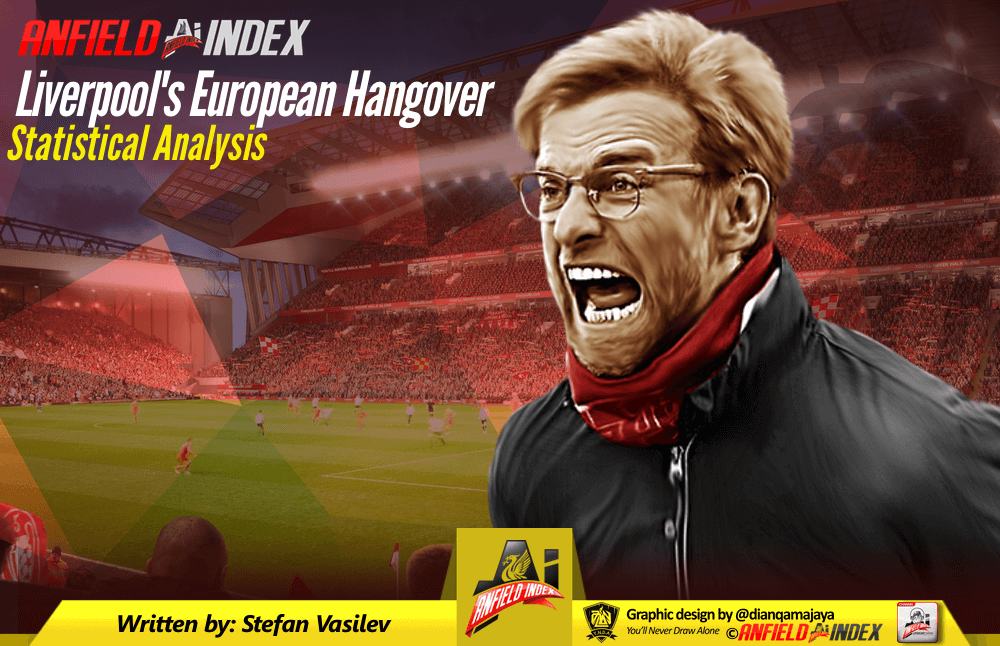 Liverpool's European Hangover - Statistical Analysis

The Reds are marching on Kiev! What a week, what an achievement! Jurgen Klopp managed to reach his second European final with Liverpool in his second European campaign. Hopefully this time he takes the team a step further than the last time around. The German is yet to lose at Anfield in Europe – a truly remarkable run. With all the excitement surrounding our success in the Champions League, it's easy to dismiss the lack of such domestically. Ahead of the massive clash with Chelsea on Sunday LFC is still in pole position to finish in the top four for a second straight season. And while qualifying for the Champions League is a good stepping stone for the club the Reds' goal should be to at least challenge for the league. Something we have failed to do under Klopp so far. This season has demonstrated that our squad lacks the depth to challenge the Manchester clubs domestically while sustaining a deep European run.
The top 6 post-European struggles
Very few teams can play at their highest level three times a week. Looking back at the last three season for the top 6 teams (only matches managed by Jurgen Klopp are including for LFC, every match since the start of 2015/2016 is including for the rest of the top 6) it is evident that teams struggle to get results after playing in Europe: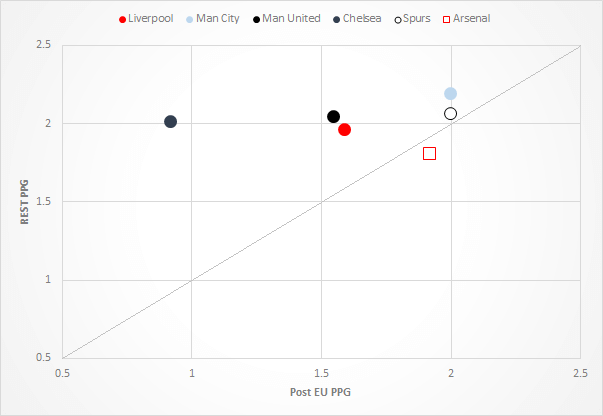 The further away a team is from the line the worse their post-European point return is compared to league games that didn't follow a European fixture in the same week. Chelsea are clearly terrible after a midweek Champions League game, winning less than a point per game. That is a relegation level point return. Arsenal, strangely, win more points on average after European fixtures compared to the rest of the season. That might be explained by Arsene Wenger not playing his best side in the Europa League group stage this season as well as Arsenal's lack of a deep CL run in the seasons before that. Spurs are the only team that is consistent no matter if they faced continental opposition midweek. Liverpool, Man City and Man United face a substantial drop off in points won after European games. The European hangover is seen across the board as teams struggle to score and defend as good as when they have had the same time for preparation as their Premier League opponents: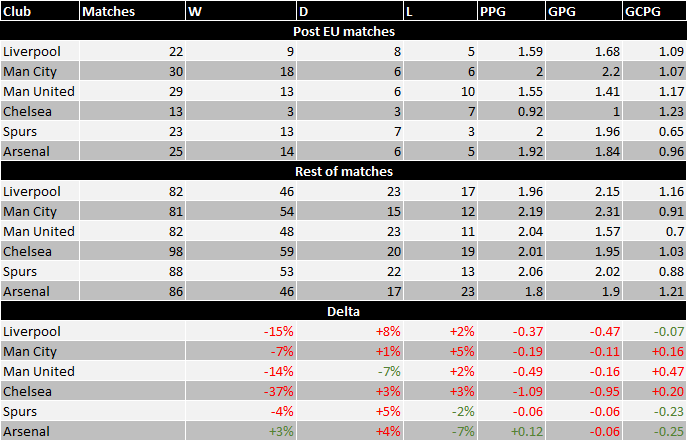 An interesting note is that the Reds missed out on Europe last season and after playing Chelsea on Sunday will have the exact same number of post-European games Spurs have had over the last three seasons. Chelsea's number again pop out immediately. They win 37% fewer games and score almost a goal less – an insane drop-off. There is an interesting comparison to be made here between Liverpool and Manchester United. LFC struggles to win games (-15% win rate) after playing in Europe midweek because we score 0.47 goals per game less, while Manchester United struggle to win games (-14% win rate) because they concede 0.47 goals more. This really illustrates the different approach the managers of the two clubs have.
Liverpool went all the way in Europe twice. Overall, five English teams managed to reach at least the semi-final of a UEFA tournament over the last three seasons. Every single one of those teams struggled (relative to their objectives) in the league: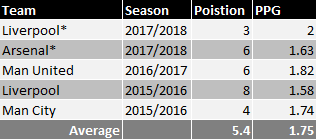 The Reds are actually doing pretty well at this point compared to all other teams that managed to make a deep European run. Of course, there are still two games to go and there is still a possibility of the picture looking a lot uglier for Liverpool. Three of the teams on this list heavily prioritized their Europe League run at the end of the season, so the numbers can be taken with a grain of salt.
Liverpool's Hangover
Liverpool's road to Kiev began all the way back in August with the playoff tie against Hoffenheim. Sunday will mark the 13th occasion, in which the Reds, play in the league after in European encounter in midweek. We have not done well:

When not playing in Europe LFC is on course for an 85 point season. The form in post-European games translates to 57 points in 38 games. There are several easily identifiable reasons (not excuses) for those numbers:
Squad depth: It has been a concern for quite some time now. Jurgen Klopp took a risk when he allowed Phillipe Coutinho move to Barcelona and didn't bring in a replacement. While finding a good not cup-tied replacement for our former Brilliant magician was probably too much to ask, not bringing anyone left us vulnerable to being a man too short in midfield/attack in the league. The Reds are scoring over a goal per game less in post-European league games. To put it mildly, our attack is terrible in such matches. A lot of the minutes played by Dominic Solanke, Danny Ings and Daniel Sturridge have come after one of our electric attacking trio (and Coutinho) was rested following a Champions League game. Studge played 73% of his minutes in such matches, Ings 61% and Dom 46%. There is a huge gap in quality between our starting attackers and the bench players. The xG is in the same ballpark in both cases but the actual goals lack in Post EU games. The number suggests a huge disparity in the quality of our finishing rather than lack of creativity.
The schedule: Five (including Chelsea on Sunday) of our ten matches against the top 6 will be after a European game. Both derby fixtures were after European games as well. Obviously in most cases the top 6 team we faced also had a midweek game. This is no excuse for the bad results that followed. However, the quality of the opposition on post-EU games has been an average way higher than in the other 24 matches. A factor that has surely contributed to the bad results.
Klopp's rotations: The German has been praised for managing the squad this season. And to be fair to him, for the first time in his tenure we didn't have a January injury crisis followed by a string a string of bad results. The rotations paired with the lack of depth in attack has contributed to our struggle. Klopp has made an average of 4 changes in the starting lineup between the midweek European game and the weekend Premier League one. The Reds couldn't beat Everton in the league this season, partly because the Blues didn't face our best-attacking lineup in any of the two fixtures and comfortably parked bus against a relatively tame LFC side (and of course because Dominic Clavert-Lewin is diving twat #stillbitter).
Liverpool still has three massive games. The number of matches and injuries are clearly taking a toll on the squad. We have seen several post 70th-minute meltdowns over the last month – conceding twice in the dying minutes of the games against West Brom, and both legs against Roma. Getting a result against Chelsea is crucial. The players need both some physical and mental rest after the last couple of months and a meaningless game against Brighton will provide that. The numbers are not encouraging and we have also struggled in all away games against top 6 opposition. I am still positive – the team has proven it can do the job in really important games.
Looking Ahead to Next Season
It is absolutely crucial to get attacking depth in the squad. If we consider Ox a central midfielder the squad lacks a senior winger on the bench. As much as I like Danny Ings and absolutely want him to bang in the Champions League winning goal, given what he's been through, he hasn't provided enough quality in his limited league minutes. The same goes Dominic Solanke and Daniel Sturridge. Divock Origi has also struggled in the Bundesliga. That makes four centre-forwards who had bad seasons. I believe Ings and Solanke can improve next season. Simply being fit for an extended period of time will improve Danny's confidence. Klopp has shown he can improve young players hopefully Dom is next in line. Naby Keita will add a body in midfield but with Emre Can likely leaving depth won't improve. Jordan Henderson and Adam Lallana are quite injury prone, Ox is coming back from an injury himself and James Milner is not getting any younger. It's crucial to add at least one quality player in the middle of the park. I tend to go against the narrative that our defence is bad. Both full-back positions seem like they are set for the next at least five years. Virgil van Dijk has been amazing. Most supporters have concerns about his partners, and while Lovren and Matip are in no way world-beaters I believe they are at the worst average defenders. Ragnar Klavan is a great fourth choice. Obviously improving the quality of the squad is always welcome so if we can upgrade our second starting centre-back we should do so but in terms of depth, the Reds' defence is in a better shape than midfield and attack.
*PPG – points per game, GPG – goals per game, GCPG – goals conceded per game