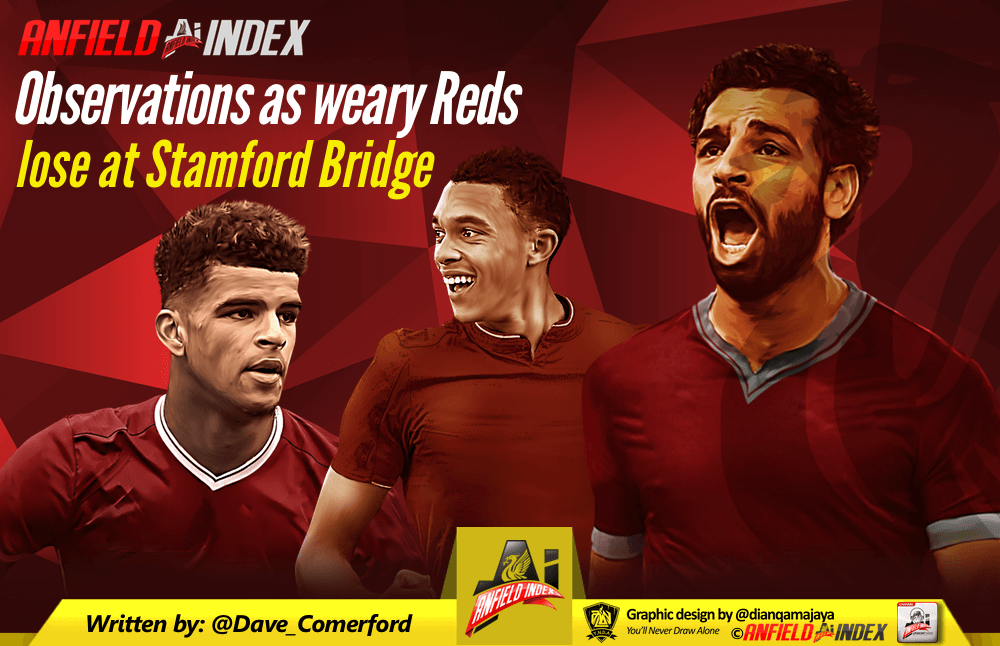 Observations as weary Reds lose at Stamford Bridge
Liverpool's extraordinary Champions League run has been truly unforgettable, but their recent Premier League exploits have been anything but.
After a turbulent Wednesday night at the Stadio Olimpico, the emotionally and physically fatigued Reds subjected their supporters to a different kind of torment over the course of a turgid 90 minutes against top-four rivals Chelsea.
Olivier Giroud's first-half header, the result of questionable defending, proved to be the decisive moment, with the visitors unable to penetrate a deep-lying, compact backline thereafter.

Automatic qualification for the Champions League seemed all but assured a few weeks ago, but now Liverpool must beat Brighton on the final day to be sure of their place.
Reds out of steam domestically
Jurgen Klopp has in his various press conferences repeatedly emphasised the importance of avoiding any complacency in the Premier League as the Reds dream of continental glory. He has not, therefore, significantly rotated his squad, but results have tailed off nonetheless.
Before the first leg against Roma, they threw away three points from a commanding position against West Brom, and before the second, they were held by now-relegated Stoke City on an excruciating afternoon at Anfield. Both games very much belied the huge gulf in class evident from a glance at the table.
The disappointing result at Stamford Bridge was the most predictable of all. Clearly, their triumph in a titanic battle with Roma was immensely draining, and at times the team looked to be running on empty. The fatigue showed itself in a lack of urgency, in uncharacteristic blunders from the usually ruthless front three and in some poor decision-making.
The Reds can be forgiven for this particular defeat but their league form, largely excellent since the New Year, has noticeably nosedived, with just one win from five mostly favourable fixtures.
Once again, they have failed to do things the so-called 'easy way', with the top four race going down to the wire for the second consecutive season. Their focus has wavered, and there is no longer any room for error.
Record eludes Salah
Mohamed Salah currently finds himself in the midst of what is – by his supreme standards – a goal drought, having failed to score for a whopping three games.
The Egyptian is still hunting for his 32nd league goal of the season, a feat which, if achieved, would make him the highest-scoring individual over a 38-game Premier League season.
His relentless goal-scoring appetite has been evident in recent games, but it was not sated on his former stomping grounds as he, like the rest of his teammates in truth, turned in a jaded display.
He was even booked for simulation after going to ground on the edge of the Chelsea box following a heavy touch; that would sum up his day.
A considerably fresher Salah will hope to delight the Anfield faithful for a final time this season and clinch the golden boot, the latest in a magnificent line of individual accolades, in style next Sunday.
Off day for Trent
Trent Alexander-Arnold's breakthrough season has been seriously impressive, so impressive in fact that many are beginning to judge him not just as a promising youngster, but as an established member of the first team.
Every so often, though, there is an off day which reminds us of the local lad's inexperience, and he will be frustrated with his performance at Stamford Bridge.
Starting out in what is actually his more natural position in the middle of the park, Trent's impact on the game was very much limited, and he would be switched to right-back in the second-half when Nathaniel Clyne was withdrawn.
It was crucial for Liverpool's full-backs to effectively support the attackers against Chelsea's regimented defence, but the 19-year-old's usually excellent crossing abilities deserted him as he ballooned a number of balls over the awaiting heads, out of play and sometimes into the stand.
It was a day to forget in a season to remember, and Liverpool will need the teenager at his absolute best when they face Real Madrid.
Solanke fails to make his mark
Dominic Solanke looked a real steal over the summer as he starred in Liverpool's friendlies, but it's fair to say he's failed to live up to the expectations those performances generated.
It's undeniably difficult for one player to change a game, especially when Chelsea had decided to shut up shop, but Solanke had the chances to earn a decisive point for Liverpool, twice heading over the top.
The former Chelsea man is still waiting for his senior goal in English football and whilst it is important to remain patient for the moment, sooner or later questions will start being asked of the man who, remember, effectively leapfrogged Divock Origi and Daniel Sturridge in the pecking order.
Perhaps he would benefit from the kind of loan move handed to the likes of Harry Wilson and Marko Grujic, whose confidence will no doubt have been significantly boosted by their success.
Stay positive
For a number of Liverpool fans, it was a case of 'right, time to go outside and enjoy the sunshine' when the final whistle blew – a curious yet comprehensible attitude.
Many made the point that supporters would very much have taken this scenario – needing to beat Brighton on the final day to clinch top four and, more importantly, awaiting a Champions League final – at the start of the season.
The Reds will be fully expected to overcome the Seagulls, who have little to play for after securing their top-flight status on Friday night. Provided they do that, this uninspiring, and slightly painful, domestic run will quickly be forgotten.