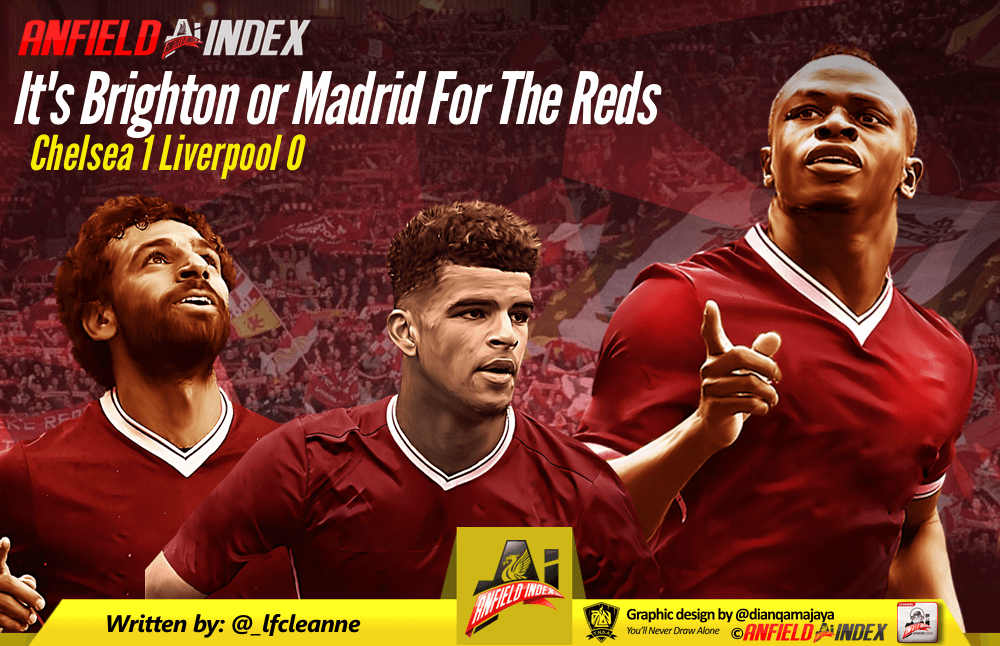 Chelsea 1-0 Liverpool: It's Brighton or Madrid For The Reds
One team were busy booking a date with destiny in the newly named 'Sadio Olimpico' on Wednesday night.
The other? Well, they enjoyed a week of preparation with all their eggs in domestic baskets after crashing out the competition earlier in the campaign.
Inhibited by ongoing injury issues within the squad, Jurgen Klopp had little choice but to stick with his usual eleven at Stamford Bridge with the exception for Nathaniel Clyne, who replaced Jordan Henderson as  Trent moved into the middle.
Unfortunately, the tired legs showed as Chelsea kept the door slightly ajar on a top-four finish with a drab 1-0 win in the summer sunshine.
There was a collective lethargy about Liverpool; the midfield were bereft of creativity, operating in a far too predictable manner despite holding the lion's share of possession. As for the attack, Roberto Firmino and Sadio Mané couldn't be faulted for their efforts, but the usually incisive final ball was lacking as Player of the Year, Mohamed Salah endured his second subdued performance on the bounce.
Making his 50th appearance for the club, the Egyptian's energy levels looked as shot as anyone's as he struggled to show his usual class on the ball. Loose touches here and there, Salah certainly looked like a player in need of a week off.
A team well known for their thrilling attacking moves, this was an extreme reversal, with only one real chance falling the way of the Reds. Substitute Dominic Solanke, under pressure from Rudiger, couldn't steer an injury-time header on target to steal a point that would've secured a top-four finish.
Sadio Mané was the most dangerous player for Liverpool, showcasing his pace to drive at the heart of Chelsea's defence. Forcing Thibaut Courtois into a save with a well-drilled half-volley, the winger was definitely the sharpest of those in red.
Chelsea's first-half goal was very much against the run of play; Olivier Giroud did what he does best, rising well to head home from Victor Moses' cross and bring the Champions League race down to the final day.
Conte's side are still to face Huddersfield and Newcastle while Spurs will also come up against Rafa Benitez's side. Yet, Liverpool will be relatively calm in the knowledge that a win against Brighton will see them secure 4th spot, albeit in far less comfortable style than it should've been.
10 points separated the two teams just a few weeks ago and while Champions League excursions have rightfully taken precedent, Liverpool are once again culpable of making things unnecessarily hard for themselves. 2-0 up against West Brom to then take only a point before a goalless draw against Stoke City mean Klopp's side have only won one game in their last six league games.
An obvious dip in domestic form, Klopp will be wary that any further slips could see Liverpool throw away an invaluable top-four place. Much like last season's game against Middlesbrough, next week will be a nervy one.
Still, if you'd asked Liverpool fans whether they'd have accepted needing a win in the last game of the season against Brighton and booking a place in Kiev against Real Madrid, they'd have bitten your hand off.
It's Brighton or Real Madrid – two hugely contrasting avenues for Jurgen's Reds.