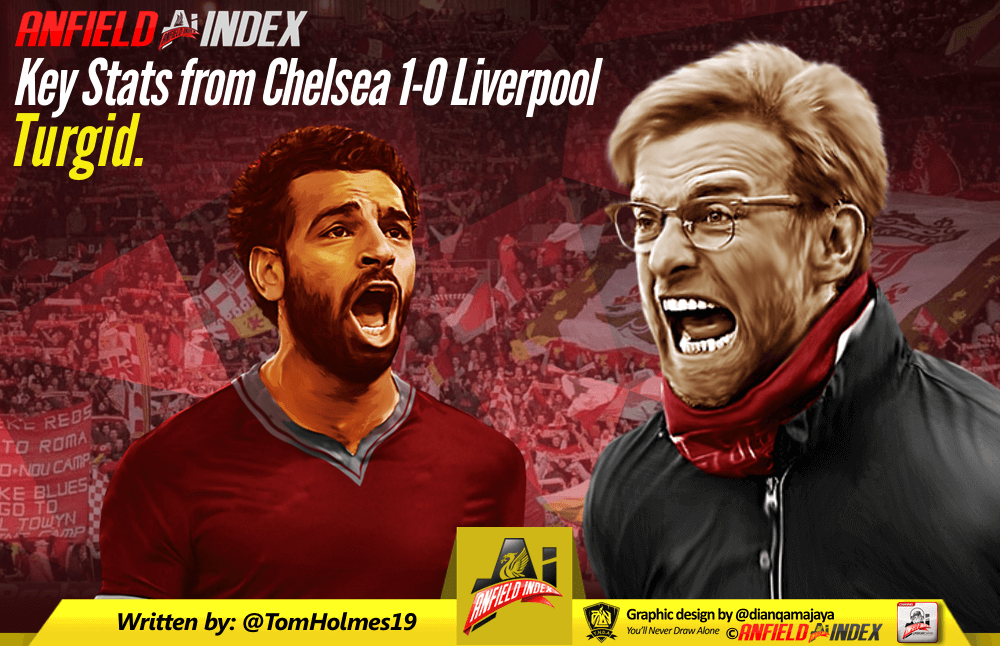 Turgid. Key Stats from Liverpool 0-1 Chelsea
Liverpool fell to a disappointing 1-0 defeat at Stamford Bridge, a result which keeps their top four hopes in the balance as they need to win their game on the final day against Brighton. But what were the key stats from a poor day at the office for the Reds?
Stuttering Attack Hits A Brick Wall 
Liverpool failed to score for the third time in five league games, as they turned in on paper their worst attacking display of the season. An xG of 0.43 is their lowest since the 1-0 defeat against Man City on 31st December 2016, with the Reds failing to create a single big chance for the first time this season and failing to even secure a single shot with at least a one in ten chance of going in. The average xG for their ten shots was 0.043, which is very poor.
The usually influential Mo Salah had just one shot, worth 0.04 xG, with Bobby Firmino's only effort was worth the same. Liverpool's best attacking outlet on the day was Sadio Mane, whose four shots were worth 0.23 xG, and his two key passes created 0.07 xA, with Firmino's 0.13 from two chances created our best on the day.

Top Six Woes Continue – Especially Away
Liverpool's form against the top six speaks for itself. From ten games, the Reds have just two wins, one of which was against a garbage Arsenal side at Anfield, and ten points – a measly one point per game. The Reds average 0.92 xG away from home and have scored five goals as a result – with 2.06 of that xG and three of those goals against Arsenal. The average is 0.64 from the other four games, with just two goals.
Defensively it's just as bad, with the Reds conceding fifteen goals from their five away games, and shipping 1.71 xG in the process, with games against Spurs and Man City away particularly atrocious. Compare this to last year, where Liverpool managed twice as many points, didn't lose a single game, and away from home, won twice and drew thrice, compared to one draw and four defeats this year.
Champions League Hangovers Continue
As the season has veered towards its conclusion, questions remain over this Liverpool squad's ability to balance domestic and European competition. The Reds have really started to lag over the last few weeks, with draws against Everton and Stoke directly after crunch UCL games, and now this Chelsea defeat.
Again, what's interesting is that the numbers differ depending on whether Liverpool are at home or away following a UCL game. Liverpool have won three and drawn three of their home games directly following a UCL match, whilst winning just one of seven away, drawing and losing three apiece. That's 2.0 points per game at home and 0.86 away, with just 18 points accumulated over the 13 games – 1.38 per game.
This is another small sample size though, and definitely interlinked with the above discussion of away form against the top six, with the defeats to Man United, Spurs and Chelsea all directly followed Champions League games.
That certainly muddies the waters in terms of drawing conclusions either way. Do Liverpool have a new and fresh problem of winning games against the top six, especially away? Or do they have a problem securing vital points away from home following difficult UCL fixtures?
Certainly, the logical answer here is that it's a bit of both. Liverpool horribly struggled to break down Chelsea, as we've seen above, and this isn't the first time that this has happened against a top six side this season. However, the fact that they looked knackered following a bruising midweek encounter certainly can't have helped. Would we have gotten away with such a performance against a team who aren't excellent at parking the bus? Possibly, after all the xG from last week's 0-0 with Stoke was 2.12, compared with 0.43 this weekend.
Either way, the Champions League is starting to take its toll, and Liverpool paid it this weekend.
The Eden Hazard Show
I hate highlighting opposition players in these sections, so I'll make it quick. Eight dribbles, three key passes, two shots, 0.12 xA, 0.16 xG, 0.57 xGChain and 0.51 xGBuild. We really didn't get close to Eden Hazard did we?