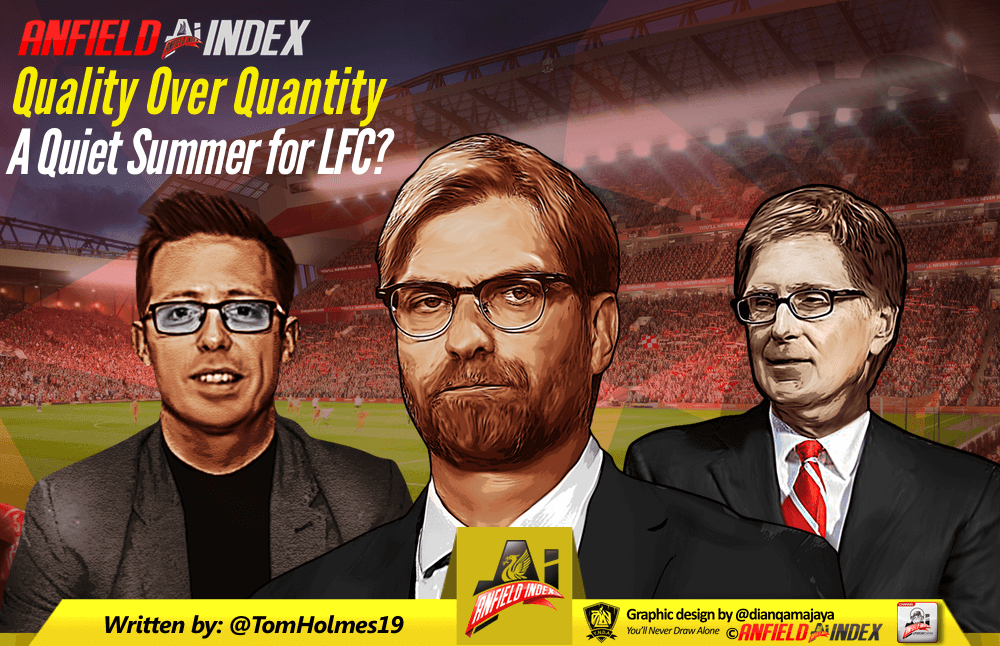 Quality Over Quantity - A Quiet Summer for LFC?

Liverpool are rapidly heading towards yet another pivotal summer for the club. With the type of manager than Jürgen Klopp is, and the way that Liverpool are developing – not to mention the current Premier League climate – every single transfer window feels absolutely vital.
But in many respects, the constant overhype of every window, the questions of how this side will develop and how big the overhaul will be are contrary to Klopp's own way of looking at things, and certainly this window, at least to me, feels far less nervous and far less critical than last year.
None of that is to say that this window isn't as important, which it clearly is, especially as Liverpool look to replace Phil Coutinho and probably Emre Can – two players who have been vital figures at the club throughout Klopp's reign. But rather, things feel more assured. There is a faith in Klopp to get the job done, and an understanding of how he is likely to operate that, again to me at least, feels as though there's nothing to worry about.
To get straight to the heart of the matter though, I'm not expecting a large squad overhaul in this window. That has never been Klopp's MO, and it would be an odd place to start. Throughout his tenure, Klopp has rarely made big changes in any one window, and once again, although we will see new players come in, it is unlikely we will see drastic changes to what is increasingly Klopp's squad.
As the end of the season approaches, the conversation is turning to who is coming in and who is going out. And the talk in terms of the current squad is more about who will be signing new contracts than who will be leaving the club in the summer, which is indicative of Klopp's style as a manager but also of Liverpool's current position in terms of their transition.
Of the crop of about twenty players at the core of the squad, there are none that we're expecting to see Klopp sell unless they ask to leave. Simon Mignolet seems to want to play first-team football, and everyone knows about the Emre Can situation, but it looks unlikely that many if any of the others will depart unless they feel that they're not being played enough – Alberto Moreno is the main name people think might want to move on. Overall, Liverpool have 18 players in the squad who have played at least 1000 minutes this season, I would expect at least 15 of them to still be around this time next year.
This seems like a fairly obvious point, but it's one that maybe goes underappreciated. It's usual for a big club to get rid of ageing players, or players that simply don't fit the squad, in order to replace them with better options. It's certainly usual for a manager to have players he doesn't get on with and wants to see moved on. Look at the current state of Man United as the prime example of this, despite Jose Mourinho having been there for two full seasons now.
And yet at Liverpool, even the ageing, bit-part players are seen as important to Klopp. There is talk of Milner, Klavan and Moreno, three players that I think a lot of Liverpool fans would be happy to see moved on and upgraded on, getting new contracts, whilst Klopp has already rewarded the likes of Lovren and Lallana with big money contracts.
This is something that Joe Norton has touched on, but Klopp's loyalty and trust in his players, coupled with his desire to keep a happy team, means that we're unlikely to see a big squad overhaul in the summer.
Likewise, I'd be surprised if we see significantly more players join too. Klopp has signed in fits and starts across his Liverpool tenure, and there are no signs that things will change massively this summer. Klopp, despite Liverpool's league position and the opinions of a lot of the fanbase, seems very happy with his squad.
None of this is to suggest that we won't see Liverpool upgrade their squad in the summer. Klopp isn't stupid, and will surely be aware of areas that Liverpool need to improve. However, with Naby Keita set to come in, and Virgil Van Dijk already joining in January, it will be interesting to see just how many more players come in.
The most obvious place to start is the midfield, where there probably will be some changes. With Emre Can leaving, we can probably expect one more to come in, but that will probably be about it. Klopp is a fan of the players at his disposal and we've already seen with Lallana and to an extent Sturridge, that he's happy to keep injury-prone players at the heart of his plans.
In terms of attack, there's no doubt that we're short, and again this goes back to replacing Coutinho, Sturridge and possibly Origi. Klopp will know he needs another attacker, whether that's a winger, an out and out striker, a combination of both or someone who can also play as an 8, a la Coutinho.
Defence is where I will be extremely curious. Klopp clearly rates Dejan Lovren; Joël Matip remains a defender who will get a lot of minutes; Klopp has already spoken about eventually playing Joe Gomez there and if the rumours are to be believed, Klavan might be offered a contract extension. So if we don't let anyone go in the heart of our defence, is there room for Klopp to bring in another first-choice centre-back? I'm not going to presume to know what Klopp is thinking in this department, and if I'm being honest I wouldn't be surprised either way. All I'm trying to point out is that selling one or two CBs and bringing in someone of Van Dijk's calibre, having just spent £75m on the defence, is not a foregone conclusion.
As I've noted above, Mignolet may decide he's not happy with his current situation, which would make our goalkeeping situation interesting, but whilst I'm sure most Liverpool fans would want Klopp to go out and spend lots of money on a world class goalkeeper (like Alisson), again I wouldn't be surprised if that didn't happen.
This article is one that involves a lot of speculation and prediction, something that I'm always loathe to do, especially where Klopp is involved, but there is a core point at the heart of it. Klopp has placed a lot of faith, trust and investment in the players that he has at his disposal, and whilst he has been at the club, very few players in and around the first team have been forced out that weren't already clearly superfluous to his plans. I'm not passing a judgement on Klopp's methodology here, as there are clear positives and negatives to the majority of his strategies and in general the positive tend to override the negative, even if the negative can be frustrating.
So in terms of squad overhaul this summer, I'm not really expecting a big one. This isn't a summer I'm anticipating Liverpool to make big changes. That's partly down to the fact that I feel this team is rapidly improving with the players that they have, partly down to who Klopp is as a person, and partly because I don't think there's much money to be made from our bit-part players. I am expecting potentially three plus Naby to come in, and maybe two or three out, but considering the overhauls we're expecting at Arsenal, Man United and even Tottenham, that's not much at all.
The question is whether or not Liverpool need to make significant changes to catch up with the teams above them and stay ahead of the teams below them, and I don't think that numerically significant changes are required. Three players of sufficient quality, and I have no doubt that the players Klopp brings in will be quality, should be enough.
To sum up, I'm anticipating that quality rather than quantity is what will be important this summer, and I'm still anticipating the majority of our squad to be playing a vital role next season, even if we don't want them to in some cases.
But of course, there's still a job to be done. And Champions League for next year isn't done yet, nor is our UCL campaign for this year. And both of those factors could be huge in deciding where and who Liverpool do their shopping with this summer. Two more games. Up the Reds.