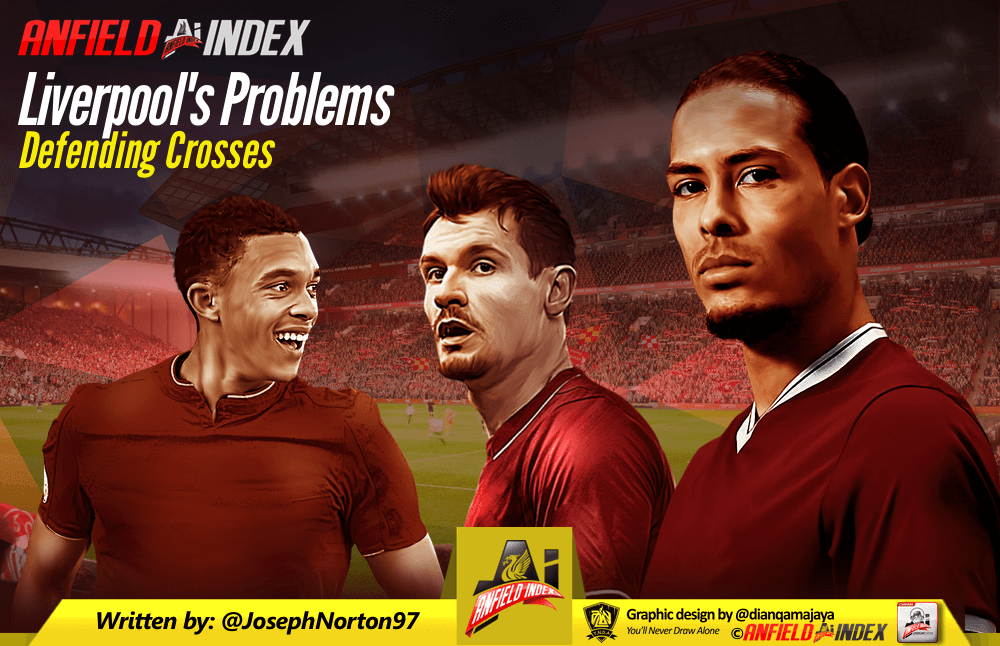 Liverpool's Problems Defending Crosses
Since Virgil van Dijk joined the club in January, there's no doubting that our defence has drastically improved. Whether this is totally down to the towering Dutchman or a combination of factors including the re-introduction of Loris Karius in goal and the ever improving performances of Andy Robertson at left-back is up for debate. However, what cannot be denied is that big Virg is a phenomenal defender with fantastic attributes that any defence would benefit from. Having said this, both himself and the Liverpool defence still has its weaknesses and one of the biggest is their inability to deal with crosses into the box on a consistent basis. This problem has cost us several goals both in the past and also this season as highlighted not just by the goals we conceded against Roma and Chelsea but the problems they caused us deploying this tactic throughout the match – particularly Roma. Let's take a look at why the Reds haven't quite perfected the art of defending crosses into the box.
Defenders failing to pick up opposition players
It sounds simple but it's amazing how many defences struggle with picking up opposition players in the box. One of the keys to defending crosses effectively is to ensure your body position is correct (open and not too square) which means you can see what's around you, allowing you to mirror and block off opposition attackers runs. Often defending crosses is not about winning the header or getting a clearance on the ball yourself but stopping the opposition from either reaching the ball or getting clean contact on it. If you can block-off their run then you halt their momentum making it difficult for them to attack the ball. As the image from the Chelsea game shows, Virgil Van Dijk isn't anywhere near aware enough of where Olivier Giroud is.
You can see that as Moses is about to cross the ball VVD is caught too square on and he isn't aware that Giroud has moved off Lovren and into the space behind him. Of course, Dejan should be communicating with him but it's a split second move and a defender as good as Van Dijk shouldn't need to be told where Giroud is. He should make sure he's opened his body up correctly so he can see where the Frenchman is to block-off his run. This would then allow Lovren to go tight to Fabregas, Clyne to pick up Alonso and Trent to do the same with Bakayoko. Instead, it's just a massive mess which results in an unmarked Giroud scoring a good header.
It's easy to pick faults in the defence when a goal is conceded but watching the games against both Chelsea and Roma we see that Van Dijk being caught too square-on and not picking up becomes a bit of a theme. In the image below which occurs just two minutes before Chelsea's goal, we can see that Bakayoko has moved into a position behind Van Dijk but the Dutchman doesn't have the correct body position to recognise this.
Against Roma, it's Trent who's guilty of being caught too square-on. Although he recognises he has to sprint back because El Shaarawy's running into the back post area, once he gets ahead of him he doesn't open his body up so he can pick him up and prevent the Italian from getting a run on him no matter where the ball goes. As Trent hasn't been able to block the Roma attacker's run, he peels off the back of him which is where the ball ends up allowing him to ease it back into play resulting in a James Milner own-goal.
You could also argue that Van Dijk's body position is too square also but as he is picking Džeko up this observation isn't particular relevant for this passage of play. Overall games against both Roma & Chelsea have further emphasised Liverpool defenders inability to mark opposition forwards from crosses. If this trend is to continue then we won't see an end to the Reds struggles with teams who cross the ball regularly anytime soon.
Defence staying too deep
Another key tactic when defending crosses is to make sure your defensive line doesn't drop too deep which prevents attackers from having attempts in close proximity to your goal which in theory decreases the risk of conceding. If you can maintain a fairly high line then you stop yourself from inviting pressure onto your defence. This means the opposition forwards have to think more about their movement such as the timing of their run to ensure they stay onside. This also asks questions of the person who is delivering the ball as they have to find a moving target rather than a stationary one close to your goal-line.
This comes in two the stages. The first is ensuring the starting position of your defence isn't too deep – generally, Liverpool are quite good at this. Because Klopp wants his defenders to be on the front foot and play a high line then the starting position of the Reds backline is usually pretty spot on – both in general play and when the ball goes into wide positions. What Liverpool do struggle with is pushing up when the ball travels back particularly in wide areas. As soon as a player in a wide area plays the ball backwards this should be an automatic trigger for the backline to push up which makes it difficult for the opposition attackers to one, stay on-side and two, time their runs effectively. This ultimately makes defending crosses much easier. Although this passage of play doesn't come from a wide area the principle is the same.
In the early stages against Roma, the Liverpool defence pushed up extremely well when the ball was played backwards. As you can see from the image below as the ball reaches Nainggolan his body position means he has to play the ball backwards. Our defenders recognise this and are quick to push up once the ball is played backwards.
We can see from the example above that the starting position of our defence is just ahead of the penalty area when Nainggolan receives the ball. He lays the ball off and the backline pushes up just under 10 yards which leaves Federico Fazio with a very difficult ball to play in-behind especially if Karius is sweeping up behind the defence. The Roma attackers must also time their runs perfectly to stay on-side. This is an example of the Liverpool defence being brave and defending in a positive manner which transfers the pressure onto the attacking team who have to execute the perfect pass to create an opportunity.
In contrast to this, Roma's third goal, although it doesn't come from a cross is a perfect example of the Liverpool defence not pushing up properly and the consequences it can have. As you can see from the image below Maxime Gonalons lays the ball back to left-back Alexander Kolarov in a wide position. Because the ball isn't played with any great speed and the ball travels a reasonable distance, the Liverpool defence has to push out of the box – whilst being aware of where the Roma attackers are – in order to take some pressure of themselves. This would've left Kolarov with a difficult decision of which area to cross the ball into as well as impacting on their forward's movement as they have to be more conscious of the timing of their runs.
Instead, what they decide to do is hold their line and in fact drop slightly deeper from where they started. This means they invite Roma to commit more men forward and attack the space they have dropped into as the image below shows.
This then results in our midfield dropping too deep to try and pick up the spare Roma forwards which leaves a massive space on the edge of our box. Kolarov recognises this and instead of crossing the ball, cuts inside and tee's up Radja Nainggolan who is in lots of space to drive a brilliant effort into the bottom corner of the net. Although there's no doubting the quality of the strike, when you come up against top players in competitions like these you cannot afford to make basic errors like our defence did on this occasion.
Of course, there are various factors that may have resulted in the defensive unit not pushing up properly. It was very late in the game which means the defence will have been very tired, therefore, it may have just been lazy on their part not to step up. Alternatively, it could've been a lack of concentration which probably came as a result of tiredness creeping in. Although we can recognise these factors it's no excuse for the defence to makes such a basic error as you have to make sure you defend with intensity and concentrate until the final whistle. It's also not the first time the Liverpool defence has failed to push up in this kind of scenario which is why we still struggle to defend crosses as effectively as we should.
Overall, it would be unfair to say we have a big problem with defending crosses because we really don't and we have made improvements  – aided by the acquisition of the aerially dominant Virgil Van Dijk. Having said this we do have individuals who make basic errors when defending crosses such as Van Dijk, Gomez and Trent failing to pick up their men. As well as collective mistakes as a defensive unit such as not pushing up when we need to. Although these traits haven't cost us that many goals this season if we fail to address these mistakes in the summer then it won't be too long until teams start to recognise our weakness at defending crosses. Let's hope Klopp and his players learn from our games against Roma & Chelsea otherwise it could cost us a Champions League Final. Real Madrid are one of the best teams in both boxes and I'm sure they've identified crossing as an area of defending we struggle with. With Ronaldo and Co on the horizon, we need to start defending crosses better.