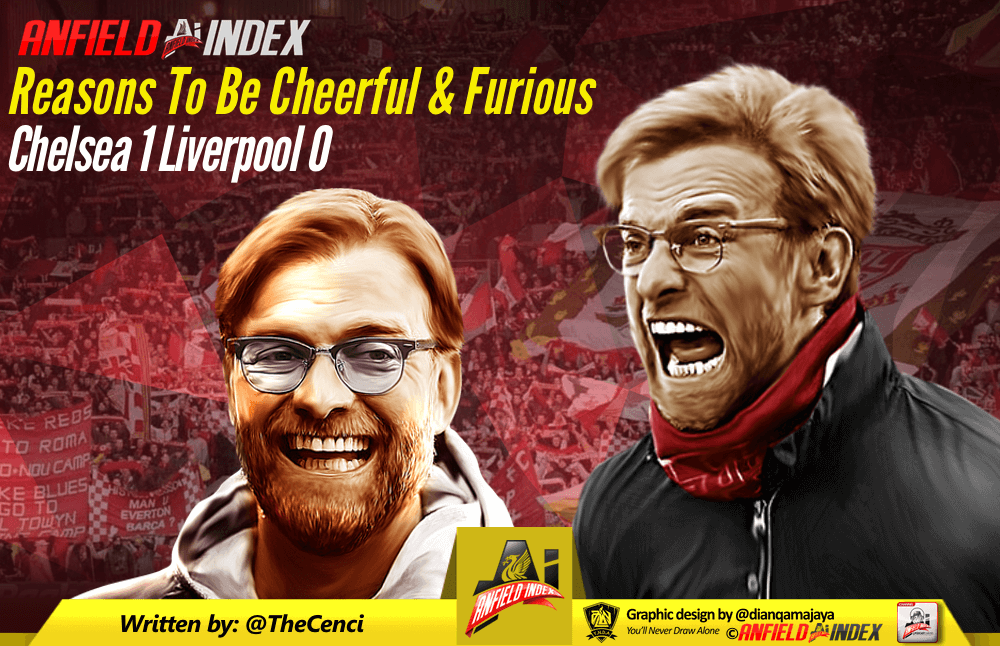 Reasons To Be Cheerful & Furious - Chelsea 1 Liverpool 0
Well, the Chelsea result left me furious.
Not with the team, not with the manager and not with the referee for once.
Broadly speaking, I was fine with what happened on the pitch. Chelsea deprived us of space and closed down all the main passing channels. They shut up shop once they gained the lead and we huffed and puffed without really getting involved. They're a decent side and we looked knackered so, y'know, no complaints.

No, it was the aftermath that irked.
The post-match narrative fell into two camps. The 'oh, for fuck's sake, we've only got two points in nine What the hell is going on?' with which I have some sympathy, and the 'Jesus Christ, we're in the European Cup final. Try smiling for once, you moaning tarts' with which I also have some sympathy.
Those two positions are not mutually exclusive. It's okay to be annoyed that we haven't finished off Chelsea's season despite being in control of the thing for ages and it's also fine to be thinking that none of this is relevant because we don't plan to be sober for the first few months of the new season thanks to the winning of a very large trophy.
And yet we snipe. We question support. We deride loyalty. We refuse to allow joy into our hearts and we are blamed for pointing out that it might have been a good idea to spend some money on a midfielder so we wouldn't have to risk Trent in the middle of the park.
For my part, I have the same feeling I had in April 2014 when Jordan Henderson was shown a red card in the 3-2 victory over Manchester City. We'd lost a good man and the squad was weakened. We had no one to come in for him. Equally, Iago Aspas – a pale imitation to the man pulling up trees in La Liga recently – had to play against Chelsea whereupon he took 'that' corner. We needed a bigger squad then and we need a bigger squad now.
We have just three fit midfielders.
Okay, maybe it's bad luck to have Oxlade-Chamberlain, Adam Lallana and Emre Can to all be injured at the same time, but, further up the pitch, it's poor planning to have such a drop off between the sublime Roberto Firmino and the young boy that is Dom Solanke. We're down to the bare bones here. More than European Cup finalists really should be.
And it seems avoidable. We have a ton of cash. There must be players who would quite like to play for this side, but here we are. Knackered.
Still, Brighton's victory over Man Utd means that the Seagulls can already pack their sunscreen and budgie smugglers and get off straight after our game on Sunday. Southport isn't far away either. They'd love it there.
Liverpool should stuff them and all this will be forgotten.
In any case, what the hell is qualifying for a competition when we have a very real chance of winning the bloody thing? Jesus, I'd take winning the thing over a draw or defeat next week. Who wouldn't? Liverpool and the European Cup form a glorious relationship and we're all elated that we're on speaking terms again.
So, I'm annoyed that we haven't put a top four place to bed and I'm annoyed that it's the game on the 26th which is the real concern (pun intended, sadly). I'm furious with myself. I'm also delighted, scared, apprehensive, bullish and shitting it. All at the same time.
But one thing that really does annoy me. Well, two.
The expression 'you need to give your head a wobble' and
That any criticism or frustration is seen as a lack of support.
I swear to God that if I read 'you should fuck off and support someone else' or 'you just don't understand this club' I will not be held responsible for my atrocities.
People just disagree, that's all. Others are just frustrated and are venting spleen. That too is all. I disagree with pretty much everyone including, as I've demonstrated here, with myself. This has nothing to do with loyalty and swearing an oath.
I think Liverpool could have been better prepared for what has already been an outstanding season. That frustrates me, but I'm also elated that we get to talk about YET ANOTHER EUROPEAN CUP FINAL.
No other club other than Fat Elvis XI get to do that and that's a wonderful thing.
The head wobble thing just drives me mad. What good does head wobbling do? Is it a new conduit to accepting perceived wisdom? I mean it's not the worst expression in the world (the unisex use of the word 'guys' will always hold that honour in my heart), but it's up there.
So, in closing let's just say this.
Liverpool were not good at Stamford Bridge.
We fell asleep at West Brom.
We were robbed at Stoke.
Chelsea played the most Italian game of football I've seen in years and it worked for them.
We can beat Brighton.
WE'RE IN THE EUROPEAN CUP FINAL.
That's quite a good thing.
Up the Reds.