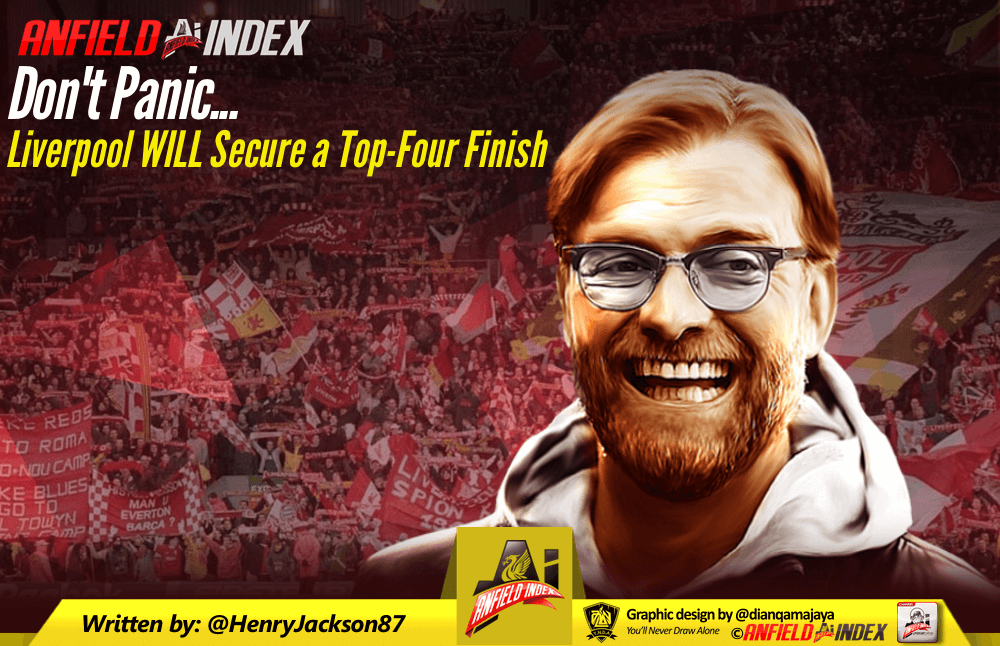 Don't Panic... Liverpool WILL Secure a Top-Four Finish
Wasn't that Chelsea defeat an appalling watch on every level?
After the meteoric high of reaching the Champions League final later this month, the entire game felt like a drag more than anything.
The sun was shining, with beer gardens, beaches and parks with our names all over them, but we had to watch the Reds battle their way through a lifeless performance.

This was all to be expected of course, with the effort levels in Rome last week taking their toll, and once Olivier Giroud opened the scoring, you felt Liverpool could play for approximately 46 hours and not score an equaliser.
After the match, some supporters went into their usual meltdown about what a disastrous result it was, and how Jurgen Klopp and his players had  "blown" Champions League qualification for next season.
The joyous scenes at Stadio Olimpico seemed long forgotten, and instead, they were left thinking about Liverpool not even being in the competition in 2018/19.
This negativity is unfounded, even though it has been frustrating to see the Reds chased down by Chelsea, with just one win in the last five Premier League outings.
There have been some irritatingly limp displays, of that there is no doubt, but it is still in Liverpool's hands.
As Brighton prepare to visit Anfield on Sunday afternoon, we should not be fearing not finishing in the top four, even though it may feel on a knife-edge.
This isn't an "I'm a better supporter than you because I'm more positive" rant – those people are terrible – but there have been so many mitigating circumstances surrounding the recent sloppy form that means we shouldn't be concerned this time around.
Firstly, the focus on the Champions League, which has been entirely understandable, and correct. Klopp deciding not to play at the highest intensity in the league, and not always picking his strongest starting lineup, has allowed Liverpool to reach the final.
It kept the players fresh enough for the two memorable clashes with both Man City and Roma, even though that meant risking dropped points against Everton, West Brom and Stoke City, which ended up coming to fruition.
There is no way Liverpool would have dipped like they have in the league if they didn't have more than one eye on Europe.
Injuries haven't helped either, with the absences of Joe Gomez, Joel Matip, Emre Can, Adam Lallana and Alex Oxlade-Chamberlain not allowing for heavy rotation and retaining a freshness within the squad.
Many individuals looked exhausted at Chelsea, and it was wholly understandable. In the heat of west London, they had very little left to give as the minutes ticked by.
So why is Brighton going to be any different for our tiring heroes? There are two key words in answer to that question: rest and intensity.
Liverpool have undergone a ridiculously gruelling schedule of late, playing nine times since the beginning of April – 31 days in total – when they dispatched of City at Anfield and resembled the fittest side in Europe.
That is an average of roughly a game every three and a half days, which with a small squad was always going to become problematic.
For only the second time in that period, however, Liverpool have the all-important luxury of having a whole week between fixtures, which will make a huge difference.
This is, perhaps, the key reason why we should feel most confident about Sunday's season-closer against the Seagulls.
Klopp's men should be primed for the occasion, having recharged their batteries, enjoyed a week on the training ground and prepared perfectly for a defining game in their campaign.
That freshness goes hand in hand with the intensity, which just hasn't been on show in the league for a while now.
The last time Liverpool genuinely looked at the races, and as though Klopp had told them to go at full tilt, was the 5-0 win over Watford on March 17th. Nearly two months.
With the Champions League final almost a fortnight after Sunday's match, though, the Reds will give this one everything they have. They need to, in fairness, or risk the embarrassment of falling out of the top four at the final hurdle.
Klopp will not allow that to happen, much like last season, when victory at home to Middlesbrough on the final day got the job done.
Brighton will turn up to Merseyside with nothing to play for, having impressively conquered their first year in the Premier League.
Granted, they have individuals who can hurt you on their day, most notably the tricky Anthony Knockaert, but summer holidays will be on their minds and being able to find top gear will be highly unlikely. They will have played in midweek, too, having visited Man City.
Given Liverpool's preference for doing things the hard way, and also enduring moments of total misery, it is completely understandable why there is an air of doom about Sunday's game.
That is mainly to do with what has happened in the past, though, and under Klopp, the Reds are generally a different animal these days.
There might be moments of nerves at Anfield on Sunday, and you definitely wouldn't count out Brighton scoring, but Liverpool will be too switched on, too fresh and too good for their opponents.
The wonderful Mo Salah and Roberto Firmino have looked particularly leggy, but having them primed for the occasion will make such a difference.
Sure, you can never count out a sending off, a freak own goal or an abysmal refereeing decision occurring, but don't spend your week getting pent-up.
Liverpool will be fine.