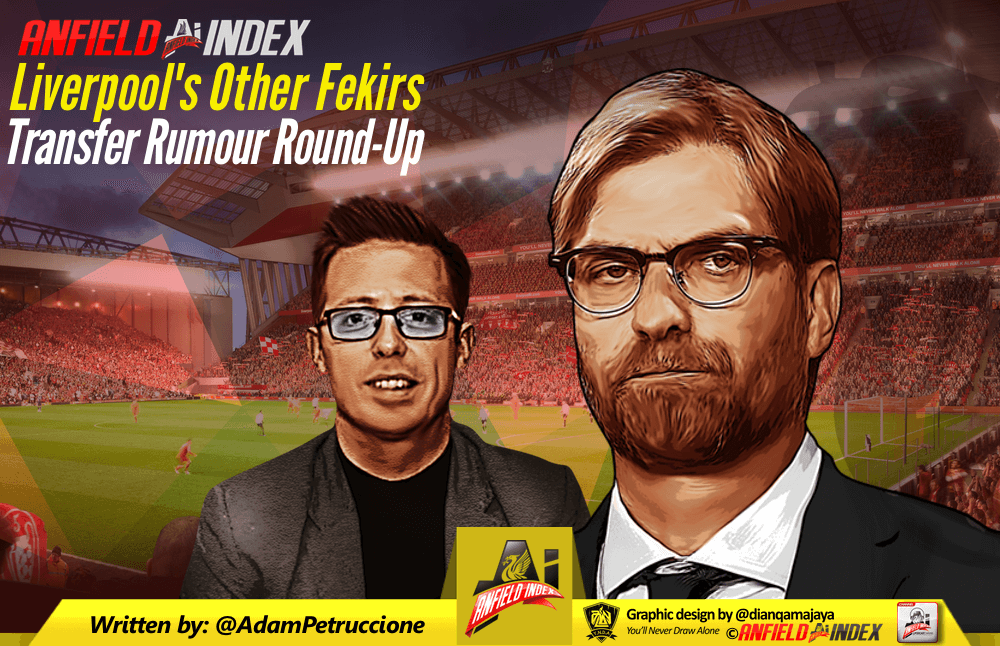 Liverpool's Other Fekirs | Transfer Rumour Round-Up
The sudden explosion of rumours surrounding the possible transfer of Lyon's Nabil Fekir has sucked all of the oxygen out of the Twittersphere. In the shadow of an impending mega-deal, stories of Ukrainian backup goalkeepers, heists from rival youth academies and pricy Portuguese B-teamers can barely buy a click. Poor ol' Sega Diallo can hardly get a retweet in the middle of the Fekir furor.
But, at this point, Fekir has already been photoshopped into a rollercoaster with Klopp, we've speculated about his position, his kit number, and we took a guess at what curry house he'll frequent on Merseyside. He's old news. Give it a couple of days and Don Balon will be running a story entitled, "Real Madrid ready €400m swoop for Liverpool's Fekir."
So, let's circle back to the other potential signings that are more than just ITK musings, but that you probably missed. There's one for every classic Liverpool transfer rumour narrative…

The Sentimental Signing: Bobby Duncan
Two weeks ago news broke in the Metro, Daily Mail, and Empire of the Kop that Liverpool had "all but secured" the signing of Manchester City youth product, Bobby Duncan. The 16-year-old has been with the Sky Blues for the last six years. Strangely, Duncan is cousin to Liverpool legend and outgoing U18 manager, Steven Gerrard. Why was the playmaker ever running around in anything but red? That part of the story is murky, but he will be cleared to sign with LFC when our ban on domestic youth signings expires in the summer.
This signing is more than pure nepotism. From an attacking midfield position, Duncan scored a hat-trick against Brazil's U17's in November of last year.
Duncan is currently training with Wigan while he waits to be able to make it official with Liverpool. The deal is rumoured to be in the £200,000 range, but could Stevie's move to Rangers turn his cousin's head at the last minute?
Liverpool to sign Steven Gerrards cousin Bobby Duncan from Man City (Daily Mail): The… https://t.co/DRY4Li3EQb

— LFCNews (@LFCNews) April 14, 2018
The Arsenal Embarrassment: Diogo Leite
Can Liverpool get through a summer without getting one over on the Gunners? If tales from the Iberian Peninsula are true then we could have a fresh source of Arsenal amusement.
Diogo Leite is a 19-year-old centre-back, currently plying his trade in Porto's B-team set-up. His release clause is eye-watering for an unknown player at €13 million. Arsenal agreed to meet that figure, but here's where the funny comes in … Liverpool have agreed to pay €13.1 million according to the Guardian. €13,000,001 perhaps? This signing could just be billionaire John Henry having a laugh at our rival's expense, but reports are that the kid actually does have real talent.
The plan would be for Leite to immediately go back out on loan to gain senior level experience.
Liverpool in pole position to sign Diogo Leite from Porto | By @JacobSteinberg https://t.co/kPzFBhB8Qs

— Guardian sport (@guardian_sport) May 9, 2018
The One Named Wonder: Rodrygo
"The Next Neymar?" Yes, please. Continuing with the youthful theme, Rodrygo is a 17-year-old forward for Brazilian powerhouse, Santos. Word out of South America is that he is even more highly regarded than the previous 'next Neymar,' Vinícius Júnior.
The Daily Mail put his release clause at £45 million. A healthy amount for a kid who has never played a minute in Europe, but all of the usual suspects are already hovering, waiting for Rodrygo to turn 18 in January of 2019 when he will become eligible to sign abroad.
Talent wise, he does have an impressive start to his resume at Santos. He scored his first goal just after his 17th birthday, a month earlier than Neymar back in his Santos days. SportWitness reported back in the spring of 2017 that Liverpool tried to close a deal for the Brazilian before our European rivals had a chance to swoop in. The €5 million offer was smartly rejected by Santos and now we're left to fight it out with the likes of Barcelona and Manchester United for his signature.
The player's father (also his agent) visited Barcelona just last week per Spanish newspaper, SPORT, so Liverpool will have to step up the pace to keep him away from the Camp Nou.
From Brazil: Explanation of just how exciting Rodrygo is (including videos), and how Liverpool efforts go back some way.

https://t.co/whBdAR9jW2 #lfc #fcblive pic.twitter.com/G84v5fSZjP

— Sport Witness (@Sport_Witness) April 30, 2018
The Iron Curtain Keeper: Andriy Lunin
The Mirror's James Nursey has led the way with talk of a signing from the east. Andriy Lunin is a 19-year-old 'keeper calling attention with his performances for Ukrainian club, Zorya Luhansk. Simon Mignolet, Danny Ward and even the likes of Kamil Grabara and Shamal George won't be thrilled to read of the possible addition to even more goalkeeping talent to Liverpool's stable, but in truth, they're all quite a bit below Loris Karius at the moment.
Mignolet may seek greener pastures in the summer while Ward, Grabara and George could use the sort of senior-level experience that Andriy Lunin enjoyed this season. He has made 30 appearances for Zorya, and vitally was between the sticks in all six of their Europa League matches. Back in March, the Express reported that a deal was already done with Inter Milan, but according to Nursey, Watford and Real Sociedad are our main competition at this point.
Conveniently, Liverpool are going to be in Ukraine in a couple of weeks. Maybe they could just get the deal done while they're in town.
Reported here that Liverpool are likely to sign highly-rated 19 y/o goalkeeper Andriy Lunin this summer.https://t.co/QyhsLcOm14

— Jack Sear (@JackSear) May 7, 2018
The Revenge Signing: Amadou Diawara
Go ahead Emre. Sign with Juve. Think you're irreplaceable? I could have another you in a minute. Matter fact he'll be here in a minute.
In all of the fabulous forecasts of our best eleven with Fekir in the fold, one spot in the team seems particularly underwhelming. In the middle of the park, and in our hearts, we've had an Emre sized hole since March and it looks like he'll be making it official, probably the day before the Champions League final if things go the way they usually do when Liverpool are concerned.
The good news is that there are an absolute load of possible replacements out there and the DM flavour of the moment is Amadou Diawara. The Napoli holding mid has been linked to a move to Merseyside for over a year now, but a cryptic tweet from transfer fortuneteller, Sega Diallo, has cranked up the volume on those rumours.
https://twitter.com/segadiallo/status/994299914870980614
Calciomercato is heading the way with claims a Can replacement already being lined up. Diawara would be a fantastic get, fits the FSG profile at 20 years of age, and is likely motivated as he has been second choice this season in Italy. He would also be playing alongside his countryman, Naby Keita, in a midfield that will have Liverpool supporters wiping the drool from their chins. With free spirits, Keita and Fekir roaming around the pitch the Reds would seemingly be the perfect landing spot for a 'six' with Diawara's ability to hold his ground and control the middle. The calm to the storm that Keita and Fekir will be creating.
Future Liverpool Star? Amadou Diawara pic.twitter.com/tRAXxu6ZYH

— GASHI¹⁸ (@ItsEronG) May 9, 2018