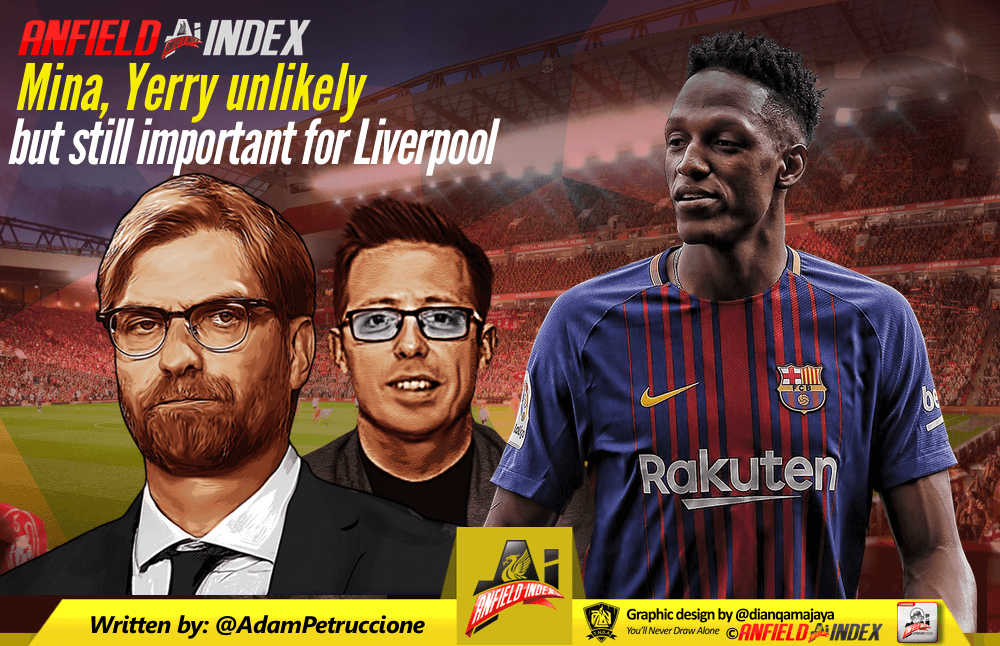 Mina, Yerry unlikely but still important for Liverpool
Liverpool supporters woke up to some surprising claims from Ignacio Miguelez on Latin American football show, ChiriLatino, breaking "exclusive news" that the Reds had made an agreement with Barcelona to take young centre-back Yerry Mina on loan for next season.
https://twitter.com/chirilatino/status/994734988280188928
Well, that's that then. Right?

Many outlets seemed to take this as fact, or close to it, but this one should be looked at with some serious side-eye based on some of the details surrounding Mina's particular circumstance. The Colombian only arrived at Barcelona in January along with some lad named Phil. For Barcelona to immediately turn around and loan him out to a club outside of Spain would be highly irregular.
During the discussion on ChiriLatino, Miguelez stated that when Mina was brought in it was against the wishes of both Valverde the manager and club president, Bartomeu. Instead, Miguelez said he was pushed on them through agents and the club ultimately regretted the move.
Mina's scant 2 starts and 2 sub appearances lend credence to that, but wouldn't Barca either loan him to a club in Spain so that he would potentially be of more use to them down the road or sell him outright if they're convinced already that he's not a fit? And from a Liverpool perspective, would the club really pursue a player who Barcelona soured on after only 4 months? Liverpool's acquisitions in the Klopp era have all been fantastic personalities so they would have to be sure Mina was being shipped out for some other reason.
Sure enough, later in the day, Spanish publication Sport put a little more meat on the bones of the story, stating that Liverpool were among a host of interested parties, but that half of La Liga was after him and that Barcelona preferred to send him to a Spanish club. Makes sense.
What would Liverpool be getting in Yerry Mina, if for some reason this strange deal did go through? He's a 6'5", an aerially dominant centre-back who is supremely athletic for his size. Think of a rich man's Davinson Sanchez. He's a good fit for Barcelona as a front foot centre-back, similar to those Klopp has been collecting that can step into midfield when called upon and powerful in set-pieces on both ends. An interesting character, his parents literally named him after Jerry the mouse from 'Tom & Jerry.' He was considered one of the best centre-backs in South America when Barca bought him from Palmeiras and at 23 he isn't raw, but needs consistent minutes in Europe to adapt.
The deal for Mina is highly unlikely to go through. Full stop. Liverpool aren't going to pay a big enough loan fee to scare away Sevilla, Valencia and others for a one year stop gap. Barcelona does need to shuffle some players around as they have Arthur coming in and they're out of foreign player slots, but look for Mina to land at a club much closer to Catalonia. What's more meaningful though is that our interest in Yerry Mina does show our cards to some extent in terms of what we're looking for and that's exciting with the transfer window just days away from opening.
First, the idea that Michael Edwards and Jurgen Klopp are on the lookout for a new centre-back to pair with Virgil van Dijk is a welcome relief to Liverpool supporters in and of itself. Dejan Lovren and Joel Matip have certainly had their moments, but their injuries are more consistent than their performances and that doesn't fit with Liverpool's ambitions. Could Gomez be the answer at some point? If we've looked into a deal for Mina, then the answer has to be, not this year.
More specifically, the idea that Liverpool want a player of Mina's profile for the right side is intriguing. Who are some other super-athletic, high-press suitable centre-backs that Liverpool might turn their attention to next?
Nordi Mukiele – Montpellier (20)
Linked to Manchester City before they closed the LaPorte deal, Mukiele is one of the standout defenders in France even though he's only 20. He plays on the right, is incredibly agile at 6'1"; able to play fullback when asked to in Montpellier's system. Even at a young age, he already has 50 appearances under his belt and would be an interesting compliment for Van Dijk for years to come.
Thilo Kehrer – Schalke (21)
Why bother actually paying for a player from a club that seems to give them away for free lately? Kehrer might be worth getting the jump on. Again, this is a centre-back with versatility to play just about anywhere, but he's most comfortable on the right of the defense. He can bring the ball out with ease, but he's not great in the air, which may be a disqualifying factor looking at Klopp's CB signings thus far.
Benjamin Pavard – VfB Stuttgart (22)
Quickly becoming one of the Bundesliga's standout defenders, Pavard even has an outside shot at making the French World Cup side this summer. A rangy performer, he has played all over the right side for Stuttgart, but his qualities would suit Liverpool's backline best. The Reds have been linked with Pavard and warned off already by their manager, but surely they couldn't hold him back from a move to Merseyside.
Dayot Upamecano – RB Leipzig (19)
Upamecano would be the most difficult get of the bunch. Liverpool experienced the difficulties of dealing with Leipzig first hand with the Naby Keita deal. Eventually, it was pushed through, but only after quite a bit of time and expense. Upamecano is a beast though, seemingly as wide as he is tall, and durable, making 40 appearances this season. He's also a deft passer and dribbles the ball out quite a bit for an absolute hulk of a man.