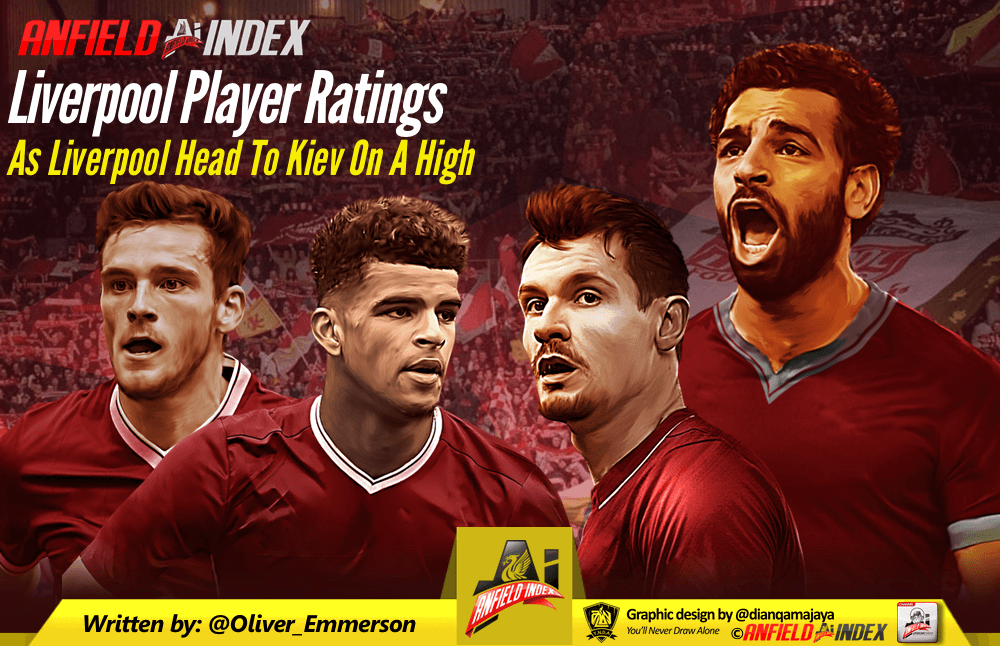 Player Ratings As Liverpool Head To Kiev On A High
That'll do nicely for a final day. Liverpool 4-0 Brighton, Salah breaking records whilst Solanke and Robertson finally bag. There was even space for Dejan Lovren to lamp one into the corner with his head.
Chelsea's loss combined with Spurs' win meant that it didn't matter anyway regarding league position, but it was the perfect way to send the Reds to Kiev.
Andy Andy Andy Robertson!
Loris Karius (6): Made about one save in the first half but came out to intercept well. Looks very nice in that new kit, I hope he's lining up in it on the first day of next season to be honest.

Trent Alexander-Arnold (7): When I propose I might get him to whip the ring in for me to softly head into my girlfriend's finger. Mad that he's two months younger than me heading into a Champions League final whilst I'm thinking about Van Dijk penis innuendoes. (see below)
Virgil van Dijk (7): The size of his balls. Metaphorical balls, of course. As in, any other lad goes down clucking their back and they want the ball out of play before you can say 'where's my captain's armband', not Virgil. Insisted TAA drove up the pitch as he got back up and got a resounding shout of praise from Kloppo for doing it.
Dejan Lovren (7): Feel like he's scored a few for Liverpool. There's the Dortmund one, Chelsea one, Swansea in the League Cup. Someone told me he scored one in December too, strangely I can't remember it? Weird that it was his first league goal, but wasn't a bad one was it? Thumping header.
Andy Robertson (7): Runs like a reliable car. I wouldn't know about them, the Mini blew up the other month. Feel like Andy Robertson isn't worrying about his car, more about how where he's hanging his winners' medal in two weeks time. Lovely finish for a long overdue goal.
Midfield unfazed
Jordan Henderson (6): Some lovely passes. Lovely hair. He doesn't only get to model the new kit because he's captain.
Gini Wijnaldum (6): Coming alive a bit. Wants to get forward all the time, but so composed when he drops deep and turns into a party of opposing shirts. Feel like he's best used when he knows exactly what his role is, out of a midfield three where anyone can do anything.
Record-breaking Mo
Mohamed Salah (8): Not his best day yet he's still picked up a goal and an assist, plus should have had a penalty. Has opposition defenders on strings for fun. Great finish, record-breaker.
Sadio Mané (7): Has the weirdest first half ever, seemed to be everywhere doing everything yet somehow manages to come away with neither a goal or an assist. Does it all with a smile though, which is appreciated.
Roberto Firmino (7): Came off and threw a towel over his sweat-filled head but still signalled his appreciation to the Kop when they sung his name. Slightly deeper role than usual but the same level of quality denied a goal by Ryan's stunning performance in the Brighton net.
Dominic Solanke (7): Chuffed for the lad. Couldn't do much right early on but nearly set Firmino up with a nice back-heel and went from there. Did for his goal what all out of form strikers should do, hit is as hard as you can between the white posts.