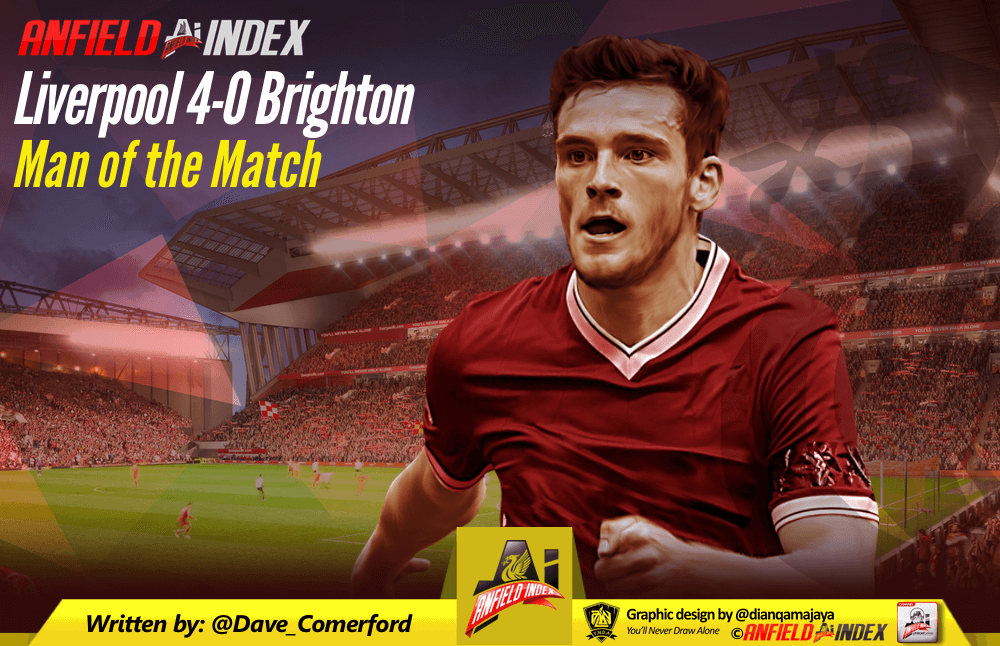 Liverpool 4-0 Brighton: Man of the Match
It was close to a perfect afternoon for Champions League final-bound Liverpool on Sunday as they emphatically sealed a top-four spot with a 4-0 demolition of Brighton.
A string of sloppy domestic displays meant the top-four race was still just about alive at kick-off, but the defensively-assured and offensively-magnificent Reds soon put their qualification beyond any doubt.
Whilst Mohamed Salah put the gloss on a record-breaking campaign by securing the golden boot and Dominic Solanke responded to mounting criticism with an emphatic maiden goal, it was their fellow summer signing, the crazed warrior Andrew Robertson, who was the star of this particular show.

Every game, without fail, the Scot's work-rate is phenomenal as he thwarts opposition attacks with firm, applause-drawing challenges and then charges down the flanks to support left-winger Sadio Mane. Sunday was no different, but this time his tirelessness translated into attacking returns.
At his own end, Robertson, like the rest of his defenders, was characteristically solid. Openings were few and far between for the visitors as Liverpool controlled the contest. As his side's fate became increasingly secure (particularly with Chelsea struggling at Newcastle), he was given licence to feature even more prominently in an attacking sense.
And sure enough, in the 40th minute, Robertson's sublime whipped cross was impressively powered home by Dejan Lovren to give the Reds a cushion.
His delivery from the flanks has been an asset all season long, as evidenced by his impressive tally of five Premier League assists. Only three defenders in the top six have set up more goals – Cesar Azpilicueta, Ben Davies and Kyle Walker – and each have played considerably more minutes than Robertson, who was second fiddle to Alberto Moreno in the early part of the season. That's now a distant memory, of course.
But that wasn't all. Few players in Liverpool's recent history can claim to be more popular amongst the fanbase than our very own Braveheart, so each and every home supporter inside Anfield (maybe even a few Brighton fans who just couldn't help but love him) was willing him to find the net.
They got their wish five minutes from time when the 24-year-old, having wandered into the penalty area, latched onto Danny Ings' deflected cross and lashed home. It represented the delightfully sweet icing on a mouth-watering cake.
All in all, the final day of the Premier League season belonged to the three aforementioned summer acquisitions. Salah will, justifiably of course, grab the headlines, having written himself into the history books and clinched his fourteen millionth accolade of a scarcely believable season. At £40million, he was the bargain of the century.
But let's remember that Liverpool paid only £8million for Robertson. In fact, you could even say they traded him for Kevin Stewart, a peripheral midfielder with little potential.
And if you accept that Robertson has solved a long-term left-back problem and has been one of the best full-backs in Europe this season (a bold claim, perhaps, but one that is difficult to disprove), then surely the meagre fee could represent a bargain almost on the Salah level.
Ultimately, the loveable left-back's exploits this season have highlighted the need to trust Klopp's shrewd instincts. Many were underwhelmed, to say the least, following the acquisition of a relegated defender, but he's been just as good as those who would have cost five times more.
It was all too fitting that Robertson drew the last passionate roar in the season's final game at Anfield.
And now we can look forward to what will surely be a frenzied Champions League final display from our latest adopted Scouser. The Real Madrid forwards really ought to fear for their reputation.