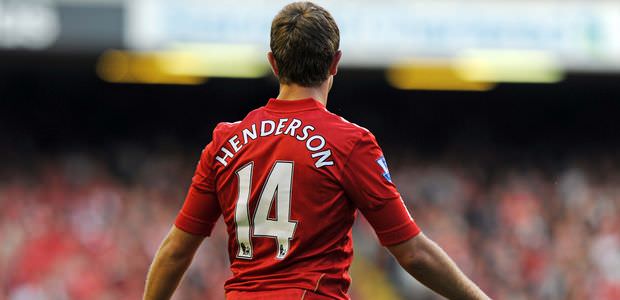 Jordan Henderson | A Central Point
Jordan Henderson is something of a conundrum. To the vocal few he is a waste of money, to many more he is a player of great potential. To nobody, save perhaps the Liverpool coaching staff, he is a right winger who should be keeping Dirk Kuyt out of the side.
When Liverpool paid £16M to Sunderland for Henderson's services, there was much trumpeting of the stat that only four players had created more chances than him during the 2010-11 season. Having fashioned 82 scoring opportunities in 37 games, there seemed sense behind Liverpool's pursuit of him as a man who would be the future of their central midfield and could carve out the chances for Luis Suárez and Andy Carroll.

In six games for the Reds, however, he has created only seven chances. A drop from 2.22 chances created per game last season to 1.17 for Liverpool. It is a startling drop, and one that cannot surely be fully explained away as a young man who needs to settle into his new surroundings. One is driven to ask just where has it gone awry for the England U-21 star.
The problem seemed to come to a head against Wolves at the weekend. Henderson completed 22 out of 25 passes, giving him a season-high pass completion rate of 91%, but throughout he had been anonymous. Stationed out on the right flank he had offered little to Liverpool's attack and nothing to their defence in the 72 minutes that he was on the field; a very expensive passenger.
It wasn't the first time that a game had passed Henderson by, either. On his debut against Sunderland, he was similarly positioned on the right flank and had another solid but entirely unspectacular game, completing 28 out of 32 passes but not coming close to creating a chance. This seems at distinct odds with his former manager, Steve Bruce's assessment midway through last season. "Arguably his best position could be in a wider area because he's got a fantastic delivery," Bruce said after Henderson had scored the only goal in a victory over West Ham. If that is his best position, then Liverpool are yet to see it.
In both the game against Sunderland and against Wolves, at least 75% of Henderson's passes came in the right hand quarter of the pitch. Marooned on the flank, he made little noticeable contribution to either game, and certainly looked anything but a player who would thrive in such a position.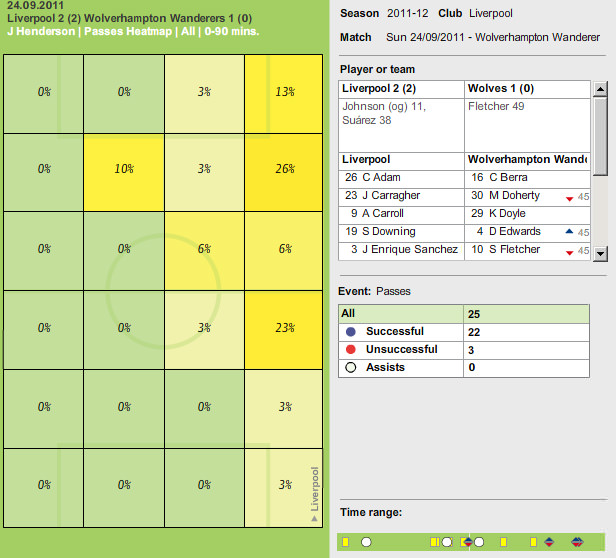 So if the right wing isn't the place for Henderson, where is? To be honest, he's already provided the answer. In the games against Arsenal, Bolton and Stoke he played more on the right side of a central three. In these three games, he created seven chances at a rate of 2.33 per game; something far more akin to what Liverpool fans were expecting.
There was an unfair label placed on Henderson when news of his Liverpool move broke; the new Steven Gerrard. In truth he has never been that sort of bombastic, all-action central midfielder. Indeed he is closer in style to the departed Raul Meireles, and against Arsenal and Bolton in particular, he showed that he can comfortably fill the vacancy left by the Portuguese.
While Henderson did still spend a fair amount of his time on the right in these games, only an average of 47% of his passes were made in the right hand quarter of the pitch. The freedom to move into the centre of the pitch and be more involved in the game had a measurably positive impact on his game.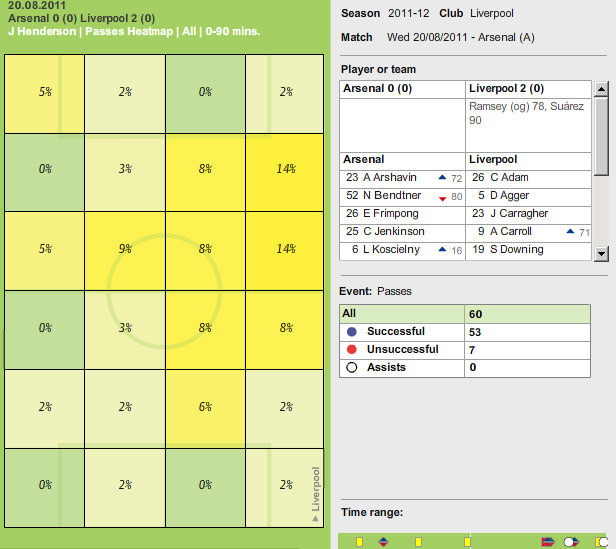 There is what could undoubtedly be seen as a downside to Henderson in the centre of the pitch. When stationed out on the right he had a pass completion rate of 89% and that falls to 75% in games where he has played as part of a central three. The more congested central areas of the pitch are not as often not as conducive to high pass completion rates, though everyone would want to see this number improve were Henderson to be given a regular place there.
One thing that Jordan must improve no matter where he is to play for Liverpool is what are termed by Opta 'possession duels', the 50-50s that occur in every game. Henderson has had 23 possession duels in his short Liverpool career, losing 19 of them – the only four he did win all came against Bolton. It seems that not only can he replace Meireles in a creative manner, but also in his lack of ability to win the ball.
The simple conclusion that these statistics, and the evidence before our eyes every weekend, lead us to is that Jordan Henderson is not a right winger. There is no doubt that he can deliver a good ball from the right – one need only look at the cross he fired over for Dirk Kuyt against Bolton to see that – but it is inescapable that he fails to get involved in the game and is of little use.
The choice seems to be between a player who will complete 90% of his passes on the right, but will offer no constructive threat for the team, or one who plays in a more central position and will give the ball away a little more but will also provide a significant creative problem for the opposition to deal with.
I have no doubt that Jordan Henderson can be a superb player and a big part of Liverpool's future, but I fear that while he remains stranded out on the right, he will remain a conundrum that will divide the Liverpool support.