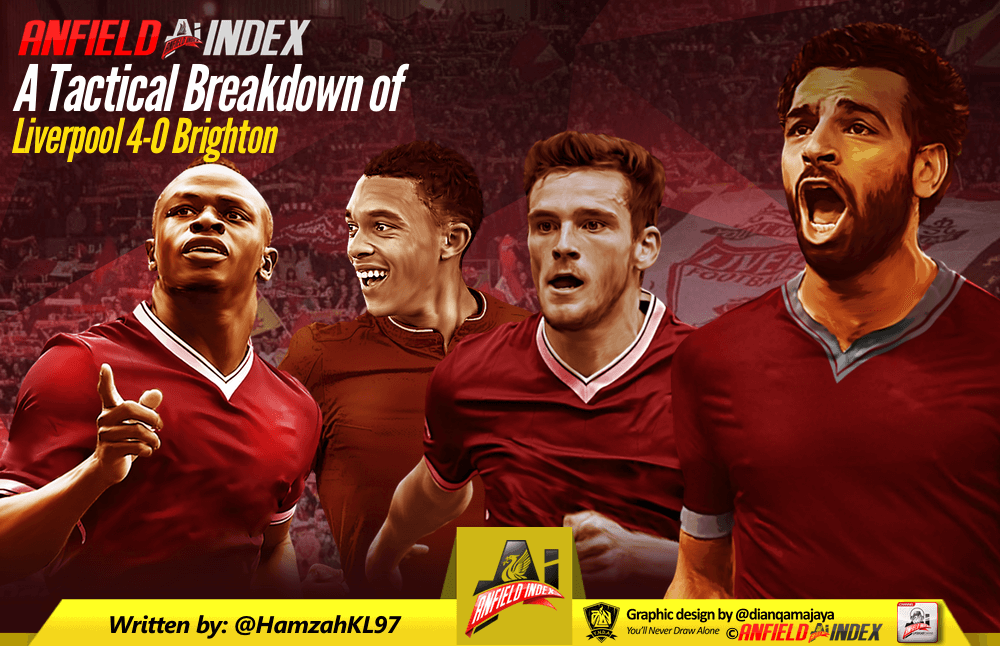 Liverpool 4-0 Brighton: A Tactical Breakdown
What a season. Liverpool have qualified for their second consecutive Champions League campaign by securing automatic qualification for the first time since 2008/09. They have also have finished with 75 points, one less than last season's tally (76), which is also the record for fourth spot. Mo Salah has broken the all-time Premier League record for goals scored with his 32nd of the season whilst his teammates in the front three – Mané and Firmino – have notched themselves 10 and 15 goals respectively. By mere Champions League qualification alone, this season would have been deemed a success bearing in mind the demands of the league, the strengths of Liverpool's rivals and the challenges of managing a Champions League campaign. Nonetheless, Klopp's Liverpool have battled their way to a Champions League final, with the potential to be forever immortalised within Liverpool legend. Liverpool have done all this, and yet at the same time have produced some of the most breathtaking offensive displays seen in years. This fixture against Brighton was no different in approach or outcome, even if the tactics were tweaked somewhat.
With James (pronounced Ham-ez) Milner unable to play, Klopp rolled back the years and plucked out everyone's favourite formation from 2013: the 4-2-3-1. This particular formation was synonymous with Klopp and Mourinho at Dortmund and Madrid, but also with Arsene Wenger's Arsenal in recent years, but has largely been neglected by top sides over the past few seasons, as they've generally employed 4-3-3 variants. The 4-2-3-1 usually requires a strong central forward, in the classic "number 9" mould, someone such as Robert Lewandowski, for example, but also wingers/AMs that break beyond the number 9 too, and in Salah and Mané, and young Dominic Solanke, Liverpool had the personnel to match up with the typical 4-2-3-1 blueprint. What this also provided was a chance for us to take a look at Roberto Firmino as a number 10, a position in which Liverpool fans have long wanted to see him feature in. Whilst we'll have to wait to hear from AI's Under Pressure team on Firmino's and Solanke's pressing performances within this system, we can take a broader look at how they functioned during this exciting fixture.
Liverpool utterly dominated the game, and arguably should have had two penalties early on, but what we saw in the first-half was sustained pressure around the box by Liverpool, as they tried to break through the Brighton low-block.

As is usually the case when playing against a side employing a low block, Liverpool had to use the wide areas in order to stretch the Brighton defence, and open up pockets between defenders to run into and exploit. Liverpool were particularly patient in doing so, shifting the ball from flank to flank, albeit sometimes lacking the speed in the switch pass to really catch Brighton out. Van Dijk and Lovren found themselves with plenty of time on the ball and used it on a number of occasions (7 and 8 respectively) to play long-passes into the full-backs. The ability of Liverpool to utilise this range of passing from the centre-backs cannot be underestimated, as it allows Liverpool to sustain their pressure – or rather, more accurately, allow Liverpool to spring an attack – on opposition defences, even when the ball is near the half-way line. We saw one such instance when Brighton moved up, and Van Dijk played a low long-pass into Trent Alexander-Arnold in the first half.
As the graphics below show, Alexander-Arnold and Robertson had a huge impact upon the game with 102 and 89 "touches" for each of them respectively:
Andy Robertson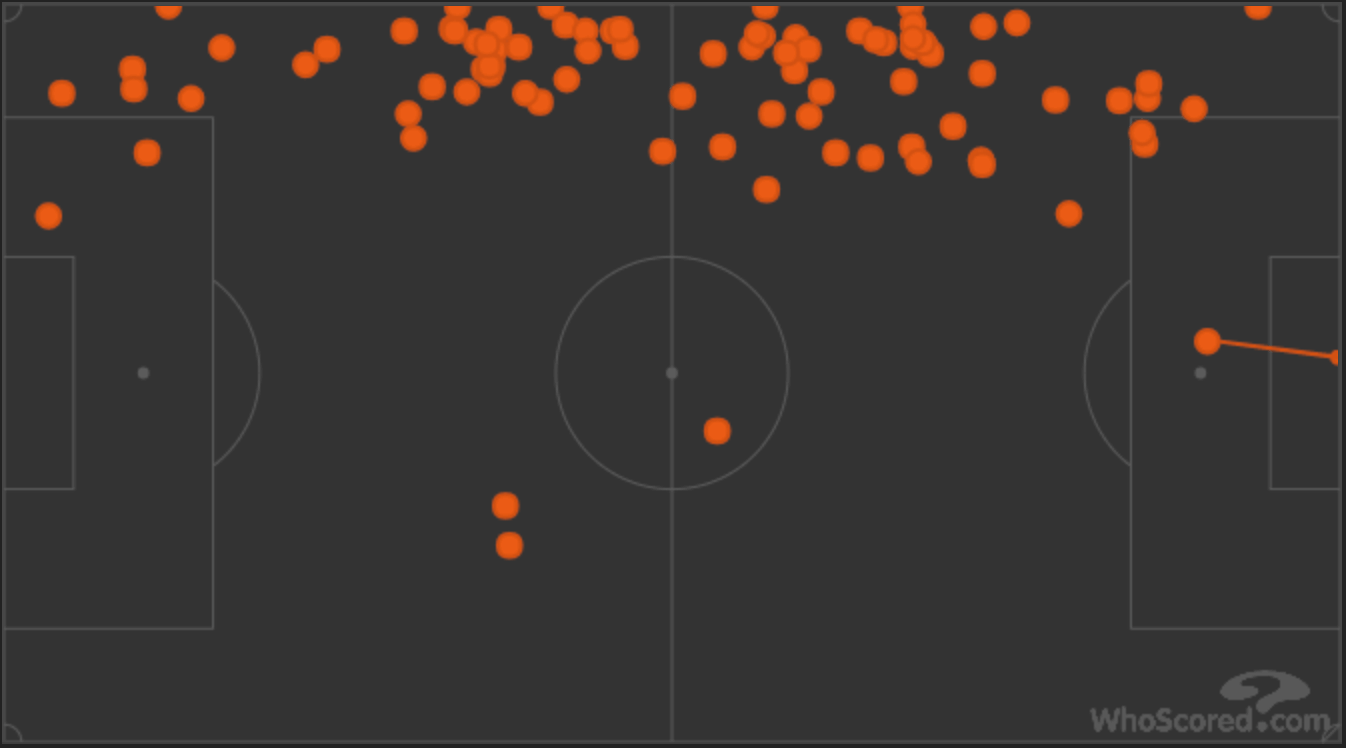 Trent Alexander-Arnold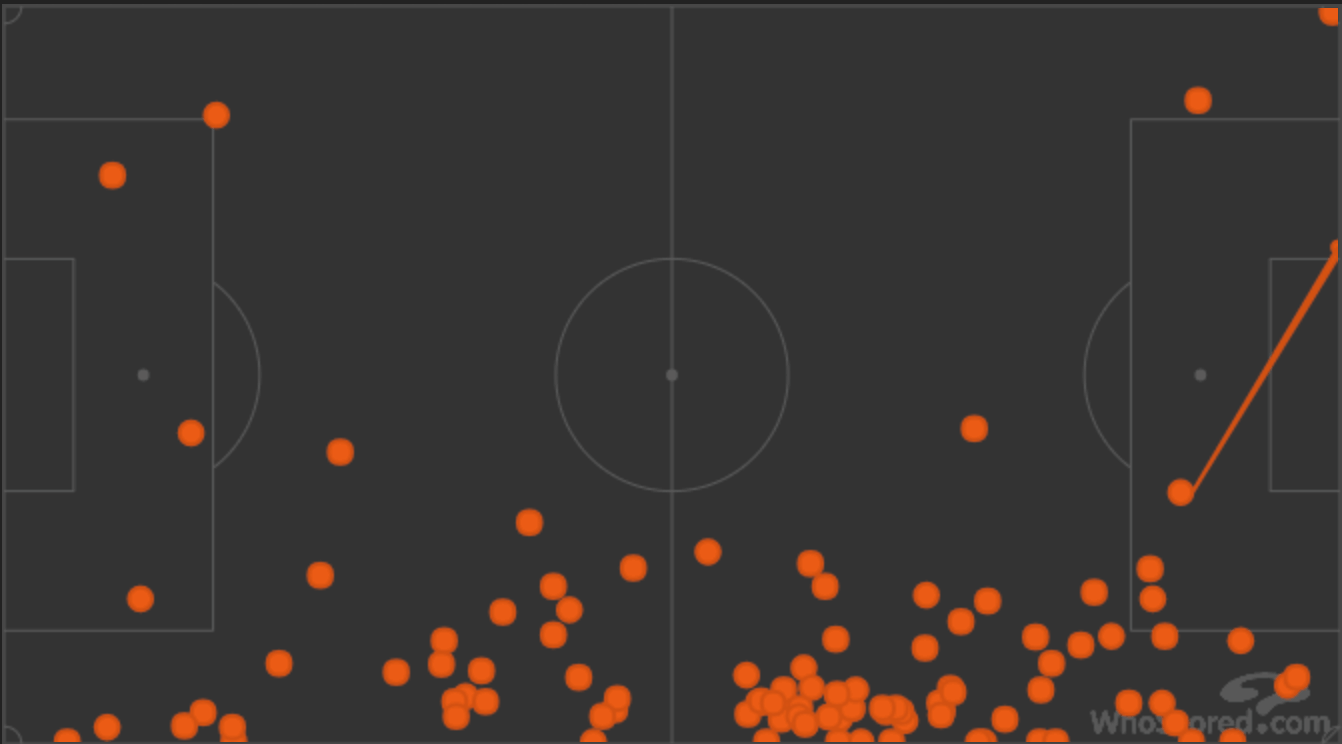 The average position maps mirror this picture too and really illustrate how pinned back Brighton were. With the two DMs, Henderson and Wijnaldum, Liverpool looked well set to deal with any counter-attacks, and on the rare occasion Brighton did break through, they tracked back and slowed the attack, eventually snuffing it out as reinforcements arrived.
Whether this 4-2-3-1 setup is indicative of how Liverpool may set up against Real Madrid we cannot yet tell, but on first viewing it certainly has its merits, but we need not place too much emphasis on the formation, as the Liverpool forwards were still making the same offensive runs in general, sometimes starting from deep making them far harder to track. But before we move on, one last word on the formation, and Mo Salah.

What we've also seen in recent months is Mo Salah playing almost as a second striker, and certainly as an inside forward. Now whilst this has been exceptionally successful in terms of goals, sometimes it has come at the cost of positional/structural integrity as Liverpool lose some of their width on the right side, and play can become a little congested. It's largely something the team has avoided, but this assessment applied to Liverpool's recent match against Chelsea, where Salah struggled, positioned against a centre-back and wing-back. What the 4-2-3-1 did though was position Salah ever so slightly wider, giving him the opportunity to run into the open space on the outside more often. The average position map shows both Firmino and Solanke in the centre, but a tad deeper than Mané and Salah, who worked off them in the half-space between the central channel and the wing. The central positions of Solanke and Firmino forced Salah to stay a little wider, giving him the ability to drift inwards, rather than starting in a central position – making him harder to mark, and liberating him from having to play a more physical game against the centre-backs, and instead being able to roam, run, and find space.

In the second half, Liverpool changed their approach; they allowed Brighton to move up, and targeted them in a more counter-attacking style, firing balls in behind for Mané and Salah to run onto. This was nothing new, and something we've seen across the season with growing frequency, indeed, it's evidence of an increasing awareness and appreciation of game management – instead of committing the majority of the team into the opposition half, the team drops, and plays to its strengths, and minimises the risk to itself, by pitting Salah and Mané up against the opposition centre-backs and DM, usually in situations where the Liverpool wingers can use their speed, and the large spaces in behind, to their advantage.
Liverpool were superb in all departments and utterly dominated the game. Even with the result a certainty, Firmino still dropped when Liverpool were out of possession, and ran forward when in possession – a testament to the belief in themselves and the system from the players. By the 70th minute, Liverpool were showing signs of weariness and slowed down, but the team had earned it, after a fantastic season in which they reached their primary objective in considerable style.
xG map for Liverpool – Brighton. If the Reds get to face Brighton's b-team in the Champions League final I think they'll do really great! pic.twitter.com/qSPigofwMz

— Caley Graphics (@Caley_graphics) May 13, 2018
Before I finish, I would just like to give my thanks to everyone who has been reading these tactical pieces over the season. They started out as something very different, (as did Liverpool's performances), but I hope that both Liverpool and I are now meeting your expectations. Before the Champions League final, I'll write up a special tactical scouting piece on Real Madrid, so stay tuned for that, and the post-match breakdown. But thanks for reading – we'll be back in August.