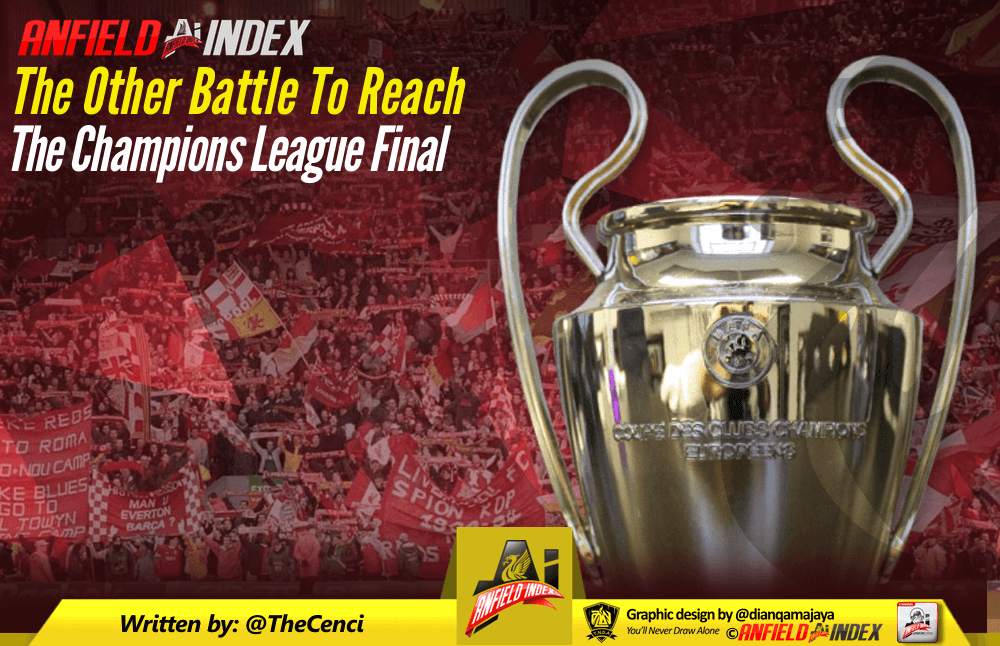 The Other Battle To Reach The Champions League Final
While Liverpool had to negotiate Germany's most recent hipster team in Hoffenheim before seeing off Maribor, Seville, Spartak Moscow, Porto, the English League champions and the conquerors of FC Barcelona, their fans face an equally rocky path on their way to the final on 26th May.
To get to Kiev, our fans – many of whom have already been around the continent several times to qualify for final tickets – have to undergo several dramas to secure their trip to Ukraine's capital. Firstly there was the ballot. Many of my friends spent Friday staring at their screens wondering why the Willie Wonka Golden Ticket email hadn't arrived. The successful candidates then saw their hotel rooms, booked months earlier, cancelled in lieu of higher costs. One friend of mine has a room guaranteed by bookings.com or some such, but is receiving hourly requests from her hotel to cancel it. As she told me yesterday, having the room secured by contract is one thing, but quite another when faced with a shrugging concierge 1,700 miles from home.
Sometimes, I think Jurgen and the lads had the easy job.
It's easy to point the finger at the accommodation issue, but it's harsh to do so at the club. They're not responsible for hundreds of hoteliers suddenly realising that the third week of May is actually Christmas and that thousands of thirsty Reds will be seeking bed and board. Most importantly, many will be prepared to pay practically anything for it.
And that's if they get there at all.
Got a ticket? Yes. Got a hotel room which is going to be there when you are and hasn't been hiked up by an opportunistic company? Great! Now, how are you going to get there?
Liverpool are the unluckiest club when it comes to recent Champions League final venues. Firstly, there was the Ataturk Stadium in the middle of what looked like a secret film set for a faked Moon landing. Then there was the debacle of Athens with people booking holidays in neighbouring countries and coming over for the day. Now we're playing in a city where there are no seemingly direct flights from Northern Europe.
It's important that Eastern Europe be catered for when the conversation about potential stadia are discussed, but can we just have one near a direct and affordable flight? I mean, we all love the stories of Liverpool travelling to Rome via luggage racks on two-day trains and hitch-hiking etc., but that was in 1977 when people still wore rosettes and hand-knitted cardigans. This is supposed to be the modern game where comfort and safety are paramount. If modern stadia are as dangerous cinemas, why is it necessary to make fans to choose between trekking across Europe or bankruptcy?
This one falls squarely on the shoulders of UEFA. Infrastructure is key and though Kiev may be easier to get to from the continent, there was always a chance that an English or Scouse team was going to make it all the way. Next year's final is in Madrid. As Trev Downey put it in our recent podcast, that makes things a little easier for our inevitable back to back Champions League victories. Ha!
Of course, the situation would have been the same for any other club from these isles. This is not just moaning because it's us.
The club are more than aware that this is going on and that flights to Kiev are expensive. There was a rumour that Real Madrid are charging €299 for their fans, but that was a myth with which to beat the club. There's no need for that. There's plenty of material elsewhere.
Following the Roma game, Liverpool's CEO Peter Moore said "we've only just got back but rest assured we will do all we can to get our fans to Kiev." Given the financial windfall for getting to the final AND qualifying for the competition again, would it not be possible for the club to look into chartering flights for impecunious fans? Isn't that the least they can do seeing that we played such an important role in getting us to Kiev in the first place?
The silence is deafening.
Moore retweeted a post by Thomas Cook – a club's sponsor who offered a much cheaper rate when Man City played there earlier last season – stating that they have secured more aircraft, 'at a higher cost, which is reflected in the higher price for supporters.'
What is distressing about this is that it suggests that this is a recent development or, put plainly, an afterthought. Personally, I'd have started looking at potential travel problems when Oxlade-Chamberlain's strike flew past Ederson in the quarter-finals.
If the chartered flights are going to cost more, couldn't they help us out by taking on some of the financial burden? After all, a loud and vivacious Kiev is in their interest as much as ours.
Seemingly not.
We've got the extra flights, but you're going to have to pay through the nose for them. Any chance of some help with that? Erm …
When you walk through a storm, hold your head up high, eh?
Kiev will be full of Reds despite all this and the club knows this. They will have their Communications and Media teams on the ground showing the carnival of Red around the city and highlighting how great our support is. Liverpool fans will travel anywhere to see the lads and are famed for turning up in numbers. So why bother?
Those flight prices are high simply because they know that someone will pay them. That may be a richer fan who fancies the trip rather than regulars who have been priced out, but their money is as good as anyone else's.
I just wish the club could do more other than sitting back and shrugging their shoulders. Greedy hotels are out of their remit, but since we allow the Thomas Cook logo to appear next to our badge, someone needs to be doing more.
I don't mean Tony Barrett. Tony has travelled all over Europe long before he became a journalist and, more recently, an employee of the club, so knows only too well about the difficulties to travel for LFC. It's his superiors who must take a hand in getting as many ticketed Reds to Kiev.
After all, this support thing goes both ways.