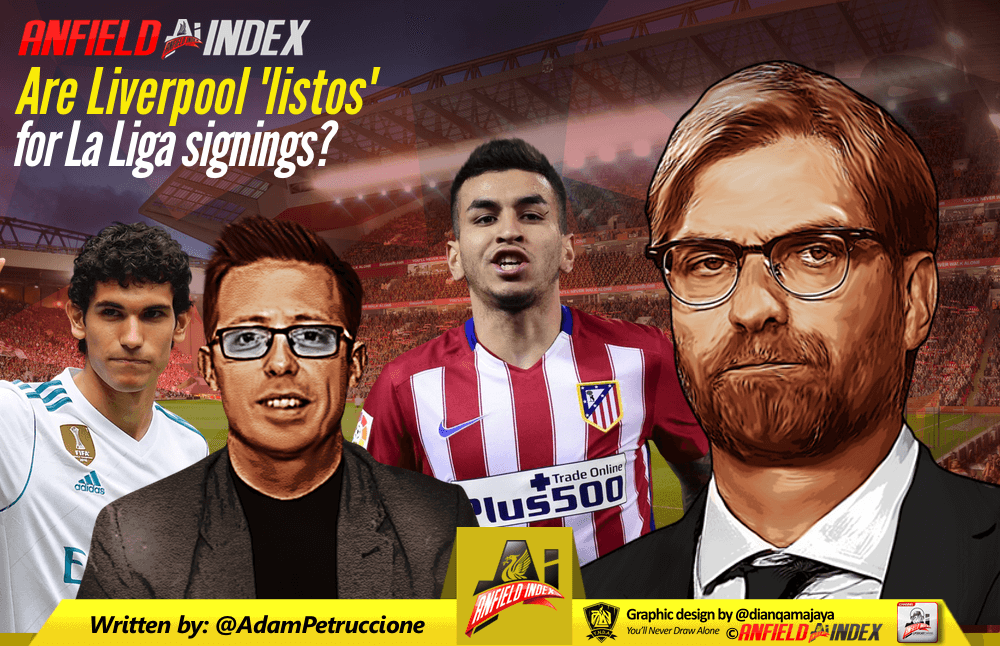 Are Liverpool 'listos' for La Liga signings?
AIPro's Dave Hendrick took his A-Eye Scouted series to Spain this week for a look at La Liga. Journalist Karl Matchett was along for the ride to give his take on eight hidden gems of Spanish football that could be a fit for the Reds. I'm not sure which contributor was Don Quixote and which was Sancho Panza on this epic search but they came up with some intriguing suggestions for the next Spanish Liverpool star.
La Liga has always been a hotbed for Premier League clubs looking for summer upgrades. Interestingly though, Liverpool haven't signed a player from La Liga since 2014 when Albie Moreno and Javier Manquillo were brought in from Sevilla and Atletico respectively. Will we return for a Tinto Verano and a player or two this year? There is certainly no shortage of options as Dave and Karl have discussed. Listen to their full breakdown on AIPro. Who did Dave miss? Which of these potential signings is a guaranteed bust? Let us know in the comments below.
Ángel Correa – Atletico Madrid – Forward
Age: 23 – Height: 172cm
Estimated Fee: £50-£60m

"He's basically Danny Ings times ten." – Dave Hendrick ("A-Eye Scouted" – AIPro)
Description: A ball of energy who can play across the front and has been used as one of the top impact subs in La Liga (8 goals, 3 assists). The Argentine could fill the 'scrappy' void in the Liverpool squad with his penchant for the grab, late kick or shove into the hoardings. Importantly, he's been durable as well, making 40+ appearances in each of the last two seasons.  He was somewhat of a surprise absence from Argentina's preliminary World Cup squad, so it may be time for him to move to a club where he'll be sure to be noticed.
Potential Hangups: With Griezmann leaving Correa may have been promised a feature role next season, which would make him exponentially more difficult to extract from the Iberian Peninsula.
Maxi Gómez – Celta Vigo – Striker
Age: 22, Height: 186cm
Estimated Fee: £30-£35m
"The ability to change matches off the bench with a striker… it's imperative. We've got to have that." – Karl Matchett (@karlmatchett)
Description: A physically imposing player, the Uruguayan would give Liverpool the ability to change the game off the bench or set up to play more direct against the dross. He would allow the Reds to take advantage of the excellent crossing from our fullbacks.  The Spurs target has been a 1-in-2 man for Celta in his first season in Europe and will be sure to be on the plane to Russia in the summer.
Potential Hangups: Has he matured enough or is it too early for a move to a club like Liverpool?
Buen gol de @gomez_maxi9 para poner el 3 a 3 definitivo del Celta vs Bayern Leverkusen. #LaCanteraDelFútbolUruguayo #DefensorSporting pic.twitter.com/dVnZcSVhIc

— El Yorugua (@vierdic) August 5, 2017
Pione Sisto – Celta Vigo – Attacking Mid (L)
Age: 23, Height: 171cm
Estimated Fee: £20m
Not necessarily a Sadio Mané, but perhaps one notch below and one notch below Sadio is still a very good player. – Dave Hendrick ("A-Eye Scouted" – AIPro)
Description: A more compact Adama Traoré, Sisto has the pace to get himself past multiple defenders but can dribble into blind alleys or run out of pitch before he figures out what to do. He does have some end product though with 6 goals, some from distance, and 9 assists coming in 36 appearances. As a left-sided attacker with blinding speed, he could fit the rotation well, subbing in for Mané, or allowing Sadio to move to the right.
Potential Hangups: Sisto needs to be developed and might not be completely ready for prime time yet.
Stunning goal by Pione Sisto! – Celta Vigo 2-0 Roma #celtaroma #celta #CeltaVigoRoma pic.twitter.com/FLO89Jwmvm

— Abdul Dezkam (@AbdulDezkam) August 13, 2017
Pablo Fornals – Villarreal – Attacking Mid (C)
Age: 22, Height: 178cm
Estimated Fee: £30-£40m
"If it's a case of £40m for (Fornals) or £20-£25m for James Maddison, I think I would edge toward Maddison." – Dave Hendrick ("A-Eye Scouted" – AIPro)
Description: The former Malaga man has really blown up at Villarreal, playing mostly in the 'ten' with about a quarter of his appearances on the left of midfield. 4 goals and 12 assists (joint best with Messi) in 43 appearances tell you that he could fit Jurgen Klopp's creative role from the left. He's able to control the pace of the game from midfield, something the Reds will lack until the day that Naby Keita arrives.
Potential Hangups: Fornals just arrived at Villarreal, so one can assume they'll be looking for a big number, maybe even to break their transfer fee record in order to approve his sale. That would put him in a range where other targets would be preferable.
https://twitter.com/villarrealargcf/status/995355183398998016
Jasper Cillessen – Barcelona – Goalkeeper
Age: 29, Height: 185cm
Estimated Fee: £15-£20m
"It might be fanciful to say that we want the Dutch goalkeeper and centre-back pairing, but we've already been linked with these players." – Karl Matchett (@karlmatchett)
Description: The former Ajax star has been stuck with backup duty to Marc-André ter Stegen since he signed with Barcelona. When called upon he has performed well, showing skill with his feet that Liverpool would require along with strength in the air. Cillessen isn't an especially tall 'keeper at 6' but has outstanding reflexes on shots from close range.
Potential Hangups: Cillessen has barely played. He's almost exclusively been Barca's Copa del Rey 'keeper. The lack of playing time and his age (29), are reasons that the Reds might stay away.
Jesús Vallejo – Real Madrid – Centre-Back
Age: 21, Height: 184cm
Estimated Fee: £15-£18m with a buyback
I think he's a sensationally good defender. Just in terms of the fundamentals, not making mistakes and remaining focused. He could be a very good and affordable partner for Virgil van Dijk" – Dave Hendrick ("A-Eye Scouted" – AIPro)
Description: Vallejo is Real Madrid's fourth choice centre-back, and that has left him largely unknown amongst casual fans. He signed from Eintracht Frankfurt in 2017 and is still only 21 years of age, but how long will Real spend developing him before they bring in the next 'Galactico?' He is not an imposing physical specimen, depending more on his anticipation, positioning and graft in defence.
Potential Hangups: Every summer it seems like Real have "too many" players at every position and surely they'll sell loads, but that never really happens. Vallejo also is not great in the air, which may be an automatic disqualifier for Jurgen Klopp.
Gonçalo Guedes – PSG (loaned to Valencia) – Attacking Mid (L)
Age: 21, Height: 179
Estimated Fee: £35-£40m
"If I was Klopp… and I'm looking to go another step beyond, the most important aspect is to make sure the front line has as much quality (as possible) when a change is made and for that reason I'd go with Guedes." – Karl Matchett (@karlmatchett)
Description: Playing as an attacking mid off the left in Valencia's 442, Guedes terrorized La Liga at the beginning of the 2017/18 season, but faded as the season went on and ended up with fairly humble totals of 5 goals and 9 assists in 33 appearances. He can cut in and shoot from distance, powerful operating from the wing, able to play through the middle, Guedes could be a Swiss-army knife player who could rotate well in several positions for the Reds.
Potential Hangups: A Jorge Mendez player, the signing might be difficult even if it makes complete sense for PSG to sell. His finishing is unpolished, so Jurgen Klopp will need to decide if he's a project worth developing.
https://twitter.com/sidelinescouted/status/952551939593723904
Martin Ødegaard – Real Madrid (loan to SC Heerenveen) – Forward (R)
Age: 19, Height: 178
Estimated Fee: £35-£40m
"I think it's obvious that there's talent there. He has technical ability… It could well be that he's just not quite found the exact role that he's going to develop into yet." – Karl Matchett (@karlmatchett)
Description: One of those wild-cards that would make sense if Liverpool could pick him up for a reasonable fee and maybe continue to let him develop in the Eredivisie for a season or more. The all-around talent is there, but his career has stalled since he signed with Madrid.
Potential Hangups: A pre-season side-show would be nothing new for the Reds, but they may not want to invite that upon themselves. Ødegaard is a talent but hasn't been that productive (2 goals, 1 assists in 24 appearances) in a league where players tend to overproduce. The young Norwegian had a chance to sign for Liverpool on the first go 'round and likely won't get another shot.