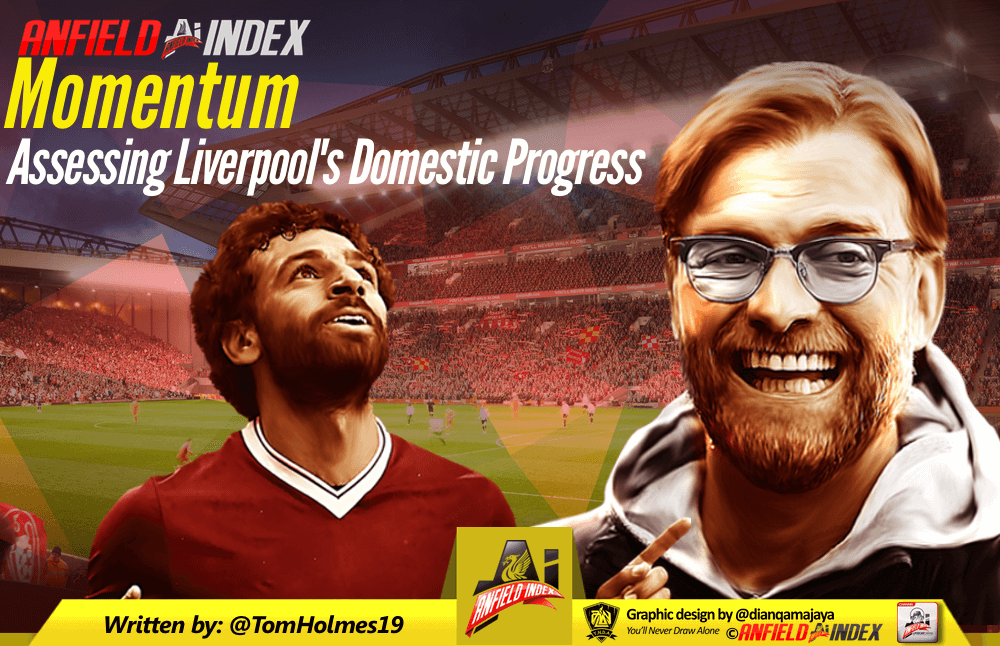 Momentum - Assessing Liverpool's Domestic Progress
Progress is one of the big buzzwords around Jürgen Klopp's Liverpool at the moment. The club has finished in the top four for the second season in a row, ensuring back to back Champions League campaigns for the first time since Rafa Benitez in 2009. Moreover, the club has backed that up by making use of their Champions League campaign, reaching the final for the first time since 2007 at the first time of asking under Klopp.
But I'd argue a more fitting word to describe the season that Liverpool have had, as well as their trajectory under Klopp, as momentum, rather than progress. It might seem like a petty distinction, but for me, it's rather an important one. Although I absolutely feel Liverpool have progressed and spent most of the season pointing out that a top-four finish and a similar points tally to last year with UCL football in the equation would be progression, I feel that where the league is concerned, that progression mostly means being at a similar level.
Let me explain. My argument is that reaching the same level in the Premier League that we reached last season over a sustained season, whilst also juggling plausibly ten or maybe more (it's now ended up as fifteen) UCL games, would show that as a squad, and as a team we have progressed. That is something I firmly believe.
Moreover, that progress has been underlined, because Liverpool aren't just in the Champions League, but are in the Champions League final. This season has not been a case of Liverpool just surviving playing in European competition, but have thrived in it. To steal a delightful quote from the phenomenal Mel Reddy "Liverpool won't just be fine, Liverpool will be fucking flying".
However, whilst the UCL means that just staying at the same level in the Premier League is an achievement in and of itself, there definitely is a sense that for as well as Liverpool have played, we absolutely should be doing better in the league. Whilst Liverpool have been flying in the Champions League, the truth is that we have just survived it in the PL.
And this is where the point about progress becomes more debatable. Liverpool, despite scoring six more goals and conceding four less, ended up winning one less game than last season, and finishing on one less point, once again doing nothing more than what they needed to do; securing top four on the final day of the season.
What's more, whilst Liverpool were arguably involved in a title race last year, there was never a sniff of the Reds getting close to the top of the table this year. Whilst Man City's quality blurs the issue, Liverpool truthfully never got close to a decent challenge and didn't rise above third in the table after week three, with seven points from three games the highest points per game and position in the table the Reds managed all season.
So in terms of the league, the next big step after last season was to make the step up to being title challengers, and that simply didn't happen. In terms of the domestic competitions, Liverpool haven't advanced in the last twelve months, they've simply been able to consolidate their position – and as I've pointed out consolidating their position whilst having a sensational UCL run is absolutely no mean feat.
I don't mean this to sound negative, I'm merely trying to clarify and contextualise what has been a very interesting season for the Reds. In terms of where we've improved, we've improved drastically against teams in the bottom half, but have run into a brick wall against the more well organised dross sides at times, and have been absolutely woeful against the top six, which is slightly strange given how good we were last season and in the UCL this season.
It also seems strange to point out that we've improved in almost every area of the team. Our attack is more viscerally brilliant than ever, with Mane and Firmino bolstered by Salah and hopefully more this summer. Defensively we look a lot more sound, and that was even before Virgil van Dijk stepped in to man the ship. And yet, we don't seem to have improved massively over 38 Premier League games.
The question of how well we'd be doing in the league if we'd not had a sustained UCL run is interesting, but ultimately I think the answer is better. How much better is what is up for debate, but ultimately you would have to be stretching reality to suggest that we could have challenged City.
The other thing to note, and arguably this is more important, is that we've shown a lot of progression throughout the season itself. Liverpool got off to a woeful start, and many commenters were eager to point out that our start to the season after nine games was as bad as Klopp's first season, where Rodgers was sacked for his efforts. It seems a very long time ago, but after our 4-1 defeat to Spurs, the KloppOut crowd, backed by a substantial amount of neutrals, were getting louder.
But since then, Liverpool have been the second-best team in the league. Whilst ultimately the Reds started playing football too late to make a dent on the title race, and too late to even secure third, the point is that we're in a much better position at the end of the season than at the start of it. Klopp knows better than anyone that integrating players such as Andy Robertson and Alex Oxlade-Chamberlain can take time, and that's not to even mention the potentially toxic influence that Phil Coutinho and his saga were having on the team in the early stages of the season.
In fact, if you compare this PL season to last, the graphs look remarkably similar, particularly in the back half of the season. The 17/18 Reds were behind for most of the front half of the season, with that gap reaching 8 points back on last season at the halfway mark, only for the boys to win four straight games this year, and then they were ahead of where they were last season right up until the penultimate game of the season.
Which brings me back to the original point, which is about momentum. Liverpool haven't secured back to back top-four finishes in nearly ten years. Now we have. We've backed up last season with another strong showing in the Premier League, and have ensured that once again next season we will be playing at the big boy table, and have everything to be excited for. Another big window is ahead, but there's confidence that the Reds can secure top targets.
If domestic success is the inevitable end goal, then it does feel as though in many ways Liverpool are closer to that than they were twelve months ago, even if the league table does not reflect that, with Liverpool finishing a maddening 25 points behind Man City. UCL final or not, that sort of differential cannot be considered acceptable for very long, even if this City side is the best in recent history.
All of this being written and being said, of course, in the shadow of one of the biggest nights in Liverpool's history, and certainly our biggest night in over a decade. The truth is that any discussion of the Premier League has to be mitigated by Kiev, the all-encompassing golden ticket that looms, ready to make or break Liverpool's season. Nobody cares where you finish in the league or how many points you bring home if you secure the greatest trophy in Europe. That's why Barcelona, Juve, PSG and Bayern are sides that are not content with winning their own domestic leagues, with all four frustrated this season and the potential for managerial changes abundant.
Nevertheless, before Kiev overshadows everything else, it is important to try and carefully weigh up Liverpool's domestic season. Do an extra ten points which may have been secured if the Reds had lost to Man City or Porto make it look a lot sweeter than it might have done? Definitely, but there are no guarantees that this team would have secured those extra points.
The simple fact is that it's nigh on impossible to quantify the exact effect that our fantastic UCL performances have had on our league form, and the more salient point is that if we want to be a big club, we absolutely cannot use UCL football as an excuse to mitigate our PL form. We need to be good enough to compete on multiple fronts. Man City have up until this point only played two fewer games in the Champions League than us, whilst winning one domestic cup, and yet walked the PL. Clearly, we aren't dealing with City's resources, but we need to try and bridge that gap, and if we want to be an ambitious and title-winning club then we need to stop making excuses and start producing results.
Again, I don't want this article to sound overly negative, so I'll wrap it up. This is a Liverpool side that is rapidly improving under Jürgen Klopp, and a Champions League final at the first time of asking is genuinely incredible, an achievement that more than makes up for a lack of a title challenge.
Moreover, Liverpool are looking better and better in the league as the season has progressed, and the squad looks healthier and healthier with every window that goes by. To get top four again was, above all else, the primary goal of our season. So to have achieved our primary goal AND to more than exceed expectations in the Champions League is genuinely incredible.
So have Liverpool progressed domestically? That's probably an unfair question to ask. Liverpool have progressed. That much cannot be disputed. What Liverpool do have now domestically, is momentum. Back to back good finishes has a positive effect on every aspect of the club, but more importantly, Liverpool have taken huge strides from where we started the season. This is a club on the up, and Jürgen Klopp may well be the man to finally take us back to the pinnacle of domestic football.
Up the Mighty Reds.