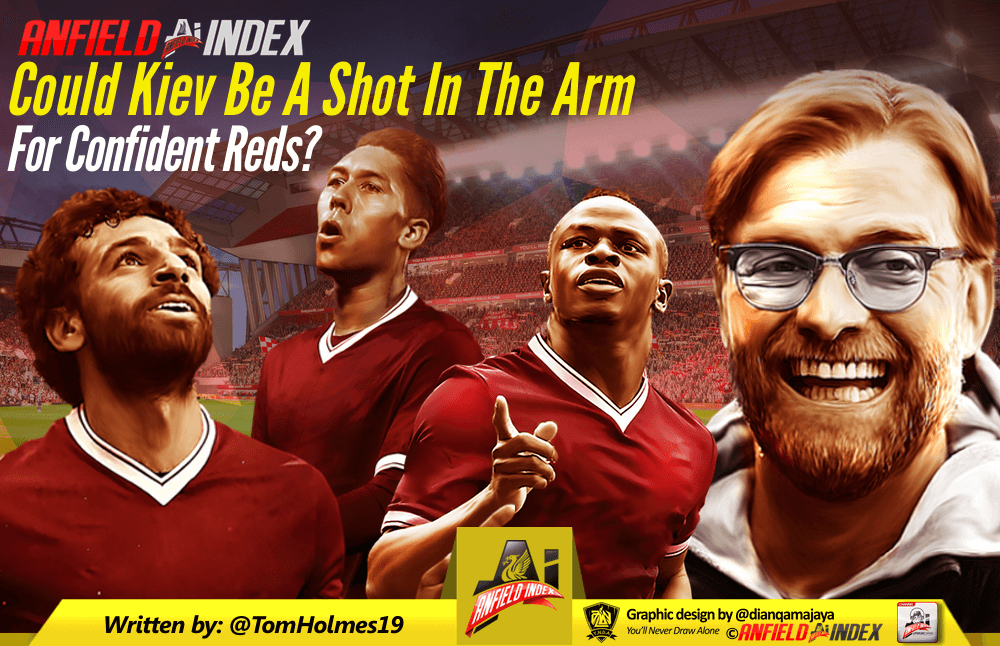 Could Kiev Be A Shot In The Arm For Confident Reds?
Confidence is a funny thing. Just look at Dominic Solanke for example. Having struggled in front of goal all season, he took his goal against Brighton on the final day of the season like a world class striker, having played himself into a bit of form with some excellent play in the preceding 51 minutes.
Similarly, look at how Christian Benteke has been struggling relentlessly at Crystal Palace. Benteke is clearly not a bad striker, having scored 66 Premier League goals across the five seasons before this one, despite playing four of those seasons at Villa and Palace, two teams who have not excelled in recent years. Yet, once Benteke's confidence deserted him, his finishing imploded, scoring just three goals this season, one of them a penalty, and missing twenty of his twenty-two big chances.
Confidence is often an elusive thing, and it can be quite hard to quantify. Certainly there appeared to be something slightly not right with Sadio Mané at points earlier in the season, but boosting his confidence, for Klopp, was as simple as letting him play through it. On the other hand, that simply hasn't worked for Benteke, and it never worked for the likes of Mario Balotelli.

I bring up confidence because it's a very important thing in football. This Liverpool team are lacking in some areas, and one of those areas is 'experience'. There have been accusations of mental fragility throughout Klopp's reign, and before he took over there were certainly some issues in that department.
But one of the ways that Klopp has worked to resolve that issue is by instilling a confidence in his players. A confidence that they are dead good at football, and if they trust their manager and themselves, then they will succeed.
Belief in yourself, however, even belief fuelled by faith in your manager and his judgement, can only get you so far if you don't start delivering. Being told you're good at your job by someone who knows exactly what they're talking about is certainly going to boost your confidence, but if you're not backing that up, then it can fail to really work. This is the same for any job, not just football. Encouragement can only get you so far if you're objectively struggling.
And this Liverpool team are beginning to benefit from delivering. Wins over Man City, Porto and Roma may have been fuelled by faith and confidence in their own abilities and Klopp's plan, but they also have the knock-on effect of reinforcing that confidence and belief. Being told you've got the potential to be one of the best teams in Europe rings a lot truer when you beat the best team in the country 5-1 over two games and reach the Champions League final.
There are, of course, certain players in this team that already have a bit of a swagger about them; or rather, they know how good they are. Bobby Firmino and Mo Salah both come across as extremely likeable but nevertheless confident individuals, Dejan Lovren is the sort of player who has immense faith in his teammates and Jordan Henderson is similar. The confidence in this team is not just internal, but collective. The lads don't just trust themselves, but they have faith in those around them.
So how big of a boost could this Champions League campaign be to this team's confidence? Well as I said, confidence is elusive, so it may be impossible to quantify, but should the Reds get the job done in Kiev, they will have built more than just experience. If this squad is lacking big game and trophy winning experience, they can more than make up for that with the confidence that a Champions League final can bring. Obviously, their experiences will be vital either way, but the confidence that a UCL win could bring to the squad, especially one like Klopp's that is built on trust and belief, could be astronomical.
All of this is of course aside from the other obvious perks that could boost confidence. Bringing in top calibre players will boost confidence in the squad. Players that are playing regularly and playing well are bound to feel confident, with the likes of Trent Alexander-Arnold and Andy Robertson no doubt feeling surer of themselves than they would have been twelve months ago. The likes of Gini Wijnaldum, Jordan Henderson and even James Milner, the more experienced heads in the squad who haven't experienced victory like this one could be, could be massively boosted in their confidence.
And all of this has, as I've said, a positive reinforcement, a knock-on effect. A more confident Liverpool team is more likely to be able to throw off setbacks, to get over the mental humps that have affected the team increasingly less over recent years. To take that positive energy back into the Premier League next season is exactly what Klopp has been aiming for and contrasting that with the negative energy fluctuating around the squad at the start of the 17/18 campaign, could be just what the doctor ordered.
The only question is whether or not the Reds' confidence would take a battering if they were unable to match Madrid on the night. I think that it absolutely would in the short term, that much cannot be denied. But I feel that the combination of Jürgen Klopp's attitude, the sense of belief around the squad, and hopefully a fresh injection of quality in the summer means that by the time the new domestic season rolls around, the Reds will be able to let the overwhelmingly positive confidence boost of reaching the final overcome the short-term negative effects of losing it.
Overall, there will be many interesting and exciting developments to be made of Liverpool's trip to Kiev, whether or not they win it. But either way and especially if they do, the confidence that they could take from that encounter could be one of the most important ones.