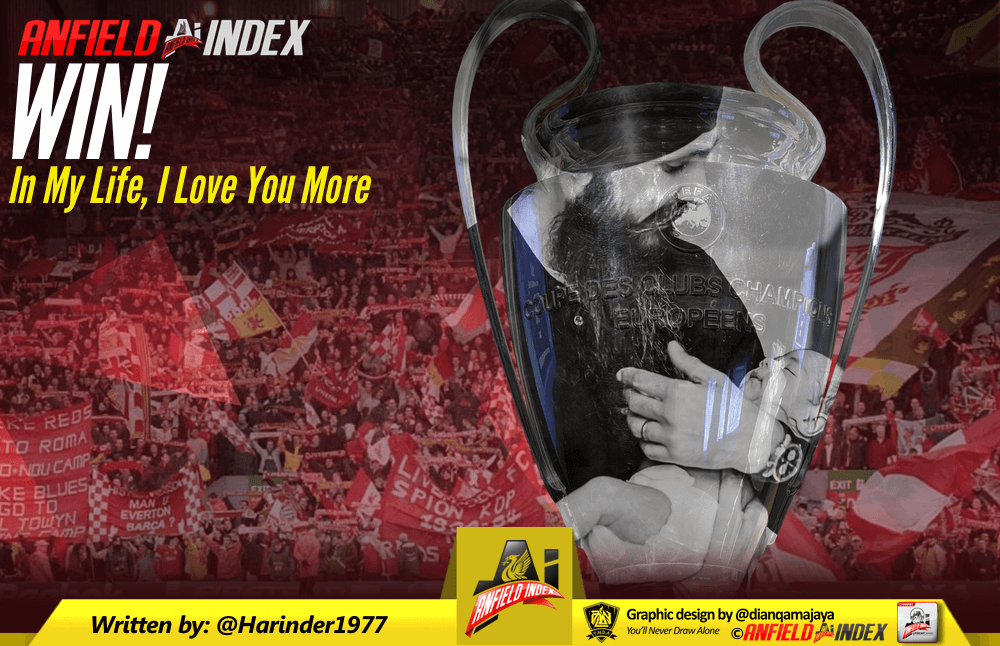 Win!
Though I know I'll never lose affection
For people and things that went before
I know I'll often stop and think about them
In my life, I love you more
Allow me to explain if you will. You'll need coffee. Tissues optional. Heart necessary. Fortitude compulsory.
If 2011 was the season that started me, this season could so simply have been the one that finished me. Back then, so many years ago, I became a father for the first time. I also became a season ticket holder around then too so rather atypical of me I went to as many matches as I could (yes, I know not much seems to have changed). League, League Cup, FA Cup, Home, Away. I changed my daughter's nappies sometimes too. My perfect little angel looking at me looking at her and being as cliché as a first-time dad is supposed to be. She has lived her journey to Liverpool FC in her heart through my eyes first and now through her own. She's seen Klopp get hammered at Anfield and then the madness that is Dejan Lovren against that team that got hammered at Anfield. She walked out and held her own on a floodlit pitch when we played the Mancs and if the world ended that day all would have been fine for me. My daughter, the mascot for Liverpool. My family completing a jigsaw of my football life, my very patient wife and my reason for everything, my little girl.

The result was 0-0 because Maureen is Maureen and De Gea is just, well, De Gea. 16/17 season, tale of the tape for United.
16/17 also led to another side of life. Death. It comes in many ways and is indiscriminate. It is the inevitability for everyone. It was an ending for a family member that we never wanted to happen. I went to a funeral. I supported my wife. I went to Anfield to forget for a while. I went to Anfield to pray for three points. I went hoping. We went home with one (Chelsea, Mignolet gifts, we recover, Mignolet denies Costa). The earlier mentioned indiscriminate nature also applies to Liverpool. It's there. Constantly. A city I love and hopefully some part loves me back and people who've embraced me and taught me how hurt can be harnessed to fight. They'll never know it but will now. Jim Sharman and Phil Scraton showed me how to see Red when all appears black. My heroes. Our mates.
Liverpool. A city that I ran to in March 2017 jubilant when the wife was told me she was expecting. I'll spare the how of that discovery but suffice to say it came to lift the darkness. We'd only just got over the dog arriving! Life comes at you fast and my other hero and mate Bobby Firmino made Arsene Wenger feel the same scoring the first in a 3-1 dissection of Arsenal. This week was a good week in the Harinder household. Just that knowledge of another soul coming to share what they have with you was almost overbearing as a thought at times. Excitement and dread, it had been a while since a nappy had been changed, filled me. A few tears too and they were all happy ones. I don't think I could say the same for Arsenal TV that day.
Spring turns to Summer and Summer meant new beginnings and the season beginning. Qualifiers against Hoffenheim and mad things against Watford. Both for and against! Folks who know me well wouldn't be surprised at me having a real timetable and itinerary for things. Matches I could make, podcasts, Antenatal outpatients and anything and everything went into it. A predicted date of end October had been given but I always planned for a month prior. Just in case, like. Highs of Arsenal were missed because folks wanted things like holidays and lows like City away weren't. Sevilla draw, Spartak draw. Leicester with a Canadian Talisman of Victory. Moscow wasn't as cold as I thought it would be but I needed sleep! The false dawns of October also meant I went into baby lockdown early. Some were happy to get to matches because I wasn't and I sat there wondering where it all went wrong!
I jest, nobody sits when a mother-to-be is nesting 🙂
Saturday 4th November 2017. This day defines me now more than any other. You may know it as West Ham away. The night before I actually threw my toys out of the pram with the Godfather. We made up later but he knew I was stretched. The morning broke just like the first waters and the dash to the hospital was done in 10 minutes. Here, each minute flew like seconds and then they suddenly stopped. Nothing moved. No-one moved. He didn't move. Please move.
Please.
I needed him to move. Something. Anything. Just a finger or something. I wasn't picky. The backdrop to all this is missing of which I am acutely aware so let's rewind time a little. 8.30am is a horrible point of any day. Working week, you're either stuck in the commute or contemplating being somewhere much too early for meaningful function. As blood pressure monitors rocketed (we were an evening kick-off, folks) I was greeted by a word you don't want to see at the point. Consultant. Two of them. "Lucky me!", I thought. "Why are you here?", I thought. "Save them" is what they thought. Pre-eclampsia is just as horrible as it sounds. Lying to your wife is infinitely worse however but a necessary evil at that time. The next thirty minutes of stress to a little boy who didn't know the world outside are indescribable. To date, I don't think I've fully explained that period to my wife, I don't think I have it in me. I went to the hospital to go home with two new lives and the plan of returning with none was not one I was prepared for. It wasn't my reality on possibly one of the most auspicious days in my life. It may shock you to learn that I'm Sikh. If I've hidden it well then my incognito skills are improving! This date coincided with a very auspicious date in that side of life's calendar too and so all this on this day of all days put me in a daze that I needed to snap out of.
I cannot go home alone. I just can't. Please help. Anyone.
I'm not supposed to be alone. This noise is a quiet storm but there is no shelter here. No place to hide. Help.
9.11am. he's here. We're back. Back to the why of "please move", "please cry", "please anything" but NEVER "please take him away". They took him from me and I cried like I cry now. My daughter never had this. You gave her to me to cut cords and everything so why? Why are you doing this? A door closed and my wife is smiling and I don't know why. I'm someone who's lived a life of knowing. When people ask I try to answer when people need help I help and when need to function I function. Why don't I know what is happening now?
Why isn't there a smile anymore?
South Park was so very right. Drugs are bad. As that once rocketing blood pressure started dropping nobody looked out for plummeting. That word came back and went to work fixing things. At some point in this melee, my new-born son came back. Entering resplendent like a king he just shone. His eyes looking at everything and his face radiant and bright. So so bright it hurt. We cry some more fam, as Troopz would say, and he gurgles. He has given me all that I ever wanted in an instant forever. His mother isn't looking at me though and we're back to the whys. We have to return with two. We have to for all things to make sense for me. The clockwatching stopped and all I ever wanted changed. I don't even recognise who I am pleading with anymore but please. Not today.
9.22am. We're all back in the room. The consultants too. No longer words I don't want to see or comprehend. Mother and baby are together and I'm trying to desperately hold on to reality here. Check the date, time, weather, headcount (I kid you not) and just breathe. If you really do see life flash before your eyes at the point you say goodbye to the world then being on the walkway to saying goodbye in such circumstances feels worse. I'll let you know if I'm right when I get to saying goodbye! 17.30 kick off though against West Ham so we'll be here for a good while yet.
I want to sleep forever. This phase of time repeats. To this day I don't know what was in my head completely. You have a new-born in your arms and as your heart is at its fullest you do what comes naturally. Sahib (he has a name you'll be glad to know) has eyes closed. I play with his feet and it's five little toes on each side. I play with his hands and why is back. The Empire of Why is striking back in a ruthless nature and I'm dying inside. I know I am. I'm sure I am. Not H.A.P.P.Y. The words are back. They have no words for me for now. My son has five fingers on left hand. My son has two fingers on right hand. Holding, grasping and searching isn't changing a thing. Three is not a magic number when three are missing. Please, can everything just go back to normal? Where are they? Why are they hiding? Why?
Why did I take away her smile?
I really don't like why. I didn't like how I couldn't be in control of emotions any more. I didn't like what I did not know. I did not know what was wrong and I'd never felt so alone. I cannot explain why I continually searched Sahib's right hand for three fingers between thumb and little finger. Hindsight tells me they weren't going to be there and it was all a big mistake somehow. Every scan, every image, every heartbeat seen prior showed me a life waiting to enrich ours. None of them would have seen this. None of them would have changed a thing. Kick off still would be at 17.30. My son didn't want to see his first match though. He just wanted to sleep and pee on daddy. The period between the sporadic tears and self-kick up the backside to the first prognosis of what happened is frankly a blur.  I know I made my way out of the hospital for a while to break down. I think I had to, in order to reset. The senses associated with incoming congratulations to overflow you with hope springs eternal came thick and fast as nobody knew the last few hours. I had no-one to tell because I had no way to start. The beginning wasn't clear and the end is something I was still waiting for.
We won. I know this. I watched as my wife slept and my daughter Daya came bursting with joy into the room with my mother. Both of them totally oblivious to life in these four walls until visiting time starting. Flowers, balloons, badly written cards (my mum always one for few words of sentiment) and Daya. Lots of Daya. Daya means "to show compassion". Sahib means to be a Master/Lord. A true gentleman in conduct and spirit. Whilst he conquered milk and "that" poo, I mastered smiling without falling apart. Salah scored, Matip scored, Ox scored, they scored, Salah scored. Lots of orange running everywhere and all Liverpool's Gods shone brightly to mark the day. I can truly say I needed that. More than anything I needed some distraction. I needed part of my insides to reconnect with a world that was making me deeply saddened. I needed hope.
Poland. Poland, Poland, Poland… Poland. More apt than anyone can imagine as I'll explain later. Sahib was born with Poland Syndrome. A rare sporadic, non-genetic condition which affects the growth and development of the right arm and right chest area when in the womb. Think Jeremy Beadle for an easy reference respective to small right hand. In Sahib's case, everything fine and then right hand impacted. The human capacity to this day has always astonished and impressed me. I can write freely about the syndrome and describe it as well paint the picture of the impact. The bit leading up to it, as per above, is the tipping point. It's the nudge that can send me into a place I call "I don't really want to go home today" or the opposite of that which means we can defeat all on comers. It seems a bit dark and defeatist to openly state that but I'm not what anyone could ever describe as a closed book. What you see really is what you get. In respect to it being mental health week too, I feel it's even more important to not hide that sentiment. I've had to go there to know why. It's not peculiar either. Going home if I'm feeling down or besieged by the thoughts of my old enemy "Why?" isn't a nice thing. It's not nice for my daughter to see it or my wife for that matter. It happens sometimes. For those times there are smiles. There are loud baby noises that stop me and stop any thought of tears. There is hope. There is the shift from draws/losses to wins. There is the shift from maybe to will be. There is the hope that life imitates the art on the pitch. There my soul rests. There my Liverpool helps me breathe easier again. It knows nothing of my pain but it knows of pain. It knows of helping. It just doesn't need to know me. It just needs to let me be here so can I come in?
I don't drink (boring). Don't do recreational drugs (boring/sensible, you decide). My nights out are on the motorway these days because roadworks without anyone working is apparently all the rage these days! I fly early and come back early so sleep is a luxury item. I do this for sanctuary. A place of safety away from living. Anfield doesn't really know me as I'm one of many. It becomes my centre as I sit right at its centre in the King Kenny stand. An away crowd doesn't really know me as I'm a face amongst the faceless and I like that. There is no prejudice for me or who I am and it is the effective bubble to drift away in. I can get lost in it all from the time I leave the house to the point I return. I travel mostly alone (bloody really boring) and I can think whatever I need to. I can break down, I can sob uncontrollably and I can do it knowing nobody has to see it. I can do it knowing that when the car stops and I'm going through turnstile nobody knows. I've come for this strange peace found amongst the bedlam of a Salah spectacular or the beating sound of a crowd who want the same thing as me when I am there – a win.
I want to win. So badly. Every piece of me reverts to a child who's having his favourite toy taken away when we're losing. That sinking of heart and hollowness exacerbates the further we get away from coming back. My rationalisation of any loss is now much easier than when it was when I first started out on watching us play. Kids change that I think. You don't want them to see the pain of a loss so you get over it faster. In my case, I just know the face that walks through that door must be strong. I've seen some very dear friends not hold that face together. I don't judge them. I know what they know to be like that. They've fought longer and harder for nearly 30 years and will carry on doing so.
The winning. We win so well. Hoffenheim, Maribor and again, Spartak, Porto, City, City and Roma. All seen, all victorious but not all plain sailing during October/November. Sahib's first away was Porto. As he slept dreaming of Kiev, I had the pleasure of being recognised by Billy Hogan. Nice fella, likes numbers, would do well on AI! Taking a 3-month-old child to a stadium is not a good idea so I didn't and again my ever-patient wife had him all settled in to watch from the hotel. I went and got drenched in the rain and 5-0 does something to you when soaking wet. It makes you forget the weather. It makes you forget the squelching noise. It lets you dream a dream. I have had so many for Sahib. I know the only limitations to them are in my head and therefore nothing will stop him from anything. I sometimes forget that. I sometimes forget why too.
I can count on one hand the number of people I've opened up to about all this. The first call was the deepest. I phoned my best mate and literally cried all the way through it explaining the maths of who nearly never came home. It helped. The only other time that had happened was telling relatives of the passing of my father in 2010 because nobody else knew how to start. I started with one, the rest followed. With Sahib, I started at one and ended soon after at two. The second person would have been editing this submission on another day so she knows I owe her a deep debt of gratitude for answering that call. I'm not saying she dodges podcasts like Dodgeball wanted to you to miss a wrench but…
When you're brave and filled with a courageous spirit you can achieve. I'd like to believe Liverpool felt this when we smacked City 4-3 in January and I'd like to believe it's because I was in the aforementioned states when telling my own friends what had been going on for the past few months. Again, I stumbled. Again, I asked why of why for the umpteenth occasion. I wasn't sure about going home. Every time I say that it saddens me a little because home is where the heart is. My home isn't broken, far from it. My home's nice and has people I love in it and nearby (you know who you are). My home though has me in fear of just slipping when I feed Sahib. The mask slipping, the charade of togetherness being shattered and every little splinter showing weakness. Those are low points. Genuinely. I am reminded by a voice inside that you can go searching to open up your feelings but where will you open when the whole world is in pain about something? The answer isn't to stay closed. The answers aren't all about three points either. The answer comes in smiles. The person greeting you. The photo sent to you of a coy childish moment. The memory triggered that takes that haze away.
An Alex Oxlade-Chamberlain goal within ten minutes of that match.
How does football do this to you? I can track pretty much every bit of living and loving by the matches I've been at but this season more than most. The Champions League has mirrored every sentiment of my last 8-9 months or so. Agony, ecstasy and the abyss in between. I never ever believed a victory like Porto was possible. I still can't work out how we scored 5 or whether we had the right to do so I don't anymore. I don't because I know life is teaching me to get beyond "why?". I have to. Waiting for "why" to turn up and deliver a perfectly reasonable explanation is not likely to happen. The punishing, pulverising, scintillating, devastating and netbusting goal from Oxlade-Chamberlain relieved more pain that say than he will ever know. Sahib's first visit to Liverpool. He saw a city and slept while his dad dared to dream. I saw a Man City and let go a little. I could forget some anguish. The guilt though traps you. The guilt though led to resolve, much needed resolve to cope with a first half the following week when down 1-0 after 2 minutes. Me and time bonded in November so passages of trauma are more easily navigated. We won. It helped more to forget the first half. Kiev was booked and as fate would have it via a route that was destined to happen. Via Warsaw, Poland.
Do you remember the last time you just held on to your child/children as a baby? Not for reasons of protection due to fear or to stop them from hurting themselves but just because. It's you and them. The views from the windows around you blur away and the myriad of thoughts inside you begin to slow down. You piece together a make-believe of little things and everything is so warm and at a oneness with your child. I do this often now. He holds my finger and inside I'm falling. I'm not failing though because I know this cycle passes. The falling will end and we float back up slowly. He's oblivious to a thinking switching from what lies ahead to what it will take for glories in Kiev? This feels better than before. This feels like Roma. It feels like a systematic dismantling of an old adversary and it feels right. 1, 2, 3, 4, 5 and up and a little back but that's ok. Nothing can be wrong with our Egyptian King and his majestic goal after goal. Nothing can be wrong with a Sadio Mane who will end this tie. Nothing can be wrong when Roberto Firmino wants to make sure of that. The away leg, if you were wondering, was just as it was meant to be with a predictable glory touched with a period of late drama but destiny is already written. Now, where have we read about that today?
And I feel fine. Finer if that's possible. I can be ok again with everything. I can be at ease knowing I haven't lost. I can see them, touch them, feel them, hold them and stop myself from being sucked in by the Why monster. I like this feeling because of all these matches. Each one letting me forget and each one letting me heal. I needed to heal more than I realised. I could pretend everything was sunshine and happiness but it caught up with me hard. As Liverpool grew, I followed. They took me everywhere and then brought me home. My friends too. Back in one mental piece to be ready for the unknown and I am grateful because it's like winning again. A win by not going down the road to a sad place that makes me not want to go home. All that remains is a win. That win. Number 6. As my friend will reveal in Kiev "We've Come to Take You Home"
Football is back knocking loudly. I don't want it to end because I want it to help me more. I want it to carry on picking me up as it has done repeatedly without bias. I want it to write the history so that when my son or daughter see this later in life I can tell them how the story ends. Everyone loves happy endings and it's about time we had one. It has to be a win for so many people. We all weather storms in our own way, just like we climbed that hill in our own way. It's time for this win. It's a destiny. I'm prepared for a loss should it happen but I've been there, wore that t-shirt and never been as relieved as the time came to take it off. I want a win. I want to see what we saw at the end of Roma away. I want to tell Sahib that in the season of his birth he achieved the greatness of helping fix his slightly broken dad along with this team. I want to tell Daya that every little note and card mended so many broken fences inside me. I want to tell her that when she loves Liverpool like she does now what it does to me. I want to tell my wife she gave me these gifts. I want to tell them all they give me life and let me reconnect. I don't forget to tell myself they did too.
This is a lot, isn't it? If you've made it this far I'm already in awe of you. I'm in awe of many things this season and top of that list is Resilience. Good old fashioned hardened resolve. My forefathers had it in abundance. Our collective Liverpool fanbase equivalent did too. It lost a little of its mojo at times but everyone loves comebacks and this season it's been a resurgence I have felt like no other. It's probably always been there and just this time around I'm feeling it more because I need it. I don't know. It may be selfish of me to feel this way but it works for me and if it's good enough for me, it's good enough for you! And yes, if he scores another two then can he make sure others do too so it's coming home with us? Just as the song at the beginning says I know I'll never lose affection as that test came and went and most fittingly due to the people and things that went before.
I know I'll often stop and think about them and In my life, I will love you more. Forever.