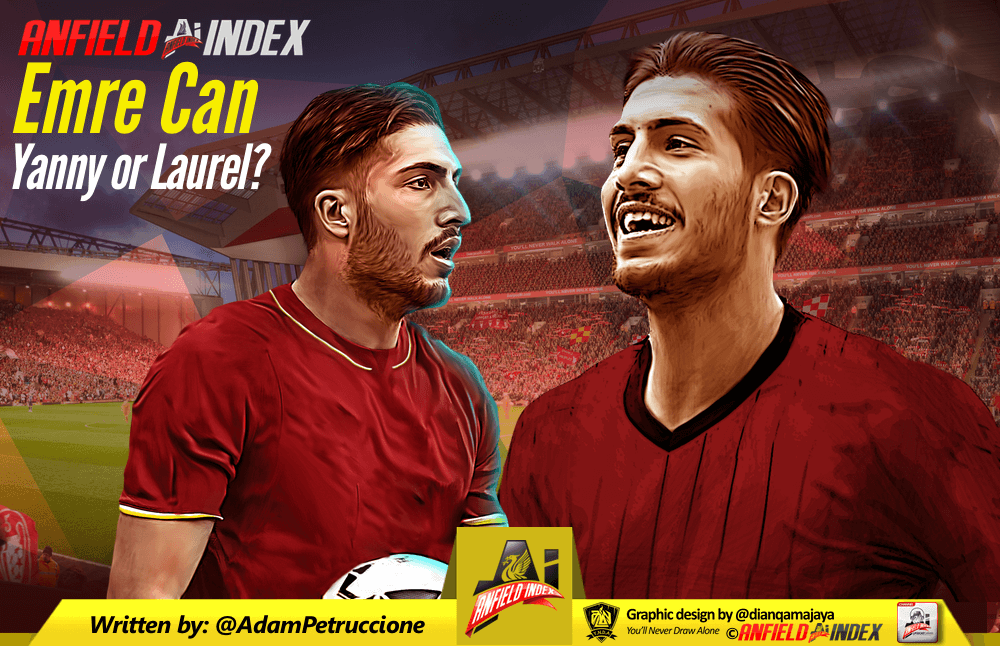 Emre Can: Yanny or Laurel?
If you've somehow avoided listening to the viral clip below, maybe you've been trying to calculate the ideal combination of trains, planes and automobiles to get yourself to Kiev. Maybe you've had your head in YouTube clips of Nebil Fekir and Yerry Mina. Regardless, it's time to get with the program and listen to the clip. What do you hear? Is the voice saying "Yanny" or "Laurel"?
https://twitter.com/bbcnews/status/997036626214780928
If you hear "Yanny," you're a normal person and if you hear "Laurel" then you truly frighten me and might want to invest in a hearing aid and/or an exorcist.

Liverpool's own private "blue dress," our own "Yanny vs Laurel," is Emre Can. As his career as a Red comes to an apparent close, supporters are evenly and frustratingly divided over how to view Can's time on Merseyside.
With Emre Can and his agents having made the decision to run down his contract instead of signing an extension any juncture, some supporters are furious and view his entire time as a waste while others see the move as "just business," an employee simply fulfilling the terms of his contract at a high level.
There will always be supporters who can only view things in extremes, but if you're a normal person who saw the blue dress and heard "yanny," how should you remember Emre?
https://twitter.com/missyash8/status/994252999819235328
Should we feel grateful or jilted?
Emre initially cost Liverpool 9 million when he was signed from Bayer Leverkusen in 2014. He has also been on rather affordable wages at 55K per week, having never signed an extension to bump up those numbers.
What have Liverpool received in return? The narrative that is comfortable to embrace is is that Emre Can came in as a raw talent that had to be moulded into the player he is today. The truth is that the German arrived as a supremely talented 20-year-old, and has been a steady performer throughout his time. What has changed and improved is Liverpool's understanding of where to play Can and in what system.
Making 27, 30, 32, and 26 appearances in his time in the Premier League, Emre Can has been a significant contributor in each of his four seasons. Brendan Rodgers moved him around from centre-back to full-back while Klopp has swapped him between a DM and a box-to-box role in his 4231 and 433 formations.
WhoScored.com rated Emre Can's Premier League performances at 7.05 in his first year, 7.05 in his second year, and you guessed it, 7.05 last season. This year, along with the rest of the squad his performances and consistency have improved, and his rating has improved to 7.28. His defensive and attacking metrics have stayed in the same range as well considering his positional changes. All-in-all, it has been a remarkably straight line for Emre in terms of his output, which tells you that this isn't a situation where the player owes the club a huge debt of gratitude for developing him. Rather, the club owes Can thanks for consistently performing at a high level across a range of different positions while adapting to a new league.
Only Emre Can (67) made more tackles than Roberto Firmino (65) for @LFC in the 17/18 @premierleague season

— Kop Data (@KopData) May 14, 2018
Can came with a warning label
Departing Liverpool on a free, wherever he goes, will cost the club somewhere in the neighbourhood of 40m based on what he could have been sold for and what it might cost to replace the player. 40 million is significant and is a blow to the club as Michael Edwards and Jurgen Klopp continue to build the squad.
Emre Can moved from Leverkusen under similar circumstances, manufacturing the move through his agents, International Soccer Management GmbH, so there is a little bit of "buyer beware," that we should have had with him. He's the marquee client for them, and Serie A certainly makes sense for Can's game, so a move to Juventus isn't something that should shock the club as much as it has Liverpool fans. We also have to remember that although he has always started, he hasn't always been a guaranteed starter and Can is looking for certainty in his next deal.
Still, you would like to think that a mutually beneficial arrangement could have been made for the club, player and agent where he could have received a bump in wages, and an extension to his deal with the agreement that we would allow him to move for a reasonable fee. To that end, reports last summer suggested that contract negotiations were hung up over buy-out clauses.
The Inconvenience of Practicality
The big picture problem for Liverpool is that they are attempting to have all of their top talent signed to long-term deals without buy-out clauses. So, even if they knew that this move was coming, they likely had their hands tied by this policy. Preserve Can's value with a wink-wink extension and the club would risk problems down the line with all of their other stars.
In the final analysis, Liverpool got a four-year starter who was able to fill a myriad of holes at a high level for roughly 20million in total fees and wages, which is nothing these days. Joe Gomez and Loris Karius are the only first team players the club has bought who would have cost the club less in pro-rated fees and wages.
Of course, the club would have hoped that the magic of Anfield and charisma of Klopp would have changed Emre Can's calculation, but they must have known this was a risk for at least the past year and probably further back than that. Coming to an agreement with Can given Henderson's position, the arrival of Naby Keita, and Emre's demands, well it would have been gravy on top of four years of great value for the club.
We supporters want the absolute best for Liverpool, and an extra 40 million or not having to replace Can at all would be ideal scenario, but that aside, few players have performed better for the Reds over these transitional years between Brendan Rodgers and Jurgen Klopp and his skimpy pay allowed us to spend big elsewhere, building the squad that has us on the brink of European glory.
You want it all, but you can't hear both "Yanny" and "Laurel" at the same time… apparently. The appropriate thing is to give the Brill Cream bruiser a friendly nod and thank him for his service. He's been a key piece to this project, but he'll be remembered more as the temporary scaffolding that made the build possible instead of a keystone player that will be talked about forever.
We'll always have Watford. YNWA.
Well goddamn…Emre Can w/ the sick one-time volley pic.twitter.com/HgYaAzYtVN

— Yung Buñuelo (@Povediitz) May 1, 2017