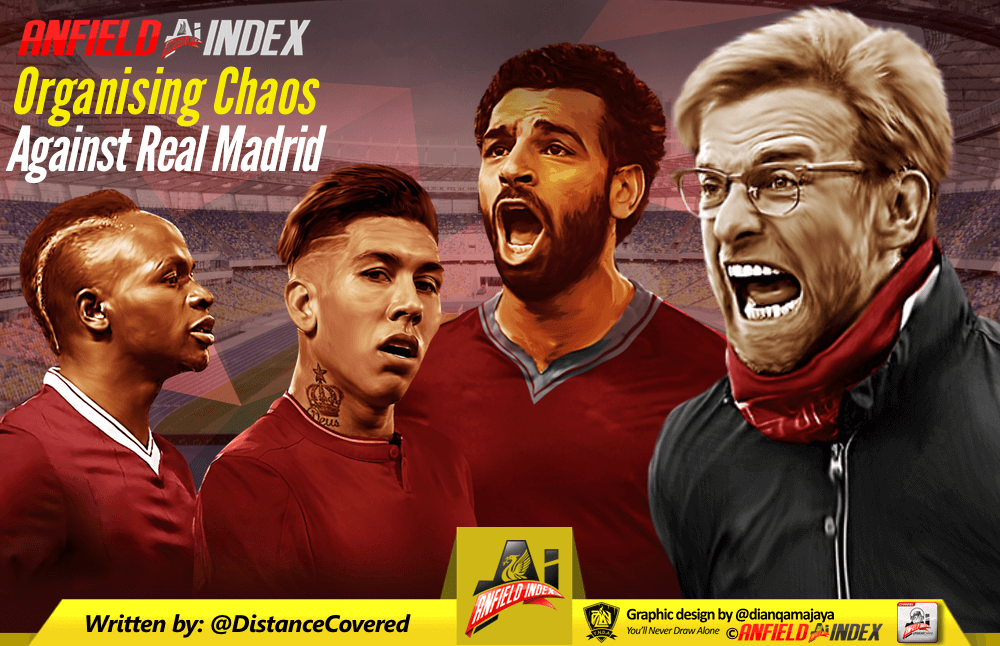 Organising Chaos Against Real Madrid
I shared a thread on Twitter recently about my thoughts on how Liverpool can beat Real Madrid, and it received such positive feedback that I've decided to expand on it here. The thread is linked below for those that want to check it out:
Some thoughts on #LFC vs. Madrid:

— Distance Covered (@DistanceCovered) May 15, 2018

Now, as I've mentioned in the thread, the key factor when determining whether Liverpool are likely to win against any opponent is whether the opposing team is vulnerable in transition or not. Liverpool are gradually working on their possession game under Klopp, and new additions such as Mo Salah and Virgil van Dijk have often helped unlock the door against more defensive opponents. Despite this, Liverpool's chance creation and main overall strength by some distance is their ability to create chaos in an instant, and Klopp's men are able to control these situations considerably better than most. This perceived anarchy is organised from Klopp's perspective, as he has his players expertly drilled to anticipate moments and take advantage of them using speed, energy and movement combined with a direct and aggressive style of football.
If Liverpool are allowed to produce these moments due to the opposition's structure or style of play, then there's a significant chance that Liverpool will create more than enough chances to win the match. These chaotic moments occur most frequently when the opposing team has the ball and are subsequently moving into their attacking shape. Usually, an attacking shape is wider, higher and more expansive than the shape used to defend. Thus, if Liverpool can win possession and immediately progress towards goal using the pace and movement of their attackers, the opposition will likely struggle to recover in time to prevent a chance.
Some opposing teams won't allow these situations to happen, often because of their outright refusal to transition to an offensive shape due to the fear of being attacked if they do indeed lose the ball. A team such as Chelsea are a good example here, as in their recent 1-0 victory over Liverpool; a lot of their focus was to keep players behind the ball so that their offensive shape wasn't overly different to their defensive one, which is pictured below.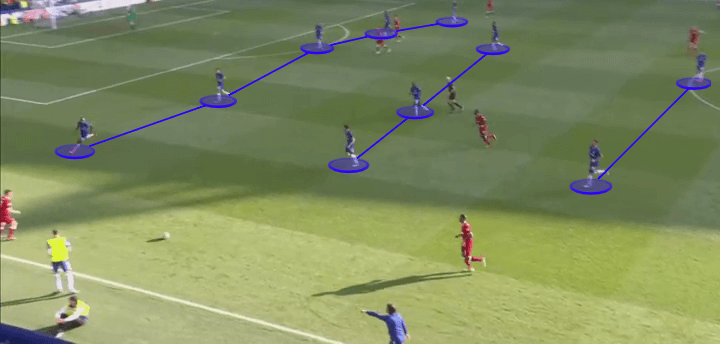 Chelsea attacked through very few players, managed to nick a goal and Liverpool struggled to break through despite having 68% possession. A large reason why Liverpool lost and failed to score here was that Chelsea weren't too expansive with the ball, as thus not vulnerable in transition, so Liverpool couldn't generate their brand of organised chaos. This is also a reason why Liverpool have struggled to beat Man United in recent years, because of Mourinho's reluctance to allow any transition opportunities by keeping men behind the ball and opting to go long when in possession. Basically, if you're going to try and play brave football on the floor against Liverpool, you're playing a dangerous game, and risk-averse coaches such as Conte and Mourinho are aware of this.
Now, in the case of Real Madrid, we have a side that are indeed vulnerable in transition. Why? Real Madrid's XI consists of elite stars that are used to attacking, dominating and ultimately playing the game on their own terms. Kroos and Modric are accustomed to controlling play, Marcelo and Carvajal consistently progress high and wide almost as wingers, and even Varane and Ramos in central defence practically play as midfielders. An example of this is pictured below, in which I've highlighted Madrid's defence just as Atletico win the ball.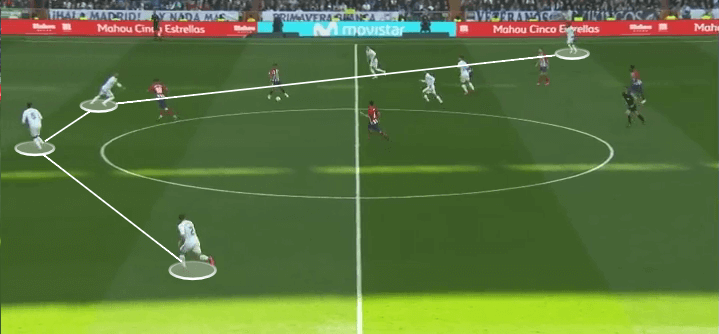 Zidane allows his players to play in such a manner simply because of how capable they are. If the ball is lost by Madrid then they are able to cope in most cases because of their physical capacity to recover as well as Ramos & Varane's ability to deal with threats without proper support.
However, in Kiev Real Madrid will be facing the most proficient side in the world when it comes to transition football and they will have to deal with a standard type that they aren't used to facing. This season, Manchester City have been the most impeccably coached side in the world in terms of structure and possession football. Pep Guardiola is essentially the modern day high priest of ball retention and the main vulnerability he's had to overcome since becoming a coach is counter-attacks. He has obsessed over nullifying the only perceived weakness to his style of play for 11 years and despite all his understanding, his side has still lost three times to Klopp's Liverpool this season. In Liverpool's last three meetings with City, Klopp's side has scored 4, 3, and 2, and it's worth mentioning that Zidane's team aren't as well structured as Pep's.
I don't intend to compare Madrid with City, because both sides are different in their own ways. However, I think Liverpool will adopt a very similar approach in that they will be happy to concede possession in order to press intelligently as a collective and pounce once the aforementioned chaotic moments ensue. Madrid's overall system is offensive and adventurous which adequately represents a team of their stature, but Liverpool should be licking their lips at such a prospect due to how that style compliments their own.