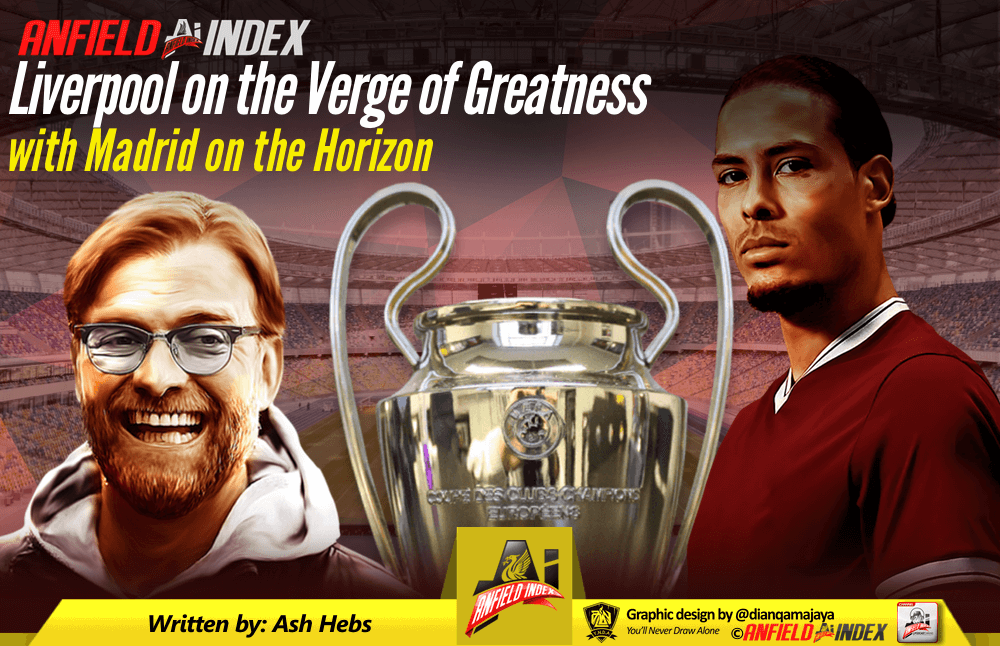 Liverpool on the Verge of Greatness with Madrid on the Horizon
A little under a week remains before Liverpool kick-off in an epic final against Europe's finest knockout team of recent years. Should Jürgen Klopp taste victory and claim the biggest prize in club football, it will be one of his finest moments yet.
A rising force
Liverpool will be the underdog going into the match. But win the trophy and once again we will show the world we are a formidable opponent in European knockout football. One to be feared and respected in equal measure. No longer the underdog but a worthy contender.
Victory in Kiev will mark a beautiful, beautiful ending to a rollercoaster of a season. Klopp will have met and exceeded all reasonable expectations. Most of us would have taken a top 4 finish and a credible Champions League performance. Especially after missing out on 2 key targets last summer in Naby Keita and Virgil Van Dijk. With one signing already in situ and another on his way, things are falling together nicely. Even without Naby this team is capable of giving Real Madrid a real run for their money.
Mitigating circumstances
Some may point to a campaign that saw us finish with 1 point less than the previous campaign. They may view it as a drop off in quality. But Klopp was aware that there would be Champions League football and that he needed a stronger squad. I think he has one, particularly when we analyse the midfield as an example. The strength in depth has carried us through in recent weeks, despite the absence of Coutinho, Can, Lallana and the Ox (all for varying reasons).
The shenanigans with Coutinho were destabilising for a number of reasons but the squad has coped well in his absence. Let's not give him any more air-time. The recent injury crisis, however, despite some excellent rotation and player management, has been a real blow.
That is what has cost us a possible second-placed finish which we were worthy of. Whilst the points might not prove it, and referees have screwed us royally all season, I am sure Pep Guardiola is looking to next season with Liverpool in his sights as his main rival. Make no mistake, whatever happens in Kiev, this team is on the up.
Opportunity awaits
Winning old Big Ears, however, will propel Klopp's team from nearly men to genuine champions. After 2 final defeats, we could be the victors in the biggest final of them all. We play like champions for the most part, until our nerves and lack of quality at times (after all the team is still a work in progress), make us forget how good we can be.
Making it past the hurdle that is Madrid will get the proverbial monkey off our back at last. These players can truly become believers rather than doubters. Believers in themselves and their teammates to get the job done. No matter what and no matter who the opponent. To get over the finishing line; to show substance as well as promise.
Players like Mo Salah, Bobby Firmino and Sadio Mañe will believe they are at a team that can go on to challenge for major honours over the coming years. The belief and conviction in Klopp's project will only be stronger. Players around Europe will look at Liverpool in a whole different light and be queuing up to join the ride. To be part of a special project with a special manager at the driver's seat.
Work in progress
That's without mentioning the impact on young players like Trent and Robertson who are only in their debut seasons at the club. European champions, how good would that sound? How much would that do for their belief and desire to keep on improving? To go on to bigger and better things.
Even if the worst happens, these boys have given a good account of themselves. This season's performances and their nature give Klopp something to work with, in the summer. Something to convince everyone, key men included, that this project is only just starting.
But because it's final build-up week let's not go down that path yet. We're in it to win it and justifiably so. We can respect Madrid but we don't need to fear them. We just need to do our jobs on Saturday evening. A rested and fresh group, hungry and fearless, can scare the living daylights out of Madrid. Their ageing team has not experienced anything like the whirlwind that is Klopp's relentless pressing machine.
Jürgen a man with a plan
If anyone can come up with a plan it's our Jurgen. He's faced adversity throughout the season yet still got the team to perform. From an unprecedented difficulty in fixture schedules at the start of the season to incompetent officials, to players unwilling to commit to the cause. And more recently the injury crisis as mentioned earlier and the departure of Buvaç. Unplanned difficulties which are not easily addressed by just spending more money.
Klopp's done things the hard way this year. But he's come out fighting. If only he can just do it one more time against the reigning champions. He'll be the deserving recipient of universal acclaim. The right man for the Liverpool job and one of the finest coaches in the modern footballing era.
Saturday is a massive game on the way to this club hopefully reclaiming back its perch. Just how good would it be for Liverpool to herald the end of an era of Madridista dominance? For these players to stamp their names in history and be legends. These lads are on the verge of greatness. Come on you Reds!!!