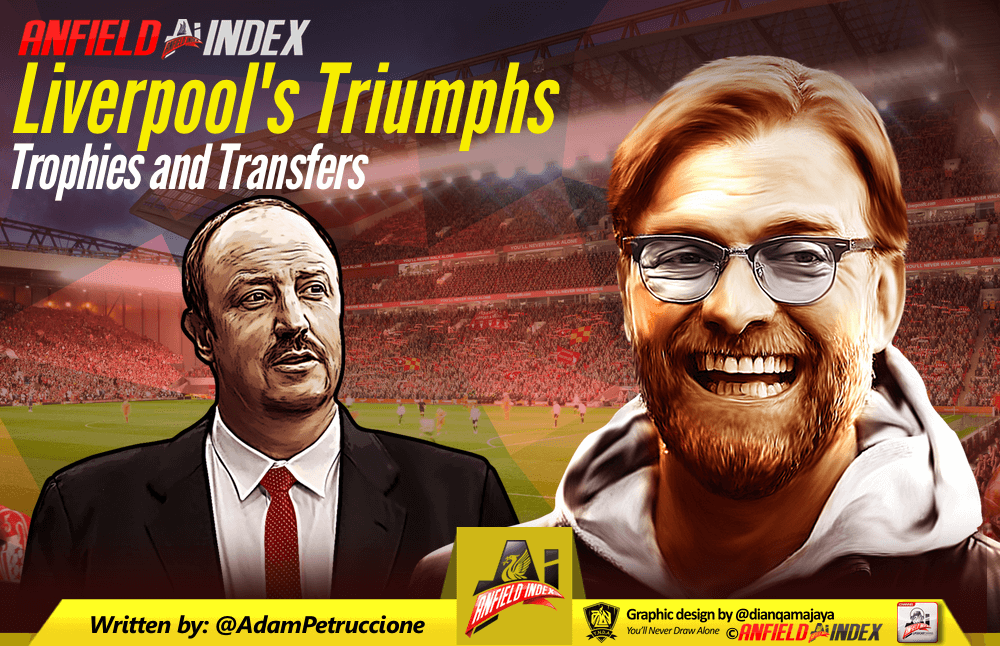 Liverpool's Triumphs, Trophies and Transfers
With Liverpool on the brink of European glory while being linked to half of Europe the obvious question is; how much of a boost can the Reds expect in the transfer window should they return home from Kiev with number six? Will the top talents be drawn by the possibility of playing for the European champions? Given Liverpool's pedigree, we don't have to guess, we can look at what's happened in the past.
After an incredible win in Istanbul over an AC Milan squad that compares well to this weekend's opponent, Liverpool went into the summer of 2005 full of confidence. The transfer numbers weren't as eye-popping at the time, but many relatively big deals went down that year. To give you a sense scale, Michael Essien was bought by Chelsea for £24.4 million from Lyon, while Sean Wright-Phillips went to City for £21 million and Michael Owen traded Real Madrid white for Newcastle stripes for £17 million.
Liverpool didn't set foot in the deep end of the transfer pool, rather focusing on mid-level targets. Manager Rafa Benitez knew the Spanish market and was able to pluck talents from La Liga for relative bargains. One mitigating factor was that Liverpool weren't initially certain of a spot in the 2005-06 Champions League, having finished in fifth the season prior, three points below Everton. The Reds were eventually allowed in the competition through special dispensation but were made to navigate through all of the qualifying rounds. Daniel Agger would eventually join the club, but not until the January window.

Transfer window open. Liverpool can't afford to waste this one on potential. We've got to use our Champions League run to bring in quality. #LFC

— Andy Forbes (@Forbesy602) May 16, 2018
Liverpool Transfers Summer 2005:
Peter Crouch – £7m – Southampton
Pepe Reina – £6.8m – Villarreal
Momo Sissoko – £5.6m – Valencia
Mark Gonzalez – £1.5m – Albacete*
*finalized in October
Sissoko
The 20-year-old Mali midfielder was signed under the nose of Everton when Valencia insisted on a buy-back clause. He was coming off of two good years in La Liga, especially for a teenager, having originally been brought to Spain by Rafa Benitez.
"Mohamed is a young central midfielder who plays a high-energy game with a high tempo. He's young, he's not bad on the ball and he will improve the balance of our team in the middle. He's had two good years with Valencia where he has won trophies. I know him well and he's a very good player." – Rafa Benitez
2018 Comparison: Amadou Diawara (Napoli)
A rangy central midfielder, Diawara is thought to be an ideal partner for Naby Keita and Nabil Fekir, able to provide a solid platform at pace, enabling the rest of the Reds' attacking talents to roam freely as Sissoko did for his teammates.
Pepe Reina
The Barcelona academy product was the sixth Spaniard to join Liverpool under the Rafa reign. He was coming off of three stand-out seasons at Villarreal where he helped them to the semi-final of the UEFA Cup and got them into the Champions League for the first time in their history. He was only 22 at the time, taking over between the sticks for Liverpool at a very young age for a 'keeper.
"To come to the champions of Europe with the history of Liverpool is not easy, but I will answer these questions with a positive response."
2018 Comparison: Gianluigi Donnarumma (AC Milan)
A different GK stylistically to Reina, but similar in that he's been thrown into the fire at a young age and tested in big competitions. Donnarumma would come at a premium, but at a level below Oblak and Allison.
Peter Crouch
After a tour through academies and senior team squads all over England, Liverpool signed Crouch from Southampton. It was the second time that Harry Redknapp sold him even though he was only 24 at the time. Crouchy had scored 16 in a season that saw the Saints relegated.
"I am thrilled to be joining a club as prestigious and successful as Liverpool," he said.
"Once I heard of their interest in me it was hard not to think about what it would be like to pull on the famous red shirt and play in front of the Kop."
2018 Comparison: Patrick Bamford (Middlesborough)
A lanky, young English forward on a poor side, Bamford fits that bill, scoring 11 this season for Middlesborough. Liverpool wouldn't be in for Bamford and that's probably a positive sign for where the club stands at the moment in terms of financial strength and on-pitch style.
Mark González
Work permit problems with Liverpool? Apparently, it's not just a modern pairing as González was a complex signing that took great effort for the Reds to chase down. González initially agreed to a move to Merseyside on loan for the 2005–06 season (with an option for a £1.5 million permanent transfer) from Albacete. However, he was denied a work permit that summer. He was also recovering from a serious knee injury and was ultimately loaned to Real Sociedad to let both of those issues settle. After he recovered, Liverpool made the move permanent in October.
"I'm aware he has shown he has the confidence to sign me while I'm injured. Only the biggest teams do that. Now, I have to respond to their confidence with football."
2018 Comparison: Joaquin Correa (Sevilla)
A speedy left wing from La Liga via South America, Correa would be one to develop as González was thought to be at the time. Liverpool are still shopping for prospects these days, but they're either getting them early and stashing them on loan or in the Academy or buying established young players who are levels above where the Albacete man was in 2005.
– – –
Even though Sissoko impressed for Liverpool prior to his injury, Reina was a top 'keeper for years and Crouch had some memorable goal celebrations, the 2005 summer window wouldn't be appreciated by supporters if something similar happened over the course of the next few months.
Still on the FSG in/out fence? The Moore family clearly didn't have the financial fortitude to compete with City, Chelsea, Arsenal or even Newcastle after winning number five. And, if the most commonly whispered rumours of the club's summer business are remotely true, the incoming group will be far more exciting than our post-Istanbul deals regardless of the final result in Kiev.