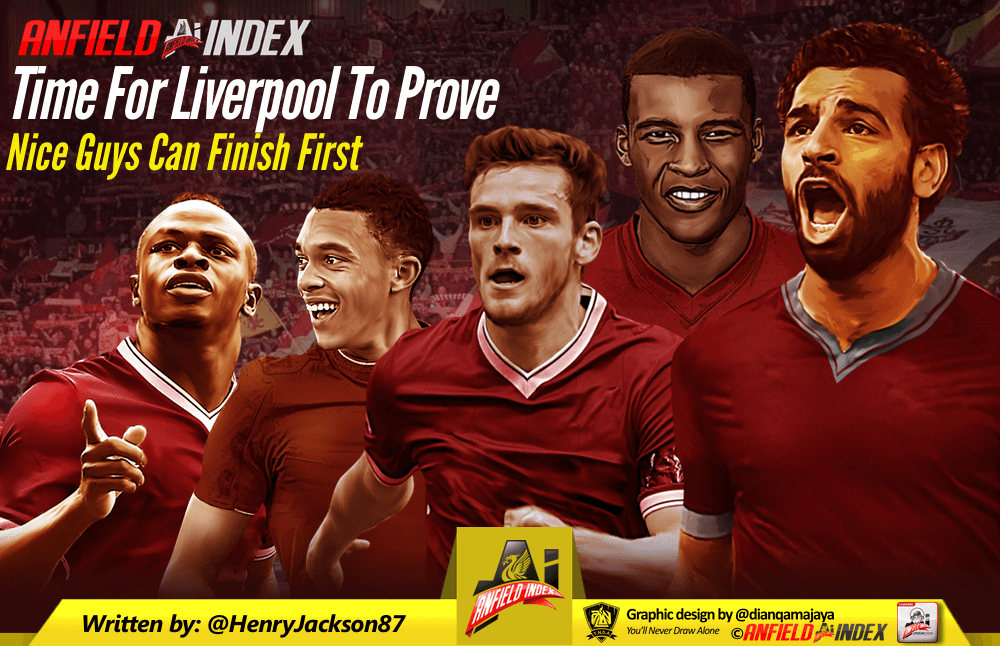 Time For Liverpool To Prove Nice Guys Can Finish First
Bias exists in football, there is no doubt about that.
We all overly heap praise on the teams we support and the players we love, while those we dislike must do something magical to earn a similar level of adoration.
One thing that has nothing to do with favouritism, however, is just what a likeable bunch of players Liverpool have nowadays. Sure, we will instantly warm to our own players more than Man United or Everton fans would, but even they would admit that there is plenty to like about this group in comparison to past sides.

There have been individuals in years gone by who you wholly understand a rival supporter loathing – Luis Suarez stands out as the perfect example – but the way in which this current crop of Reds conduct themselves and play football is to be admired.
Who could you legitimately imagine actively disliking if they were wearing a United shirt every week? Jordan Henderson gets in the faces of referees, which would perhaps grow tiresome, while Dejan Lovren's and Emre Can's respective aggressive natures could get under the skin of some. You could argue that there is an arrogance about Virgil van Dijk, and an understated spikiness to Sadio Mane's game, but it's clutching at straws.
They're not exactly Suarez, are they?
You can rattle off various other names and it is difficult to deny that they are humble people who play in a fair, sportsmanlike manner during matches.
Loris Karius, Trent Alexander-Arnold, Joe Gomez, Andy Robertson, Gini Wijnaldum, James Milner, Alex Oxlade-Chamberlain, Mo Salah, Sadio Mane, Roberto Firmino, Danny Ings.
Absolute gems, the lot of them. And that's just a selection.
Jurgen Klopp is clearly the catalyst in all of this, with humility something he demands in his players, and team spirit within his squad more essential than anything. He has no time for egos, regardless of how world-class they are as footballers, and will get rid of any bad eggs as soon as any sign of becoming rotten.
Seeing any Liverpool team reach the Champions League final is a joy, but the way in which Klopp's class of 2018 go about their business makes it that extra bit special. There is no play-acting, very little time-wasting and everything is done with a smile on their face. They are people you could envisage being friends with if they were 'normal' folk, and who you would happily allow your daughter to marry.
There is an argument that this can sometimes make Liverpool a soft touch, in a game where mastering the dark arts can be so fruitful. This is an entirely fair argument to make if that team is unsuccessful, but that is not the case at all with the present-day Reds.
Liverpool have qualified for the biggest game in club football in this manner, proving you don't have to behave like a gang of bastards to thrive. There are times when it can be beneficial – you would like to see a bit more of a nasty edge to the Reds' play, contradictory though that may sound – give me this style any day, assuming it brings results.
The showdown with Real Madrid on Saturday is the ultimate Good Guys vs. Bad Guys contest in many ways, and Liverpool conquering their imposing opponents will be their greatest accomplishment since Istanbul. This is the moment they must prove that nice guys can finish first and not be outdone by their gnarlier opponents.
It would be such a victory for football if the Reds win – rival supporters are understandably praying Madrid get the job done and seal a third Champions League title in succession, of course – on a night that would represent the crowning night of Klopp's career to date.
Zinedine Zidane's side are everything Liverpool are not in many ways. They are a vastly experienced, cynical group of players who know exactly how to get the job done, by all means necessary. As a club, they have a bottomless pit of funds and power, stealing star players away from other teams and often lacking class in the process. That was shown earlier in the month when Los Blancos refused to give bitter rivals and La Liga champions Barcelona a lap of honour at Camp Nou.
They have arguably the snidest player in history in Sergio Ramos – recipient of no fewer than 24 red cards throughout his magnificent career – while Keylor Navas, Dani Carvajal and Casemiro have similar traits running through their veins, much as it may not always be as obvious. Cristiano Ronaldo and Gareth Bale will look to buy fouls at every given opportunity, and as an all-round unit, they are masters at psychologically grinding down referees.
On top of that, they seem to get every single decision their way when the biggest matches come along, and every deflection and bounce of the ball appears to benefit them one way or another. It should be stressed that they are also a tremendous football team worthy of great respect, but they aren't half difficult to warm to.
The victor of Saturday's final will be determined by such fine margins, and how Liverpool cope with the occasion is going to be particularly crucial.
This the biggest night of these players' careers, whereas for Madrid it is just another final for a group of individuals who know the latter stages of the Champions League inside out by now.
It will be a travesty if Liverpool's almost childlike innocence, and Madrid's dark arts mastery, make all the difference, and Klopp's men must be wary but also not change the approach that has worked so emphatically so far.
The Reds have reached the showcase event in Kiev without histrionics, poor sportsmanship and dressing room fall-outs, and just one more win will cement legendary status for them.
Nice guys CAN finish first – it's up to Liverpool to prove it on the grandest stage of all.