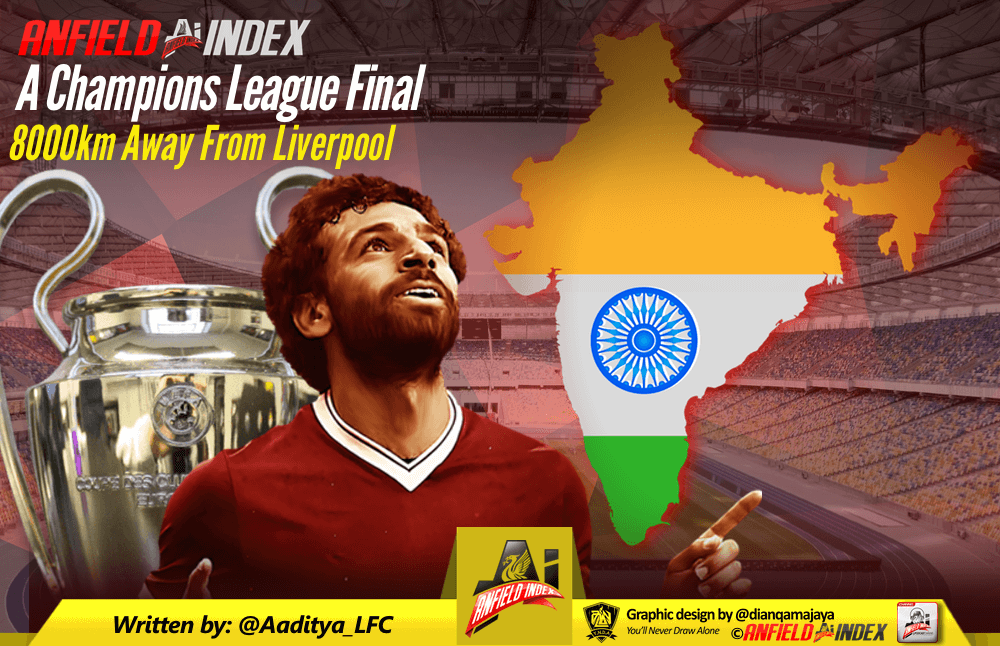 A Champions League Final - 8000km Away From Liverpool
25th May, 2005 – I was a little kid watching my Indian neighbour get intensely excited about a game of football. The neighbour was thrilled that his team was going to be playing in the biggest club football game of the year.
The little kid that I was, it gave me pleasure in trying to annoy him by supporting his team's opponents on the night. His team was AC Milan, as they strode out on that fateful night in Istanbul.
At half-time, I remember telling him that he'd have to buy me a chocolate if Milan won that final, 10-year-old me thought the chocolate was a guarantee.

A couple of hours after we shook hands on the chocolate agreement, I witnessed football. Bloody Hell.  
That's how life as a Liverpool fan started for me, all of 8,400 km away. I had no idea what the significance of the win was, I had no idea of the magnitude of the piece of silverware that Stevie Gerrard held over his head – but that day gave me Liverpool Football Club. I wouldn't really want to have it any other way. I didn't get my chocolate though. Sigh. 
Here I am, 13 years later, maybe a little neighbour here in the southern part of India wants to support Real Madrid just to annoy me.
But why would he need an excuse to support Real Madrid? There is the bare sight of one man who is a massive reason why Indian kids now take to football. There is Cristiano Ronaldo. There is also the small factor of Real being the European beasts that they are.
Just like me with Liverpool 13 years ago, the sight of a team lifting a European Cup has given rise to several new Real Madrid fans in India, at a time when the sport itself is going through an immense rise in popularity across the country.
Over the past few years, with the rise of football, the Champions League itself has become a huge deal in India. Games kick-off past midnight, but that doesn't deter anyone.
We've all heard and read stories about famous European nights at Anfield. For the lot of us, that is the ultimate pilgrimage, and it's rather damaging on the pocket. So we try and do the next big thing – try and create our own little mini-Anfield with a TV screen in front of us.
There are groups of fans all across the sprawling country that get together even at obscene hours. I, for one, am going to be travelling 300km to get back to my hometown to watch the final with a bunch of lads who've grown to become family over the past few years.
None of us have experienced anything quite like this ever before. That's what a UEFA Champions League final does to us, I guess. There have already been plans made to obtain police permission for the use of pyrotechnics (pray for us to get the required permissions).
But irrespective of what happens, 2017-18 will be the season that has brought Liverpool fans in India the most joy. We're not the best supported club in India, the Real Madrid's and Barcelona's and Manchester United's have a far bigger following out here than the mighty Reds, but that has made this season all the more special.
The opportunity to rub in sporting superiority is a welcome one, it's just human nature. After years of being taunted about our "place", and how we're not a big club anymore, this season has been payback time. It's been payback time because European Royalty has allowed us to pay everyone back, in kind.
There's still one big night left for all of us though. There are still those serial European winners from Madrid to overcome. But, for a lot of Liverpool fans in India, it is not just the prospect of Liverpool beating Real Madrid. It is the prospect of Liverpool beating a side that has Cristiano Ronaldo.
Ronaldo is a superstar in India, and along with Lionel Messi, is naturally the footballing name that commands the most awe and attention all across the country. There are the Manchester United fans across India who think Ronaldo is obligated to them, to their club, for one more time – to stop "them" from winning the Champions League.
Maybe on Saturday night, there will be a little kid who ignored Ronaldo. Maybe that little kid will have his footballing initiation by adoring Mo Salah, by looking up to captain Jordan Henderson, or maybe, just maybe, he'll wake up the next morning with a Bobby Firmino trademark kung-fu kick.
For me, a circle will complete after 13 years. From the time I supported Liverpool just to annoy a neighbour, I've come to a time when I want Liverpool to write another story for more little kids in India to be inspired by. I want Liverpool to write another glorious story, by means of which I can regain my bragging rights.
After all, this club has written me a story that I could not resist, and many others couldn't. Maybe that is why, just past midnight on Saturday, you will hear Allez Allez Allez ring around loud and clear across India. In Delhi, in Mumbai, in Bangalore, in Chennai.
We're all loyal supporters, we may not come from Liverpool, but there are few things that will give the various mini-Kops in India as much happiness on Saturday night as good ol' Big Ears coming back home.
From our little places here, we'll be willing the boys on, hopefully they can hear all of us in Kyiv.
Allez Allez Allez.