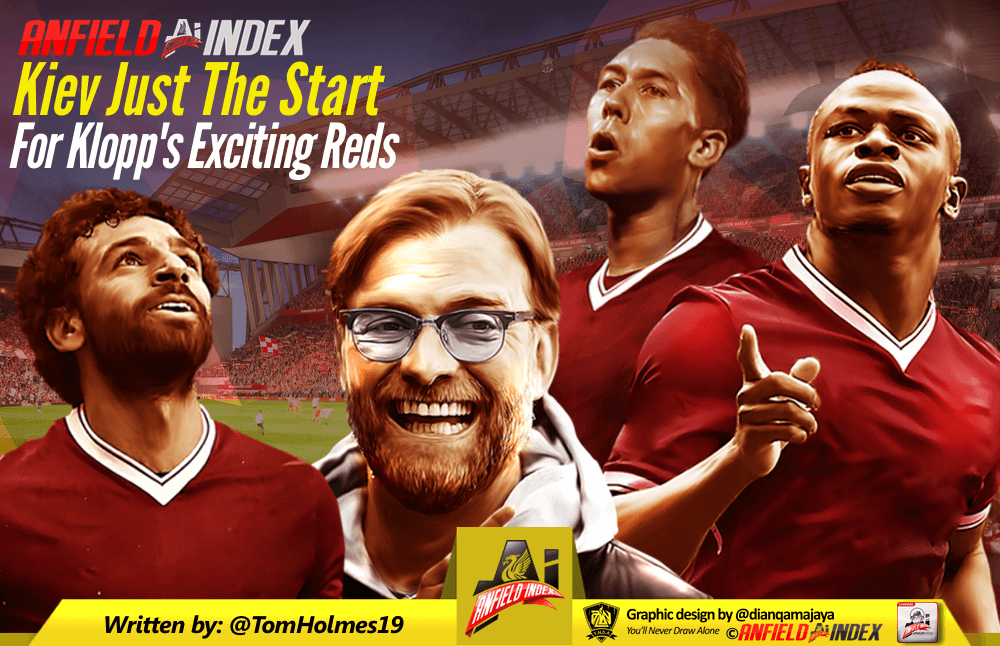 Kiev Just The Start For Klopp's Exciting Reds
For many, in fact a whole generation of Liverpool fans only slightly younger than me, the Champions League Final in Kiev could well be their biggest night of supporting Liverpool Football Club. Istanbul and the glory that it provided was 13 solid years ago, and whilst the Reds came close to winning the Premier League in 13/14 (arguably a bigger achievement than winning in Kiev this year), that never came down to a single night of football, the way that this one will.
The point I'm trying to make is that the level of excitement, the level of hype and the level of expectation on Liverpool feels higher than it does in years. Over a decade since our last UCL final, over a decade since Liverpool last won a trophy that wasn't the League Cup, and if we're being completely honest, almost a decade since we felt that this team was going in the right direction.
However, the most exciting thing about Kiev for me isn't the night itself – although that night is going to be absolutely special. It's the prospect of more Kievs to come. Of more trophies, of more challenges, of more great European nights. Win or lose, Kiev will be special, but it could be the first of many.
This is a Liverpool team that have seized real momentum – under a manager who absolutely excels in this kind of European cup competition – and even if we focus on Europe, it's entirely plausible that Liverpool can make Champions League final appearances a regular occasion. This is the Reds' third final and second European final in under three years under Klopp, which just indicates that they are getting a feel for this kind of thing, but the truth is that any team that can reach the final at the first time of asking in its current iteration, has to be taken seriously on the European circuit.
Whilst there's no telling what kind of positive impact a final win could have for the club across a number of different facets – financially, in terms of confidence, picking up players – it is absolutely clear that this is not the final destination in the Reds' whistle-stop tour of Europe. Whatever happens on Saturday night, this is a Liverpool team that will be back. This isn't a once in a generation event – as Istanbul ended up being in many respects.
For example, Phillipe Coutinho was, I argued at the time, the best player in the Premier League. Certainly, he was in the top handful. And yet he was moved on, mid-season, without replacement, and Liverpool played even better without him. Emre Can, our most talented midfielder, has been injured for weeks and looks set to go on a free in the summer, and yet most Liverpool fans have barely batted an eyelid at his departure. Love or hate Can, and I am definitely in the former camp, there is a real sense at Anfield that nobody is irreplaceable.
The arrival of Naby Keita in the summer is one of the key factors in all of these discussions, for a number of reasons. The obvious reason is that we're replacing Emre and Phil to an extent with one of the best central midfielders in Europe right off the bat. Before the window has even begun we've bolstered it with probably the best possible addition to a key area. So it's difficult not to be optimistic when you know you're going to improve somewhere.
Another reason is of course what Naby symbolises. If he is the quality of player that Klopp and co can bring in before reaching a major European final, who knows who else could join given we have the resources and willpower to make it happen. Strong rumours of Nabil Fekir, a delightful attacking option, merely bolster this notion of pulling power.
Moreover, this is a young, talented Liverpool squad. The likes of Trent Alexander-Arnold, Andrew Robertson and Alex Oxlade-Chamberlain, not to mention Virgil Van Dijk, have less than a full season under their belts at this club, yet have made huge strides in that time. If this team can make a Champions League final before all of its component parts hit their peak and/or settle, imagine what they're capable of once they hit top gear.
The key point here is that there is nothing to suggest this Liverpool side is going away or going anywhere. If anything, every single key area – transfers, growth, finances, security, form – suggest that this team will only get better. We're only in Klopp's second full season, and yet we could be winning the biggest prize in European football, with the prospect of more on the way.
I said above that nobody in this team was irreplaceable, but I don't think that that's quite true. The one man who absolutely is irreplaceable is Jürgen Klopp. Whilst the likes of Firmino and Salah are absolutely integral to what Klopp is building on the pitch, and Michael Edwards is proving to be an absolute game-changer off of it, the simple fact is that everything and everyone gravitates around Klopp; he is the calm eye at the centre of the raging storm.
And that's partly why there's such a sense of calm if slightly frenzied optimism about Liverpool Football Club. Klopp appears to love Liverpool, is showing absolutely no signs of wanting to leave, and there is absolutely zero unrest when it comes to his position. Across the Premier League and across Europe, even with the top clubs, everything feels uneasy, in flux, like the simplest thing could break the dam and everything could come flooding out. With PSG, Bayern, Arsenal and Chelsea all changing their managers this summer, Pochettino consistently linked with bigger clubs, unrest at Man United and Barcelona, Klopp and Liverpool simply feel untouchable – like a match made in heaven.
Klopp promised Liverpool fans a Premier League title within four years. As Year Three reaches its potentially stunning conclusion, its genuinely hard to say where we sit with regards to that promise. Klopp certainly has done his job, instilling confidence and belief into this team, and with a strong summer window, I genuinely believe Liverpool will be serious title contenders next year. But equally, Man City, armed with the greatest manager in world football and a transfer budget bigger than the GDP of most countries, seem determined to amass the greatest team of all time.
But what can be said is that Klopp's Liverpool will be dining back at the top table for a good few years to come. Kiev for many is the end of a journey, and in many respects, it will be – hopefully in a good way. But even if Liverpool lift the trophy that they have made theirs so many times in the past, the Klopp era will not even be close to being finished. It will have barely begun.
And that for me is what is exciting about Kiev. What Kiev represents. I honestly don't think it will quite be able to live up to or surpass Istanbul in my eyes for many reasons, but what Kiev can do is be a stepping stone. Another milestone for Klopp to tick off before targeting the next prize.
Kiev is not the end of the journey for Liverpool. It's only the beginning. Up the Reds.