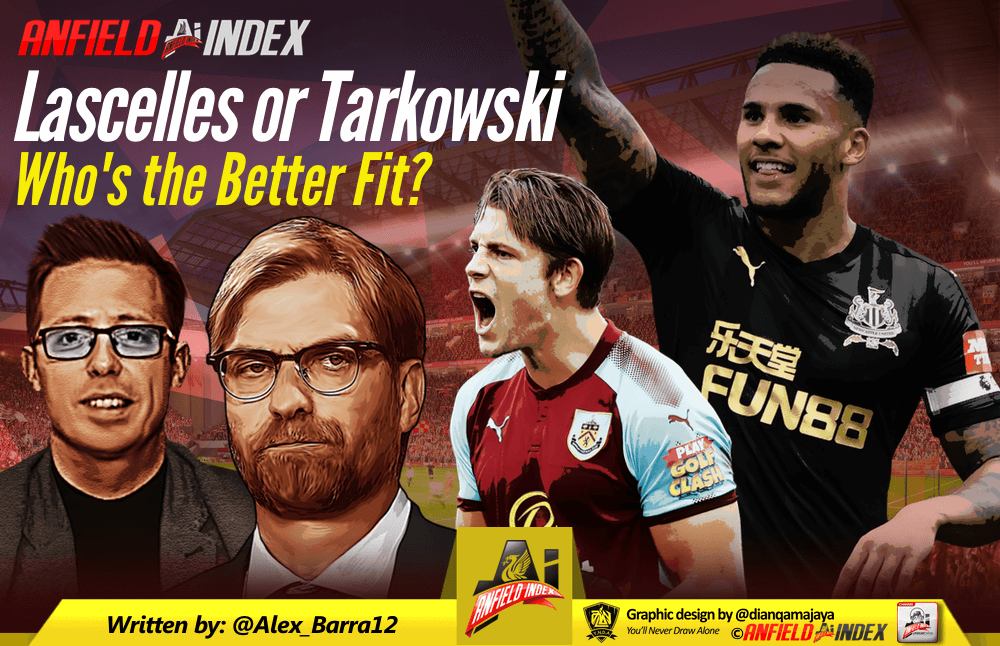 Lascelles or Tarkowski: Who's the Better Fit?
The wheels of Liverpool's busy summer have already begun spinning.
Even as they head to a Champions League final, rumours have been rife regarding those who will arrive in the summer: The Independent's Miguel Delaney reported that Michael Edwards has been tasked with finding a centre-half partner for Liverpool's perceived most important signing in recent memory, Virgil van Dijk.
The first two names out of the block share a nationality, and were both unfortunate to not make Gareth Southgate's twenty-three-man squad for Russia; Newcastle's Jamaal Lascelles and Burnley's James Tarkowski.

Jamaal Lascelles
Newcastle's captain, at only 24 years of age, is quite the emblem of his club. Passionate, defiant and destined for things greater than his current stature.
Having matured leaps and bounds since the arrival of Rafa Benitez, Lascelles has become a pillar for Newcastle, even in their money-stricken plight. He joined the Northerners at age 21 but was loaned back to Nottingham Forest, the club from which he was procured, for a season. His debut season with the Magpies coincided with the club's relegation, and Rafa Benitez would go on to make him a staple of the side as they bounced straight back up from the Championship.
Since returning to England's top flight, Lascelles has gone from a hot prospect with a hot head to a mature, imposing centre-half with a surprisingly strong technical side. His size makes his gait look rather unseemly on the ball, but his effectiveness shows in the tackle: last-ditch defending and composure on the ball mix together to paint the picture of a future behemoth in waiting.
The question – the same one that will be asked of his Burnley counterpart in this piece – is whether he's capable of making the step up to a higher line, where the volume of shots conceded will be far lower than a relegation candidate such as Newcastle. What Lascelles does have, however, is the coaching knowledge of Rafa Benitez behind him; the kind of football education that would prepare you for the higher level.
James Tarkowski
A physical, combative, "thou shalt not pass" rock of a centre-half, James Tarkowski's rise to prominence has been well documented with Burnley's impressive seventh-placed finish. Indeed, the core of Sean Dyche's philosophy is "defend well, defend together", which could make the English centre half's exploits potentially difficult to judge, given the structure he possesses around him.
Take a closer look, however, and you'll see that Tarkowski is often the last line of a defence which gets breached more often than you'd think. Burnley were a statistical anomaly for much of the Premier League season, given the number of shots they gave up and the expected goal numbers they conceded, yet the finer points; such as the position of shots given away and the number of shots blocked, are traits that Tarkowski shows in abundance.
He's gritty, effective, and often more focused on getting the ball clear than looking pretty, but every team needs their brute force when push comes to shove. Burnley have it in abundance.
His potential is more visible when compared to the man he replaced: many lauded Michael Keane's exploits in Burnley's back line last season, to the point where he earned a £30 million move to Everton last summer. That move didn't work out, with Keane less protected and more vulnerable in a higher defensive line, but Tarkowski has shown his compatriot up; even more impressive for Burnley than his teammate was the season prior.
Which one fits better?
It's easy to say that Liverpool require someone who plays in a high line, and therefore Jamaal Lascelles seems to fit the requirement to a comfier degree. However, doing that would ignore the potential ability of James Tarkowski as a centre-half. The 25-year old Burnley man reads the game exceptionally well, indicating one of those clichéd "footballing brains", which is backed up by his interception numbers: double those of Newcastle's Captain (1.6 p/g to 0.8 for Lascelles.)
To capitalise on a talented centre-half yet adjust his entire game would be a difficult task, however, it is capitalising on the talent that Jürgen Klopp strives to do best. The fact is most players are forced to change the way they play no matter what, given not every player can begin at a top club, let alone one as individual as a Klopp-coached-Liverpool.
Lascelles has a higher pass success rate (77% to 73%) and plays less through balls per game and would likely be a quicker settler when it comes to the first day of the season. It's not the first time Liverpool have been linked with him, either. However, he's recently stated his intent to remain at Newcastle and has signed the long-term contract to prove it. Of course, a hefty fee and the promise of playing for a top four side could turn his head, but it might prove difficult. Meanwhile, Tarkowski is without a doubt a gamble, but credit must be given for just how seamlessly he was able to slot into Burnley's back four.
The fact is, the hardest part is over. Virgil van Dijk is a Liverpool player, and the desired effect has come to the fore: individual errors have been eradicated and Liverpool have statistically been the Premier League's best defence since the Dutchman's January arrival. Whoever partners him needs to be combative, effective and ultimately, someone who can form a strong partnership with Liverpool's flying Dutchman.
(All stats via WhoScored unless stated otherwise.)