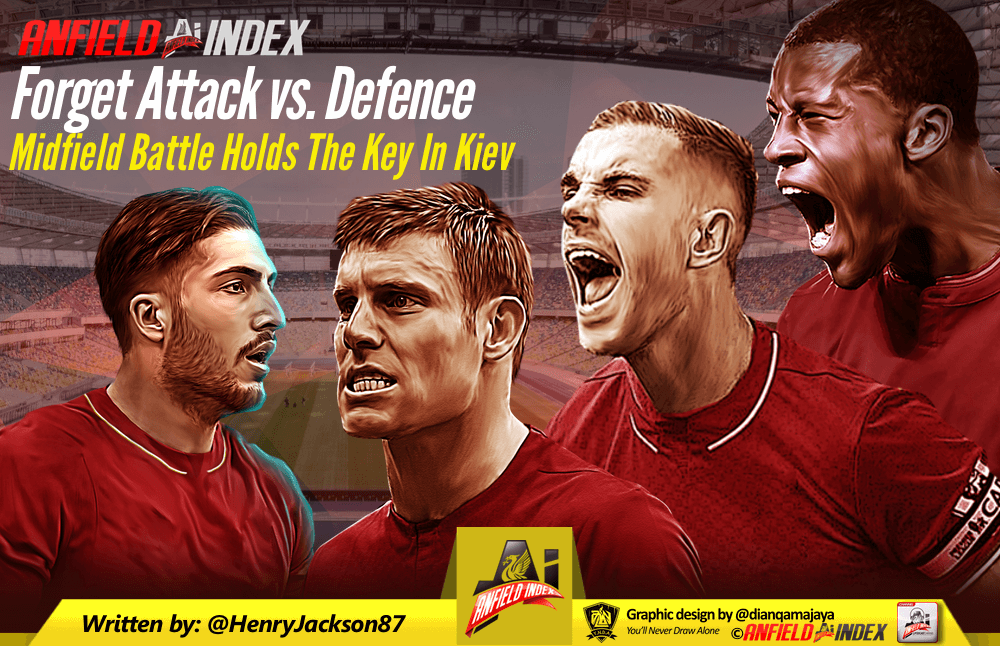 Forget Attack vs. Defence - Midfield Battle Holds The Key In Kiev
As the Champions League final between Liverpool and Real Madrid edges ever nearer, it is no surprise to see predictions being offered everywhere you look.
When it comes to guessing how Saturday's enormous match in Kiev will pan out, the general consensus is that it will be both sides' vibrant attacks attempting to dismantle a couple of suspect defences.
While there is definite truth in this, with the Reds and Los Blancos famed for possessing world-class attacking talent, it is the midfield battle that could be more pivotal than anything.
Unless Jurgen Klopp or Zinedine Zidane spring a major surprise on the day of the game, it looks almost certain which trio of middlemen will be representing both teams, as club football's biggest prize lies tantalisingly on offer.
For Liverpool, captain Jordan Henderson will marshal the defence, with Gini Wijnaldum and James Milner tasked with providing energy and industry slightly further up the pitch.
As for Madrid, they have a triumvirate of midfielders that any manager in world football would be envious of.
Casemiro is one of the most destructive defensive midfielders in the game, and then there's Toni Kroos and Luka Modric.
The effortlessly classy pair have arguably sparked up the most impressive ball-playing midfield partnership since the prime years of Xavi and Andres Iniesta, and their ability to dictate a game has been a massive reason for Madrid's European dominance.
On paper, the La Liga giants' midfield is far superior to Liverpool's effective but ultimately limited trio – Emre Can would have started were it not for a severe lack of match practice – but as we have seen all season, talent is only a small part of it.
Henderson and Milner have been two of English football's most maligned figures of their generation, but they have excelled in the latter stages of the Champions League run, and are unquestionably good footballers.
Wijnaldum isn't exactly the most adored, respected player outside of Merseyside either, or on Merseyside for that matter, but he has also come alive when Klopp most needed him.
There is nothing special about the Dutchman or his two teammates, but they are efficient and understated in the extreme.
Nobody expected them to get the better of Man City's title-winners Fernandinho, Kevin De Bruyne and David Silva over two legs, but there was only one winner.
Similarly, it was easy to look at semi-final opponents Roma and shower Daniele De Rossi, Kevin Strootman and Radja Nainggolan with praise, due simply to them being more renowned, highly-rated individuals.
Barring a few spells in either leg, Henderson, Wijnaldum and Milner again stood tall and outdid their adversaries, helping Liverpool reach Kiev in the process.
Madrid's magnificent three will arguably be their most significant test yet, and the entire match could end up being defined by whether the Reds midfielders can ruffle the feathers of the star-studded individuals stood before them.
Klopp's high-octane style needs to be at its most intense, for his midfield to utilise the one thing they have over Madrid's: legs.
Henderson, Wijnaldum and Milner are a physical trio full of energy and power, whereas Kroos and Modric, in particular, are not famed for these attributes. Their legs are not getting any younger.
Both are genuinely fantastic footballers, but they will have faced nobody like Liverpool this season and could easily be shown up if Klopp gets his tactics right.
Casemiro will enjoy that aspect of the game, but he can be a rash presence, and Roberto Firmino will be attempting to keep him occupied, dropping deep and hassling the life out of him.
On the flip side, this is the biggest match Henderson, Wijnaldum and Milner have ever played in their careers, despite being 32 and 27 apiece.
There is no guarantee that they won't freeze on such an enormous stage, with the entire world watching and expectations through the roof.
This is where Casemiro, Kroos and Modric will have a clear advantage, as they prepare to win their third successive Champions League crown.
They have been there and done it time and time again, and Saturday's showdown at the Olympic Stadium will be just another final for them.
Kroos and Modric are bordering on impossible to dispossess when they are in the mood, which makes Liverpool pressing them relentlessly all the more important.
If Madrid are allowed to control the game from minute one, things will not pan out well for the Reds. Once they boss matters, it invariably ends in tears for the opposition.
The thought of Henderson and Milner outplaying Kroos and Modric is something that will no doubt sicken the footballing purist, but there is no reason why it cannot happen. It has occurred too often against top players this season for it to be a fluke.
The front-three of Mo Salah, Sadio Mane and Firmino will no doubt make the headlines if Liverpool do win, as well as much talked-about figures such as Trent Alexander-Arnold, Virgil van Dijk and Andy Robertson, but European Cup number six will not be achieved without a superb midfield showing.
Likewise, a Madrid triumph could well end with a shirtless Cristiano Ronaldo wheeling away, Gareth Bale downing an English side or Sergio Ramos yet again being his side's talisman, but Casemiro, Kroos and Modric will have been inspirational in their own right.
While everyone is avidly waiting to see which attack wreaks the most havoc, the battle in the middle of the park could make for fascinating viewing.