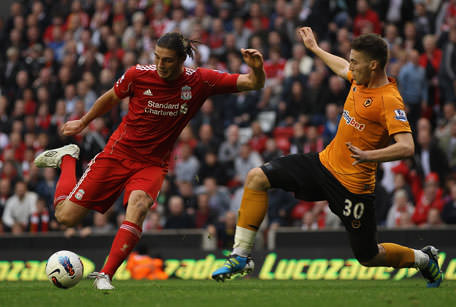 Is Carroll starting to fit in?
Fluidity. That's the word on every Liverpool fan's lips and how we soon hope to be able to describe our attacking play on a regular basis. Pass and move is part of Liverpool's footballing heritage and it is just as important to supporters that we start playing the 'Liverpool way' as it is we start giving the trophy room manager a selection headache again, and with Kenny Dalglish at the helm anything is possible.
In recent seasons fans have had to watch the likes of Manchester United and Barcelona play some of the most attractive attacking football in the modern era, picking up countless pieces of silverware whilst Liverpool had to endure Rafa Benitez's troubled last season and Roy Hodgson's now infamous 5 month nightmare spell as boss.  For a while it seemed like the club were heading towards permanent midtable mediocrity and brand of football that was more Blackburn than Brazil.
If there was ever anyone to turn things around though it was Kenny Dalglish, the greatest player to grace the hallowed Anfield turf, a legendary former manager and a man who knows the club better than anyone else. He knows the style that the Kop demand and he has the ability to turn those expectations into reality. But even the most hardened supporters of The King would have been shocked at just how quickly Dalglish got the team playing well again.

One of the main reasons for the clubs' success under Dalglish during the second half of the season was the fluidity of the strike force,with £23m January signing Luis Suarez forming a formidable partnership with Dirk Kuyt almost instantly. While both players are perfectly capable of playing as the team's "number nine" they are also more than comfortable playing in a withdrawn role or out wide, meaning the two could swap positions and drift about the pitch at will, making Liverpool's attacking style as unpredictable as you'll see in the Premier League.
While Liverpool fans rejoiced at the quality of play and sublime link-up involving Suarez, Kuyt, Maxi and Meireles, there was always one question that arose time and time again: where does Andy Carroll fit into this team?
 Yes, it appeared that the record £35m signing had been forgotten about thanks to his long injury lay-off and his ability to play in a fluid attacking line-up was being questioned before he'd even had a chance to start a run of games
It has to be said that a hulking 6ft 3 striker from the North East isn't the first player you think of when you hear the words 'Total Football' and Carroll's fitness has been a worry, considering a lot of Liverpool's play is based on work-rate, harrying defenders and pressing all over the pitch. But while Carroll will never have the agility of Suarez, he does have a lot more qualities than just heading the ball and he finally started to show that on Saturday against Wolves, with arguably his best performance since his move from Newcastle in January.
From the very first minute of the game Carroll showed a new-found willingness to run into channels, drift into wide areas and close down defenders, leading the line brilliantly and showing an increasing confidence on the ball. He made 35 passes, 24 of those being successful, with the heat map below showing how many of his passes came from wide and deep areas (one of which was a superb right-footed cross-field pass), highlighting the quality of his movement throughout the game.
Carroll made two crosses during the game and although neither were successful, both were expertly delivered and could have quite easily led to a goal, with Luis Suarez unlucky not to get a touch on one of Carroll's left-wing centres. The fact that one of his crosses came after he had closed down a defender, won the ball back and drove towards the box was even more encouraging. Andy was also typically dominant in the air, winning half of his defensive aerial duels and coming close to scoring with two headers (one was saved and another hit the woodwork).
While his overall performance was impressive, there still seems to be a confidence issue in front of goal and Carroll only attempted 3 shots during the 90 minutes with two of those off target and the other easily saved. Considering his injury troubles, criticism from fans and media and the fact he's been in and out of the team, there are always going to be problems with confidence and if he continues to play the way he did on Saturday then the goals will undoubtedly come in droves.