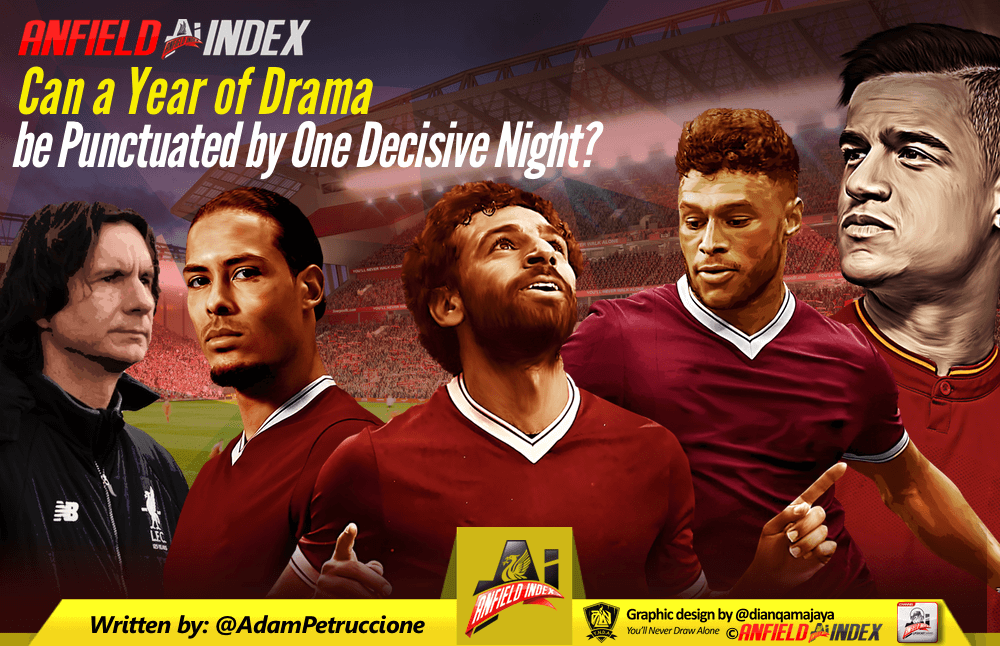 Can a Year of Drama be Punctuated by One Decisive Night?
From entertaining spectacles on the pitch, embarrassments off of it; Liverpool has been a bigger source for drama than Netflix lately. Will the Champions League final test our cardiovascular health once more or could the punctuation mark on this season be a decisive one?
Jurgen Klopp and his team appear so relaxed in the lead up to the final it almost looks artificial, posing for stock-photo worthy pics by the beach in Marbella.
That laid-back demeanour is surprising as Liverpool ready for their most important match for the club in more than a decade and also belies the chaos that seems a constant and perhaps a comfort for the Reds on and off the pitch.
January came in like a lion with LFC supporters and the entire organisation giving out high-fives for the acquisition of man-mountain Virgil van Dijk. But, before we could fully finish our victory lap, Nike had a 'whoopsie,' letting us know that Phil was on his way, reminding us that nothing comes easy.
FSG debated the sale of Coutinho more feverishly than any of its three managerial changes, aware that such an unpopular decision had the potential to derail the season.
( Paul Joyce )

— LFC Round Up (@LFCroundup) May 23, 2018
Outside the white lines, the Scouse Cafu was embarrassing himself, his club and his community in court and Bobby Firmino was fighting a racism allegation by Everton's Mason Holgate while the rumour mill swirled as to the 'true' reason for Nathaniel Clyne's extended absence. Aliens. He was definitely abducted by aliens.
As the winter window mercilessly slammed shut, Liverpool followers wore grooves into their phones from refreshing… and refreshing and refreshing. We were all so sure that there would be some kind of signing to replace the 'little magician' as the club assured everyone that the Coutinho funds would be available for Klopp.
The realisation set in that there would be no further additions and outrage broke out just as Liverpool put up back-to-back 'L's' for the first time all year against Swansea in the league and West Brom in the FA Cup. FSGOut proponents felt safe to come out from their basements while we were struggling off the pitch, on the pitch and in the boardroom; unable to end the misery with an inspired January buy. If not for the 4-3 win against City at Anfield, there could have been riots in the streets. We took a sliver of hope from that one victory, not knowing what it was foreshadowing at the time.
In the Champions League, we awaited FC Porto, and the narrative was that their deep-lying set-up was sure to frustrate our Reds, especially without Coutinho. As it turned out, all of that angst was wasted as Liverpool in their bright orange kits, burnt Porto to a crisp and took a 0-5 stunner home with them.
The season really felt like it could have gone off the rails before that Porto demolition. The Champions League was our last remaining cup competition having fallen out of the League Cup and the FA Cup without much of a fight. On the fringes of the top-four, it really could have gone in any direction from there.
The five-nil at in Portugal propelled Liverpool on a three-month run where they would outscore opponents at a rate of three goals to one (36-12).
Despite injuries to major contributors seemingly every few days with Emre Can, Joel Matip and Alex Oxlade-Chamberlain suffering season-ending injuries, Liverpool pressed on.
The aforementioned Can was and continues to be a source of intrigue as everyone assumes he has a deal of some kind in place with Juventus, but neither the player nor the manager have said anything official as of yet. The narrative dates back to last summer and has continued to rumble on in the background as an ever-present, simmering controversy.
Can isn't the only departure that the club faced over their incredible run. Daniel Sturridge was sent to West Brom in January. Heralded development coach, Pepijn Lijnders left for a managerial gig at NEC Nijmegen during the height of the Coutinho crisis and in April, Klopp's longtime assistant Zeljko Buvac left the club as they prepared for a critical second leg against Roma.
Duncan Castles reporting that Jurgen Klopp has had a big falling out with long-time number two Zeljko Buvac resulting in the assistant manager leaving #lfc and the end of a 17-year partnership.https://t.co/doT8bQ3kpg

— Mike Henson (@MikeHensonBBC) April 30, 2018
Even the Academy wasn't spared from upheaval with U18 coach Steven Gerrard taking a managerial position with Rangers and taking half of the building with him while rising star Rhian Brewster was being courted by Borussia Monchengladbach. The German club were sniffing around even though they had scheduled a friendly with Liverpool for later in the summer. The row was significant enough that the match was scratched from the schedule.
These controversies may not rise to the level of.a Yaya Toure birthday cake, but any handful of them would be enough to derail bigger clubs than Liverpool.
Yet the Reds have continued to roll. In a bizarre way, maybe they're fuelled by the drama. Controlled chaos on the pitch, and a constant state of flux off of it, even James Milner has been exciting in this thrill-ride of a season. It must never be boring around Melwood, though you'd think these Reds would be exhausted at some point. To the contrary they seem to have gained strength as the season has gone on, especially when afforded even the slightest window to recover.
Seeing the faces of these boys in Marbella, they've taken the opportunity to do just that. One hopes that they have one more three, four, five… seven goal ambush left in them because even though they're not tired, I certainly am.
Dear Football gods, is there a normal, straightforward victory in the stars for Liverpool? What's that, the Russians are planning a cyber-attack on the Champions League final? So… that's a no, then?
Ukrainian state security has claimed that the Russian government is preparing an enormous cyber attack targeting the Champions League final on Saturday https://t.co/czfEtJiEpK

— Sky News (@SkyNews) May 23, 2018
Seriously boys, I can't take it. Just crush Real, please.
Allez! Allez! Allez!