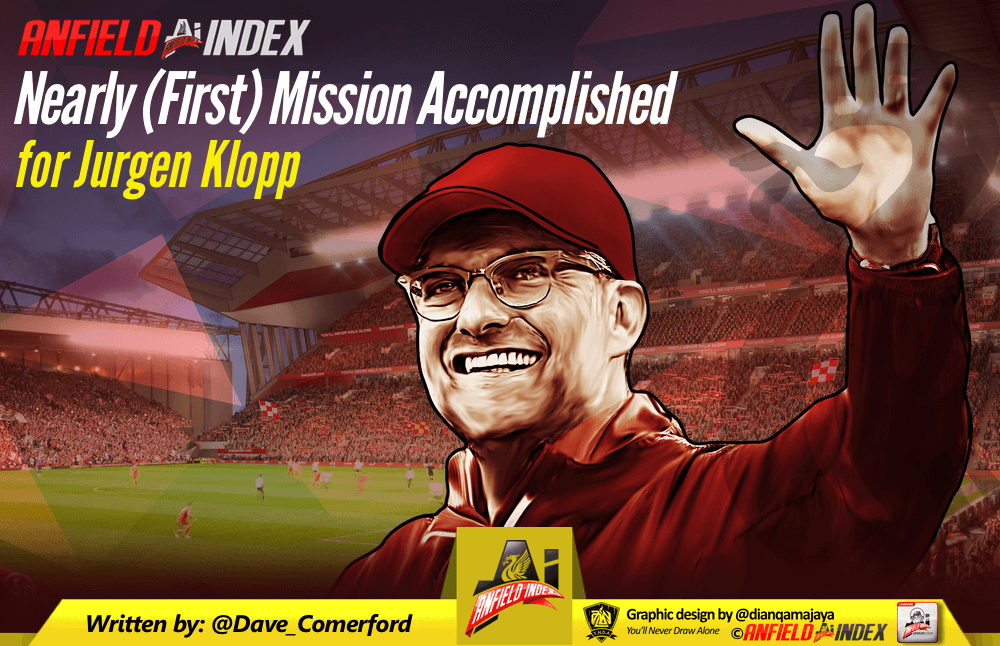 Nearly (First) Mission Accomplished for Jurgen Klopp
Jurgen Klopp's self-ascribed objective of transforming Liverpool's fan-base from "doubters to believers" has proven one of the most oft-repeated quotes in a regime marked by memorable soundbites.
It was never going to be an easy task, and even as he led his side to consecutive top-four finishes (no mean feat given the unprecedented strength of the so-called 'big six') and developed a scintillating brand of attacking football, the doubters continued to question his every move, falling conspicuously silent during a purple patch before bemoaning Klopp's perceived blunders when our form took a plunge.
Chief among the slumps were the early-2017 horror-show and the decidedly steady start to the 2017/18 campaign. In the first instance, an unlikely title bid came apart and a Champions League berth suddenly seemed in doubt, while in the second the Reds briefly languished in mid-table as defensive frailties cost them valuable points.

For a restless minority who envisaged unrelenting progress, every downturn was an opportunity to question Klopp's credentials. For us others, the manager's apparent stubbornness caused frustration. Serious questions were asked.
Why can't Klopp sort out a bumbling defence which has handicapped Liverpool for years? Why didn't he buy another centre-back when it seemed glaringly necessary? Why didn't he replace the world-class Philippe Coutinho after a January exit which was bound to be destabilising? Why is he keeping faith with Loris Karius after a number of errors?
I'm not going to pretend I was some sort of perfect fan constantly championing the 'In Klopp We Trust' mantra. In fact, I asked all of those questions, sometimes dismayed or frustrated. In various articles and tweets, I slammed the manager's obstinacy and suggested he ought to have kept Mamadou Sakho, I questioned whether Klopp could really rebuild Karius' shattered confidence and brazenly declared top four was 'gone' if Coutinho wasn't immediately replaced.
In all those cases it seems, happily, that I've been rather embarrassed. But relative to the smattering of buffoons who marched onto Twitter demanding #KloppOut earlier this season, I think I've just about avoided total humiliation.
Klopp's managerial approach has been consistently unorthodox, and evidently polarising as a result, but it has transformed the football club.
Rather than wait until after a potential Champions League triumph to lavish praise upon him, it's important to appreciate a fine managerial achievement in the build-up to Saturday, just in case we don't get our fairy-tale ending and the recognition proves insufficient.
Virtually every gamble he has taken in the transfer market seems to have paid dividends, even after the career mode experts across social media moaned about the club neglecting their perfect alternatives.
It is not the regal Mohamed Salah but actually Andy Robertson who best exemplifies the success of this unique rationale, having gegenpressed his way into fans' hearts and, extraordinarily, into discussions of the best full-backs on the continent. Klopp picked out a relegated Hull defender as the answer to the club's long-term left-back woes, and he absolutely nailed it.
Admittedly, the results of other dealings have been less spectacular, though there is plenty of time for the likes of Karius and Dominic Solanke, both cheap as chips in a ludicrous market, to emerge as magnificent punts.
With each window, there are mounting examples of excellent business from the club who once signed Rickie Lambert and Mario Balotelli to replace Luis Suarez. We need not focus on each and every one here, but the overall point is that many of the doubts have centred on Klopp's subtle and targeted transfer approach, which has unquestionably borne fruit. One fan recently explained it very well on Twitter.
Reaching the Champions League final is without doubt Klopp's most impressive feat since he arrived at Anfield. I won't even address the suggestions that, despite facing, and ultimately thrashing, the team widely touted as the best in Europe, we have somehow had it easy.
What's been most awe-inspiring hasn't been the teams we've conquered en route to Kiev, it's the manner in which we have overcome each obstacle. Porto were taught what amounted to a footballing lesson on their own turf, England's runaway champions were humbled in an ecstasy of peerless Anfield passion and Roma were dizzied by some of the most fearsome attacking play the competition had ever seen. It was all so quintessentially Klopp.
The German notoriously wrings every ounce of talent out of his players but even still, making it to the final with this particular squad, still adolescent in its development, is an achievement some have dubbed a 'miracle'.
Klopp has carved a path through Europe's most elite club competition with a much-maligned shot-stopper, a full-back who until this season was restricted to cup cameos, a centre-half who at one low point faced despicable death threats and, on paper, an uninspiring midfield.
It's easy to rave about Klopp's man-management skills without knowledge of what goes on at Melwood, but the performances of Georginio Wijnaldum, Jordan Henderson and James Milner in the knockout rounds (particularly against Roma), marked by enthralling aggression, defence-splitting distribution and superhuman work rates, are a testament to the boss' influence.
This side's attacking majesty and recent defensive strides mean it can line-up on Saturday evening confident of matching Real Madrid, back-to-back Champions League winners and serial record-shatterers. And that's all down to their manager's philosophy.
All Klopp can do now is reinforce the messages he will have been drilling into troops all season. You get the impression that, even with Cristiano Ronaldo on the pitch, there won't be any change in the hell-for-leather approach which has characterised this European campaign.
Players win football matches, but if Liverpool can make it number six this weekend, the gaffer can proudly say he has completed his principal task. There could be no more doubters.
And even if we don't quite have enough, we ought to rapturously applaud the man who has restored our reputation, who has us playing arguably the most exciting brand football in the world and, regardless of what happens in a few days' time, seems to be in the process of writing the latest great chapter in LFC history.