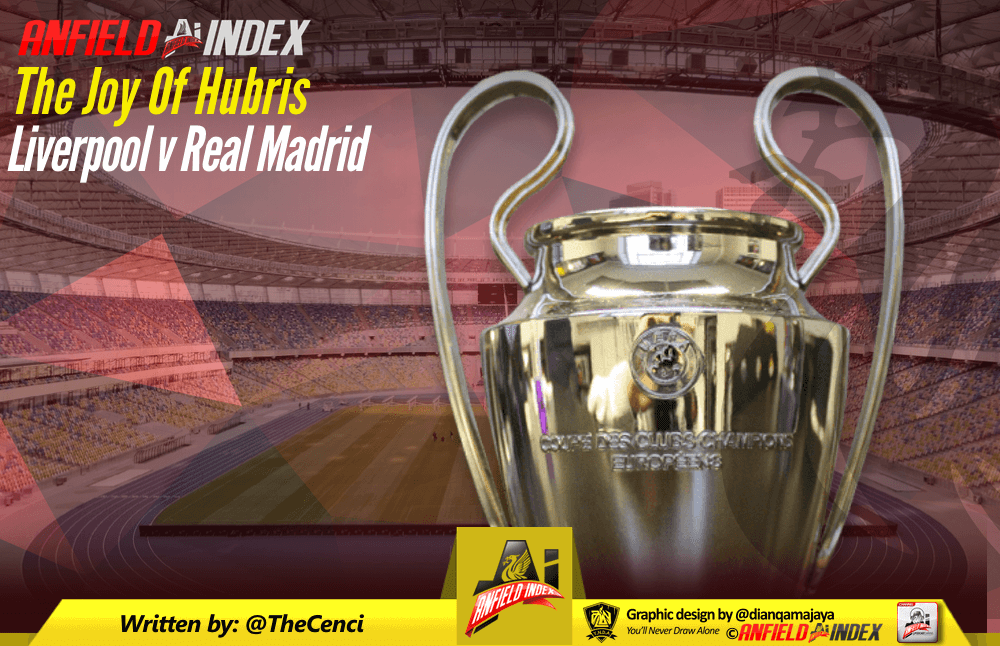 The Joy Of Hubris: Liverpool v Real Madrid
In some ways this is all to do with Gini Wijnaldum.
Last May he broke down the Anfield right and slotted a vital goal past Middlesbrough's Brad Guzan to calm Red nerves and put us on the way to Champions League qualification. He was then pretty quiet for the intervening months save for a goal against Huddersfield Town. Eleven months from that Boro strike, however, he finally delivered a goal away from home. He chose the second leg of the semi-final in which to do it. It proved to be the winner and pushed us into a date with Fat Elvis in Kiev.
To my mind, Real Madrid are the Fat Elvis of world football. The bloated, overly-corporate, overly-moneyed and aggressively hyped kings of the game for whom no nuance exists.
But there are other teams in Madrid.
There's an esoteric beauty to mathematics and the circulatory of existence. I remembered this morning that we played Atletico Madrid in the final of that pre-season tournament last summer. We're only one game away from them playing them next in the European Super Cup should all go well. They want that as much as we do.
I'm too old and suspicious of the Fates to be dragged into a prediction. There's no way I'm stating that Liverpool will win the European Cup on Saturday night, but it's impossible not to dream.
Before 2015 Liverpool had never lost to the Spanish giants. Nor had they conceded a goal to them. My favourite stat about them was that woeful left-back Andrea Dossena had scored more goals against Real than they had against us.
That ended in Brendan's ill-fated onslaught on the Champions League, but it tells its own story. Madrid were not always the corpulent Elvis in his girdle and jumpsuit sweating on a Vegas stage. At one point they were more of the King's Sun Record phase. All sinew, immaculate hair and cock rock, yet they didn't cross the Reds until the 1981 European Cup final where they were ultimately undone by the non-brothers Kennedy.
You can have your 1950s European Cups, lads. Liverpool are here.
Liverpool go into the final as underdogs. Good. I like that. No pressure.
There's been talk that we can't possibly beat them and, let's face facts here, they've got a hell of a side. That said, it should not deter us from upsetting the biggest of apple carts. I don't care how many European Cups they've won. They're going to have to work their arses off to beat us and, if the Madrid press are anything to go by, they're barely training such is their confidence. Ah, the joy of hubris.
Zidane is no fool and will realise that he's facing the most dangerous of forward lines. I hope he just tells his lads to kick us off the park as they've tried so often with Messi. I hope that's all they have. After all, there aren't many teams in La Liga who go all out at them. It's containment and the hope of nicking a goal which is the common tactic there.
It's doubtful that Liverpool will try that. As Jurgen said in Rome, he doesn't really know how to play for a draw. At Anfield in both City and Roma games the lads won the tie by simply putting the fear of God in them. I'd love to see the same again. By the time the Italians gained any traction in the semi they were five down while City needed a week before they troubled the scorers.
A word here about Ronaldo.
I really like him, you know. Seriously, I think he's great. Oh, I know. The posturing, the sulking when someone beats him to a tap-in and his inability to keep his shirt on, but there's a reason he's like that. His single-mindedness is to be applauded and he doesn't just have that goal scoring record because he plays in that side. That team is that good because of him. He's a phenomenal player. A joy to watch even if he has played for two teams whose shirts I cannot bear to touch when in sports clothing shops. Of course, I still want to see him on his haunches beating the Ukraine turf with his hands, wailing in frustration come full time.
The best thing about being in the European Cup final is that Jurgen isn't just there to make up the numbers. He's there for a reason and has no wish to claim that reaching this fixture is a reward in itself. He's been bruised in finals before and has no intention of letting this opportunity pass. He thinks Liverpool can win. So do I.
If we play the team rather than their reputation or the magnitude of the occasion then we have more than a chance. The bookies have Madrid at 5/4 and us at 21/10. That's not what the press in the Spanish capital believe. They think it's all over and we might as well pick up our losers' medals before the game even kicks off.
Fuck that.
We have 90 minutes to win the European Cup. The European fucking Cup.
Think about that for a second. How unlikely was that at the beginning of the season?
It will take effort, gargantuan levels of concentration and the testicular fortitude of David facing Goliath, but that's okay because we have that. We have the cojones of a herd of bulls and while Real Madrid lead the world in arrogance, this Liverpool are more than a match in tireless endeavour. We are at our best when we can smell blood and there may be more than a drop of that on show come Saturday.
This is why we do this, Reds. That tingle in your veins. That waking moment of 'how long before Kiev?' That 'Jesus, what will it be like if we can beat these?' It will make the disappointments of previous campaigns somehow worthwhile.
It makes me think of this line from the film Shadowlands:
"The boy chose safety, the man chooses suffering. The pain now is part of the happiness then"
Liverpool have had enough of that pain and a gutful of that suffering. We're close, so close to the joy.
See you on the other side.
Walk on, walk on with hope in your heart.