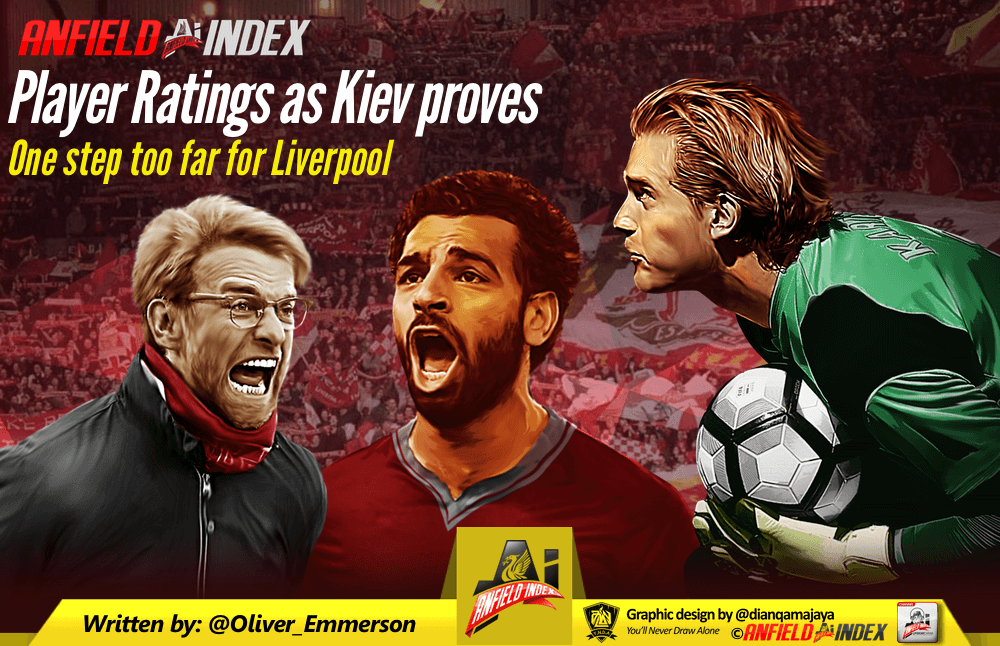 Player Ratings as Kiev proves one step too far for Liverpool
We'll always have the memories of this campaign, even if we haven't got the trophy. The travels, the songs, the goals.
There will be greater words filled with more sorrow and dejection than that written in the days and weeks to come, but they're my sentiments to you Reds this evening.
Here are the ratings from Real Madrid 3-1 Liverpool.

Nobody will feel worse than Karius
Loris Karius (3): You've got to feel for the lad, regardless of your personal thoughts on his overall goalkeeping ability. Everyone has bad days, his has simply come on the biggest stage of them all. Actually starts well with a boss punch out in the opening minutes. You don't need me to fill you in on what came after.
Trent Alexander-Arnold (7): Genuinely think Madrid showed him quite a lot of respect, which limited his attacking influence somewhat. Won some great one vs ones, comes out of this campaign having developed hugely. He'll definitely be back.
Virgil van Dijk (7): Really good at the back. Kind of crazy that Liverpool have shipped three without any of the defence really making an error. One top challenge on Ronaldo, one not so good dive-in that he was perhaps fortunate to avoid seeing the Portuguese winger hit the deck from.
Dejan Lovren (7): Another lad who answered his doubters, although it'll likely be forgotten in the grand scheme of things. Good performance from him, cracking header to set up Mané's equaliser.
Andy Robertson (6): Thought he was lacking a little going forward but did have to spend most of the game with Lallana, rather than Mané, ahead of him. That was always going to make it trickier for him finding space on the overlap. Nothing wrong going backwards.
Midfield outclassed by classier players
Jordan Henderson (6): The skipper won't come off the pitch feeling he could have done any more, but may be left feeling a little in awe of some of the sensational passing that occurred just yards from him. You can't blame Henderson and Milner for losing the midfield battle to a midfield of Casemiro, Kroos and Modric. They didn't do anything particularly wrong, they just weren't as good as the world class players standing toe-to-toe with them.
James Milner (6): See Henderson. Hope he has a Ribena anyway, they're boss. If we ever sell Anfield's name for sponsorship then the Ribena Arena is a guaranteed moneymaker.
Gini Wijnaldum (7): Thought he was our best midfielder overall, did lots of stuff with a bunch of class. Helped Trent well, carried the ball when he had to.
Praise for Mané
Sadio Mané (8): Liverpool's best player. Did everything you could have asked. Carried the attack when Salah went off. Scored, hit the post, twatted Ramos one. I love him.
Mohamed Salah (N/A): Liverpool's dogged fightback and nature of eventual defeat showed that we're nothing like a one-man team but most will agree there was a sense of 'this isn't our night' when Salah hobbled off. Had looked dangerous at the start, please for his own sake let's hope he's fit for the World Cup.
Roberto Firmino (5): Was well nullified by Real, won the ball well early on but faded a little. Most of his attacking moves revolve around combinations with Salah that Mané then may latch on to, that's harder to do with no Salah on the pitch.
The substitutes
Adam Lallana (5): He was poor and offered nothing going forward, but in fairness, he's played about 18 seconds of football this season and he isn't a left winger.
Emre Can (N/A): Sorry it had to end like this, Emre. Best of luck in Turin. I feel like both parties in the saga will end up just fine.