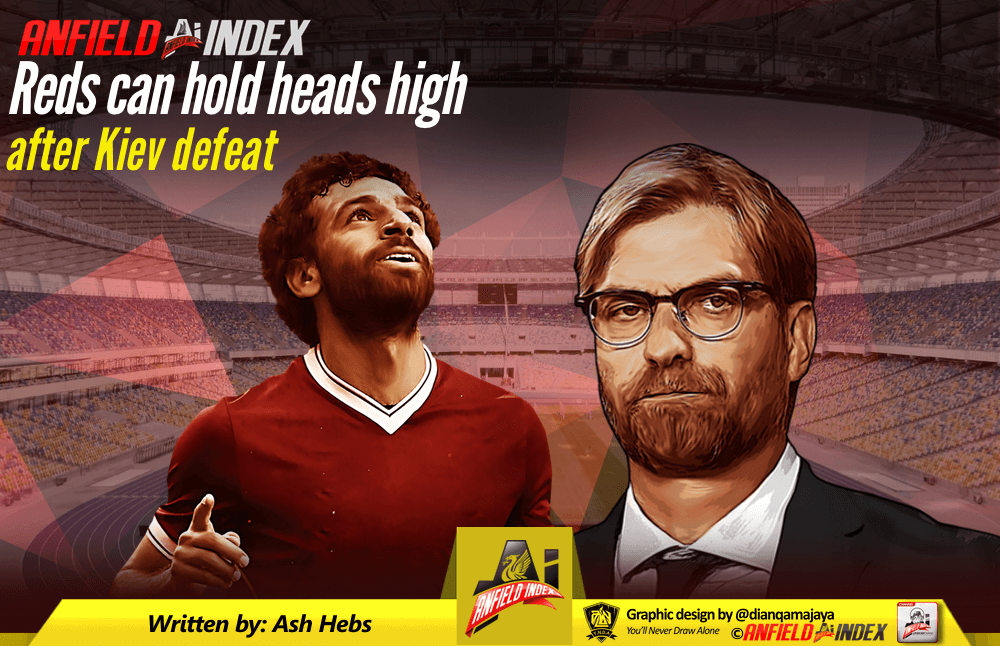 Reds can hold heads high after Kiev defeat
So the final that we all looked forward to with bated breath didn't quite turn out as hoped. But there was no shame in losing to Madrid in the manner we did. Even in defeat, the signs were there that this team is already hitting new levels.
After a brave start to the game where we looked to take the game to Madrid in a controlled and composed manner, Madrid struck the first blow. In his usual cynical manner, Sergio Ramos took the opportunity to literally take Salah out the game; his premeditated arm lock a means of making sure he inflicted damage on the landing, in some shape or form.
That was the first blow to Madrid but the lads weathered the storm well, getting to halftime on terms. Deservedly so.

But such has been the impact and consistency in Salah's performance this season that this team is a different proposition without him. It was a blow too far for an already severely depleted matchday squad.
The start of the second half showed Madrid's intent. A fast start with a view to capitalising on a slightly deflated Reds team lacking in world-class options from the bench. Some will argue that Klopp's reluctance to buy in January cost us dearly, as the side lacked spark for long periods of the second half. But I don't think Klopp himself would have envisaged a Champions League Final appearance.
I honestly don't think such a scenario was in Klopp's plans in January. His main objective was a top 4 spot and he was justified in believing he had the squad to achieve it. Sadly, several key injuries later and with the benefit of hindsight, we lacked options at the death in Kiev.
What Loris Karius was thinking about the first goal only he will know. Throwing the ball across an opposition player in such a key game. Madness. Judging from his own reactions it was clear not even he knew what had just happened.
On the biggest club stage of all, he showed his inexperience. This was compounded by his error for the third and decisive goal, with his feet all wrong. Despite undoubted improvements, there are still valid question marks over Karius. Too many goals conceded where one is left scratching one's head, wondering if he could have done better. Loss of concentration and questionable decision making on key moments.
He's still raw and will only improve. Klopp has a tough decision to take, on how long before he's the keeper we need him to be. A man that can be relied on to win major trophies. Clearly, he's not there yet.
It could go either way at this stage, but let's understand he is what he is. A young keeper playing the biggest game of his career. He switched off and it affected his game thereafter. But he's only human and he owned his mistakes. Kudos for that.
It's now about how he sorts his head this summer without a world cup to forget this painful defeat. I'd hazard a guess that we haven't seen the last of him.
Madrid were probably the better side on the night but once again they got lucky. There wasn't an awful lot between the two sides. We were never truly panicked or outclassed.
Had the insatiable Sadio Mane hit the net instead of the post who knows what might have been? Mane showed tremendous leadership in Salah's absence and led from the front.
We didn't really learn anything we don't already know. Our keeper is not the finished article. Our midfield currently lacks goals and guile and that told tonight. But it doesn't lack fight, heart or desire. We are short of backup options up top, something I'm sure Klopp will address this summer.
Comparing our bench options with Madrid, this game was a total mismatch. But the scoreline flattered Madrid and showed that we belong at Europe's top table. Something many of us, myself included, seriously doubted earlier in the season.
We gave a good account of ourselves but Madrid profited from a combination of freak events that Klopp couldn't have planned for. As experienced champions do they made the most of key moments that went in their favour. It's a painful defeat but Klopp knows this team is getting close. His team is still a work in progress but he will be spending this summer looking at how he can transform this group from nearly men to consistent trophy winners.
Whereas he could show patience to weaker performers when expectations were lower, he now has to be brutal moving forward. To eradicate the problems and mistakes we saw tonight and several times in the past season. It will be fascinating to see how he does it.
Last night's defeat was painful but if that match is played again, I would still be confident we could get a result. This team has come on leaps and bounds.
Despite falling over at the final hurdle once more, there are signs of a continued upward trajectory under Jurgen Klopp. With Naby Keita on board alongside a few others, we should proudly expect to be Champions League winning contenders again next season. What this season has taught us is that we've got nothing to fear at this level. We just have to be more ruthless.
Let's not allow the pain of defeat to cloud that.