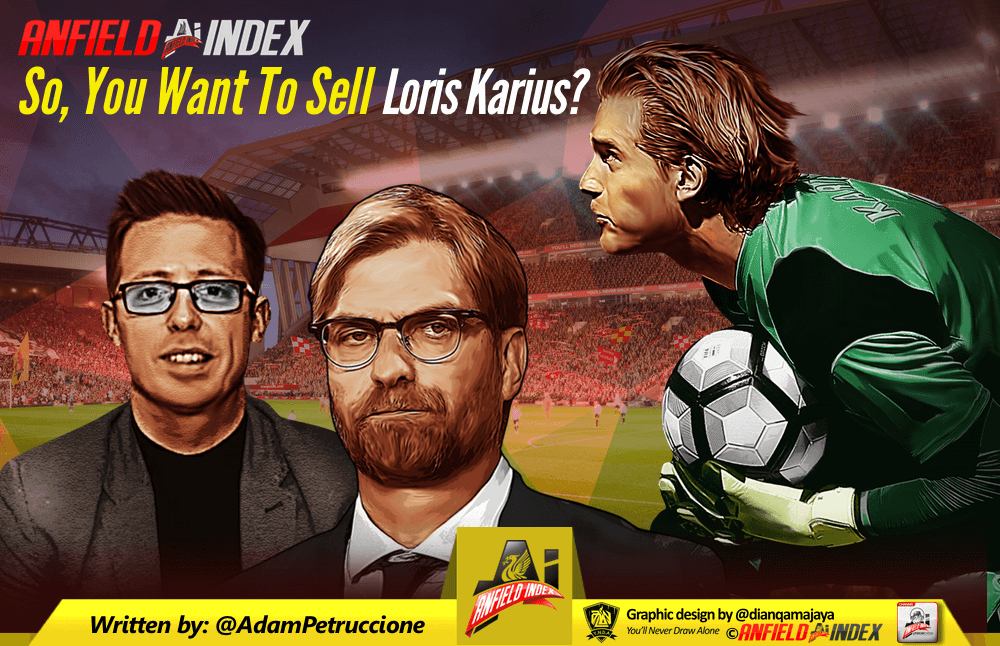 So, you want to sell Loris Karius?

There are two major reactions from Saturday night's painful Champions League final loss to Real Madrid.
1 – Ramos' da sells Avon
2 – Everything else is Karius' fault
Liverpool can't do anything about the former, but the latter they are in full control of. If decisions were made via Twitter poll, Loris Karius would be gone, bagged, tagged and sold to the highest bidder by end of day on Sunday.
Let's say that you got your wish. Karius is gone.
THE DAY AFTER:
What next? Jurgen Klopp, Michael Edwards and co would be onto the business of finding a replacement. Replacing a goalkeeper from the top defence in the Premier League since his promotion ahead of Simon Mignolet, replacing a goalkeeper with the most clean sheets in the Champions League who also happens to suit Jurgen Klopp's unique high-press and preferably under the age of 27.
That sound you hear is Michael Edwards gulping air while his laptop fan starts to whir.
Then, when you've found us a 'keeper, you must place it here beside Adam Bogdan, only slightly taller so you get the two-level effect…
Is Karius impossible to replace, clearly that's not the case, but how far are we willing to stretch ourselves for a marginal gain? What assurances do we have that the next number-one will be the one? Roma's Alisson fits the bill and would be as safe a bet as any, but we showed in the Champions League semi's that he's by no means impenetrable and he's rumoured to have a £70m price tag. Atletico's Oblak can turn common metals into gold, but conflicting reports have him either with pen in hand or already having signed a new deal with Madrid, bumping his buyout to a hefty €175m.
Remember for a moment that Liverpool paid 5 million for Loris Karius. Five.
SHOPPING AT ASDA:
The next shelf down would take bravery of a different kind. Milan's Donnarumma has long been considered a top prospect, but this year he's had more errors leading to goals than any other 'keepers in Serie A. Alban Lafont of Toulouse is thought to be the next best thing, but is a raw teenager and are Liverpool looking for another project at this point?
Jasper Cillessen has struggled for time in Barcelona, but what would we be getting in a former Ajax 'keeper who has sat on the bench for the better part of the last two seasons?
You get the idea.
Fairly quickly you're left with the prospect of welcoming back Simon Mignolet or paying money for Jack Butland that could go for attacking depth or a centre-back instead.
Getting rid of Loris Karius is easy, there are sure to be takers. Replacing him in the real world and not on FootballManager is a difficult path with few guarantees.
Loris Karius made two spectacular errors against Real. There's no changing that at this point. He was elbowed in the head by the dastardly Sergio Ramos just before pitching a strike onto Benzema's foot. What to make of that, I don't know, but I am sure that Karius has been one of our standout players during this Champions League run especially at times when things started to get a little frayed at the back.
Karius is not world-class and that has to be the aim at every position for Liverpool's recruitment team. But, when you're talking about a tiny group of players that fit our style and can also make saves at a rate better than Karius, just be prepared for a lengthy, arduous and costly search.