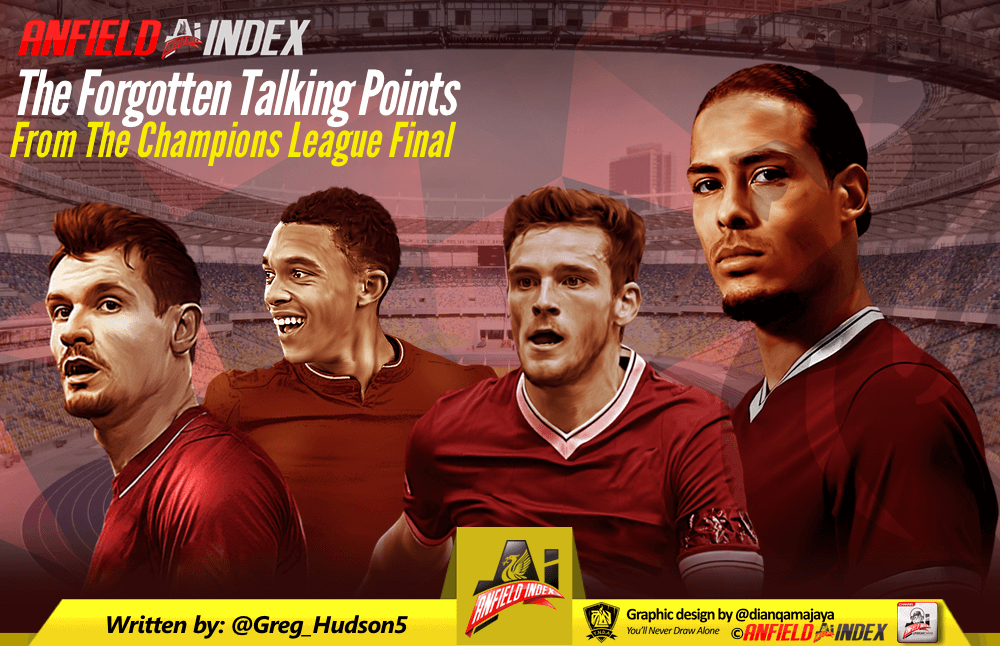 The Forgotten Talking Points | From The Champions League Final
I've waited a good 36 hours since the full-time whistle to write this – in part to compose my own thoughts and in part to have time to listen to the reactions of the players, pundits and supporters. While the Reds' journey to Kiev ended in abject misery, the road there was glorious. I'm pleased at how many supporters have chosen to focus on the pride we can feel in our club and the progress we've made this season to become the first English team in the Champions' League final in six seasons.
That said, reaction to the match itself has been largely summed up in a single word: Karius.
There's no avoiding the nightmare he endured between the sticks in Kiev. But while some supporters have offered supportive words, other less loyal supporters have called for his head – both figuratively in the transfer market, and (disgustingly) literally, with a number of so-called Reds issuing death threats to the lad.

A number of equally-important points have been swept under the rug, such were the gravity of Karius' errors. In light of the world's schadenfreudean fixation on our German no. 1, I'm going to discuss them.
The overall defensive display was superb
The team can create magical attacking movements but retains a reputation for being porous at the back.
Centre-half Dejan Lovren has been a particular focus for criticism after a number of errors in his time at Liverpool. Renewed calls for his sale grow louder with each imperfect clearance or slightly-mistimed jump. But Lovren acquitted himself brilliantly in Kiev. Instrumental in the equalizer with his towering far-post header over Ramos, his work with young Trent Alexander-Arnold was stifling. Lovren has improved substantially since being partnered with Virgil van Dijk, both in quality and inconsistency. He's proven his worth and his quality, and no supporter should be braying for his sale anymore.
Once again, young Trent utterly pocketed an elite-level winger. In Kiev, TAA completely shut down Ronaldo. The Portuguese legend had very few touches of note and played no role whatsoever in any of Real's goal-scoring moves.
Virgil van Dijk again showed he has the making of a club captain with composed leadership from set pieces. That's no small feat given the generally superior height of the Real team. He also made some critical tackles in key situations to spare a fragile Karius facing shots from dangerous areas.
Andrew Robertson capped off a dream campaign with another sensational performance at left back. One year after Premier League relegation, he weighed in with crucial interventions in a European final.
In fact, the backline had no fault in any of the three goals conceded. They'd played Benzema offside before Karius' throw was turned in with some controversy. No defence in the world could have done anything about Bale's wondergoal. And no defence can foot the blame for a goal like Bale's second. The less said about that goal the better.
The pressing game worked – while it lasted
While the injury to Mo Salah proved damaging in equal measure to the side's morale and tactical deployment, there's no taking away from the effort and quality Liverpool put on display in the opening 30 minutes of the match before the Egyptian King went down. Madrid may have had bigger names in midfield, but Liverpool had greater intensity and the front six put real pressure on the Madrid midfield and created a number of half-chances that may have ended in goals on a luckier day.
In many ways, the opening half-hour was somewhat reminiscent to the City game at Anfield – minus the goals, of course. Real had the better possession stats, but the Reds had the better possession movement. The midfield – particularly Milner, cut passing lanes and didn't give Madrid many options in terms of where to play the ball.
Sadly, Salah's injury completely changed the match, both tactically and psychologically, but Kopites can really take heart from the side's performance before his departure.
The overall lack of depth showed in Kiev
You can't question the quality of this Liverpool side. The attacking trio of Roberto Firmino, Mohamed Salah and Sadio Mane needs no aggrandizement. You can't question their work rate either, or the industrial efforts of the midfield trio. But injury and a general lack of depth hurt Liverpool in Kiev.
Losing Salah was bound to be a big blow, and would be for any side. But Adam Lallana, a talented player but a roving central midfielder, was the only fitting replacement for him. This left Liverpool without any real game-changers on the bench. Yes, Dom Solanke was named on the bench. But despite his goal against Brighton a fortnight prior, he never looked like changing the game from the bench.
As the clock approached 80 minutes and the Reds trailed by a goal, there was no natural attacker to bring on. The introduction of Emre Can, perhaps for his swansong, was a welcome infusion of energy as the players grew tired. That said, it didn't do anything to make Liverpool more threatening to Keylor Navas' goal.
This isn't a failure of the players or the system, merely a reminder that Klopp's squad – indeed his whole project- is very much a work in progress. Which brings us to the final talking point.
Win or lose, Liverpool have returned to a place among Europe's elite
The media have been quick to turn our defeat into a case of "same old Liverpool with the Achilles Keeper." But despite the loss,  there can be no disputing that we guaranteed our place among Europe's elite.
It had been 11 years since our last final appearance, and it's now been 13 years since our last Champions League win. But make no mistake: we are absolutely back with the big boys. And no one will relish the thought of drawing us in the group stage or knockout rounds next season.