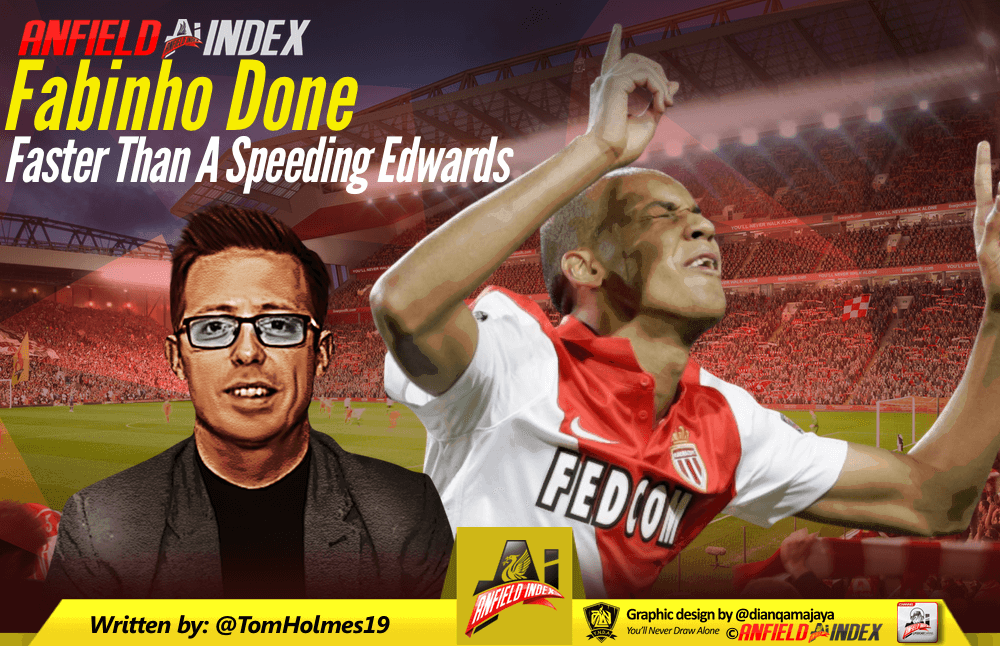 Fabinho Done - Faster Than A Speeding Edwards
It's two days after the Champions League final and the dissection of the game has barely even ended. The discussion, as these discussions are wont to do, turns to the state of Liverpool's squad after what has been a very exciting but ultimately unsuccessful season – at least in terms of silverware.
As heated debates between like-minded but disagreeing individuals tend to do, the discussion zeroed in on the issue of defensive midfield. On and on and on we discussed. The fundamental question of how important a defensive midfielder could be to this Liverpool side, who was available, and more importantly, would Klopp sanction a big money signing of one.
THAT ESCALATED QUICKLY
Well, the majority of those questions have been answered, as well as a whole set of fresh new ones. Less than 48 hours after Liverpool's midfield struggled to contain Real Madrid's, shorn of Emre Can who looks to be leaving the club imminently, the internet exploded with the news that Liverpool had agreed (or were extremely close to agreeing depending on your source of choice) a deal for Monaco midfielder Fabinho.

And then less than an hour later, before I'd even have time to finish typing up this godforsaken article, the club announced it.
One hour.
https://twitter.com/lfc/status/1001191603460100096
Michael Edwards secured the signing of one of the most exciting, young, talented, powerful defensive midfielders in Europe from a top European club, a man who has won titles. And we only found out about the possibility an hour before the club announced it officially.
Who are you and what have you done with Liverpool Football Club?
This is the kind of ruthless, efficient, fantastic dealing that could get this club a reputation of actually being smart in the transfer market. In terms of the deal itself, getting a £40m deal done for an area that the club needed to strengthen, before it was actually confirmed that their number one target was off the market, less than two days after a major cup final, before the month of May has even completed, without a single leak to the press?
That is absolutely staggering.
WHO IS FABINHO?
Onto the player himself. Liverpool needed a defensive midfielder. Especially with Naby Keita joining, Emre Can leaving and rumours that we were also in for Nabil Fekir emerging, Liverpool needed someone at the base of their midfield to add some strength, some stability and above all else, a spine.
Fabinho's primary role is obviously defensive in the midfield, with his aerial prowess a huge boost as that is one area the Reds have been lacking in the middle of the park. He's a strong tackler, but has other aspects to his game too, with creativity not an issue at all, and goals something that he can bring to the table, scoring twenty-two goals and eight assists over his last three seasons at Monaco. One of the main sources of goals for him is penalties, having scored fifteen out of fifteen in Ligue 1. Having a regular starter who is good from the spot could be another boost for the Reds, who have been largely poor from the spot this year and haven't really had a set penalty-taker, with Milner not starting as often as in 16-17.
As mentioned above, Fabinho is just 24, a month younger than myself, but has already picked up major silverware with Monaco, having won Ligue 1 in the 2016-17 season. That is the potent combination of experience and youth that FSG have been attempting to harness under Klopp, but Fabinho more than most will be an addition that cannot help but strengthen the Reds' winning mentality in midfield.
In many respects, this is something that we've seen before from Edwards and Klopp, especially recently. Identify a key area, get a list of key attributes, pick the right player, and get the deal done. Fabinho is another classic example of Liverpool seeing a weakness in their squad and snapping up potentially the perfect player to resolve it, and there'll be a lot of confidence around Anfield that the Brazilian is the right answer to the question of Liverpool's defensive midfield, which arguably hasn't been satisfactorily answered since Javier Mascherano was at the club.
Nevertheless, to see Edwards' vision executed to such perfection so incredibly quickly, with so little fuss, is a testament to exactly how integral the man is to Liverpool Football Club's future.
In terms of where this leaves the Reds, there's every reason to be extremely excited. May isn't over and one of the biggest problem areas in the squad has been addressed in a timely and relatively cost-effective manner. With balance added to Liverpool's midfield, Keita and Fabinho are two genuinely exciting midfield additions, giving us options and already more depth in a key area of the pitch. We know how good the front three are, but the three behind them are shaping up very nicely too.
If this is just the start of the summer, I cannot wait to see where Liverpool are when it ends.