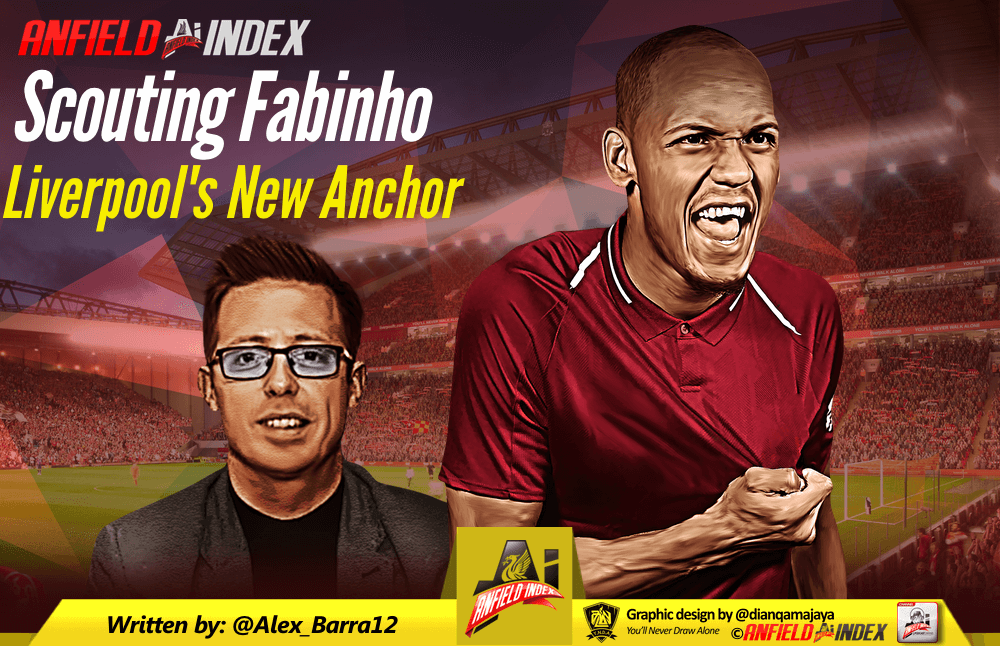 Scouting Fabinho: Liverpool's New Anchor

Monday Night – UK time: Liverpool fans still reel from their Champions League final loss, yet they are motivated in their club's resolve to use it as the platform for progress; a bump on the road to something special.
Nobody quite knew just how quickly the Reds would get moving on that road, though. As photos emerged of their shiny new Brazilian midfielder, standing clad in that famous Red kit, every Liverpool fan in the world probably had the same thought…
Bloody hell, that was quick.
Monaco's Fabinho has officially joined Liverpool for an initial fee of £39 million, potentially rising to £43 million with add-ons. The player had been regularly linked with Manchester United and Paris St. Germain, though the latter were hampered by Monaco's reluctance to sell to the side they beat to the title in 2016/17: a title which saw Fabinho truly rise to prominence.
He begun his career in Rio Ave after coming through the Fluminense academy was then whisked away to the lands of Real Madrid, where he would only make a single top-flight appearance before moving to Monaco on loan, then permanently in May of 2015. By that time, the Brazilian wasn't merely seen as a dynamic skilful right full-back, but something much more.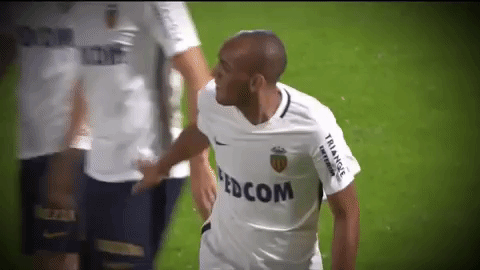 Style
A defensive midfielder in the purest sense of the term, Fabinho exerts control, is excellent at reading the play as it transpires ahead of him, and most importantly, has a keen sense of knowing where to be at all times, especially when it comes to stopping opposition counter-attacks.
He's the kind of player that many Liverpool fans would've mentioned in passing as discussions would've been prefaced with a chorus of "It's probably a pipe dream, but…". In fact, Emre Can hasn't even departed the realms of Melwood yet, and he's already been upgraded upon. Fabinho's ability to break up the play and then set his team off on the counter-attack, often carrying the ball at his feet, shows just how impressive the 6"2 is technical, the understated – if not underrated – cog in the Monaco machine.
Strengths
Perhaps the perfect option to countenance Naby Keita's busy brilliance, it's Fabinho's composure and control that will see him seamlessly fill Liverpool's need for a midfield anchor.
He's adept at covering the big spaces in front of a defence; a skill that's imperative for anyone tasked with covering for Liverpool's marauding style. Too many times in the past Klopp has been frustrated by a lack of coverage in midfield, leaving the defence exposed. Virgil van Dijk's arrival significantly helped Liverpool defend against quick, counter-attacking sides, and Fabinho's style of individual marking and capacity to break down opposition attacks will only help that. The way Monaco defended with Fabinho as the covering midfielder was fluid; meaning they could defend the spaces on both flanks, and the Brazilian's recovery pace was essential in tracking back to help his defence when they were exposed.
It's also another display of Liverpool putting time and effort into the right signing, not least because Jürgen Klopp described him as a "fantastic person", but also because Fabinho will fit into the way the German wants his midfielders to operate: capable of playing in multiple positions, adapting to multiple skillsets, and comfortable with the ball at his feet.
Jorginho may well have been the flashy, highlights reel player on everybody's lips, but Fabinho is the right player for Liverpool's midfield.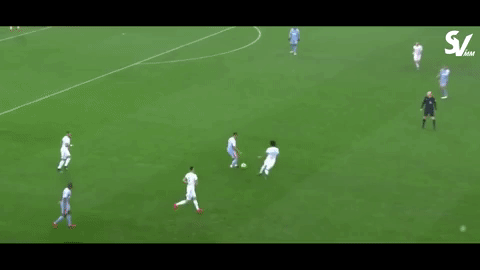 Despite being surrounded by four players, Fabinho takes an assured first touch and plays it quickly forwards, knowing his teammates can capitalise on the space. 
He makes 1.1 successful dribbles per game, practically level with Emre Can (0.9) and physically exhibits a lot of that same power, without needing three or four steps to get into full stride. He may not have Can's pace at full stretch, but over a short distance he's able to power past opposition numbers and lay the ball off to the devastating dynamism of his midfield counterparts: in this case, devastating may not even come close to describing what Naby Keita, Alex Oxlade-Chamberlain and potentially Nabil Fekir could do with Fabinho supplying them.
Encouragingly, though, that multi-functionality at the heart of midfield shows him to be just as resolute at winning possession back as he is when he has the ball. He made 3.4 tackles per game for Monaco this season (helped by the dribble-happy landscape that is Ligue 1), nearly double that of Liverpool's captain Jordan Henderson (1.9) and made more interceptions (1.3 to 1.1) and blocks (0.4 to 0.1) to boot. That's also accompanying the fact that his tall frame means he's confident in the air, winning more aerial duels (2.9) than Can or Henderson, too.
The picture should be getting clearer: Fabinho will excel as the fulcrum of the Reds' midfield, offering protection and propulsion in equal measure; the man to press heavily, win the ball back, and orchestrate the counter-attack that feeds the fiery front three.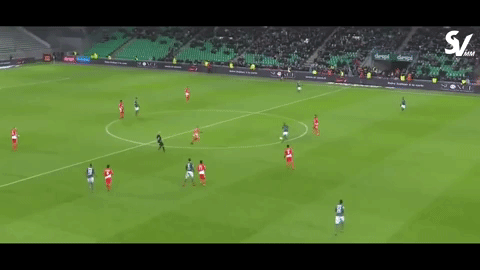 The Brazilian is adept at pressing high and setting his team on the counter-attack early: a trait which will please his new manager greatly
He's also what is colloquially known as a "snide bastard." Given what Liverpool suffered in the Champions League final, a player with a bit of grit and determination – albeit with sixteen yellow cards to his name in his last two Ligue 1 seasons – will be a welcome addition to a Liverpool side that has lacked bite in recent times.
Finally, he'll undoubtedly be Liverpool's new penalty taker, given his 100% success rate in Ligue 1, scoring 17 from 17.
Weaknesses
He's not the flashy, deep-lying playmaker that many thought Klopp would pursue; someone akin to Jorginho or Ruben Neves in the way they're able to distribute the ball, but then he doesn't have to be. Fernandinho doesn't particularly excel at scything sixty-yard passes over a defence, either, but he has David Silva and Kevin de Bruyne for that, once he's done the hard work.
Fabinho is similar enough to Fernandinho in style, only better defensively, and some measure taller.
Liverpool will obviously require him to gel with his fellow midfielders, both of whom are likely to be new arrivals at Melwood themselves, and there is something to be said for his urgency when pressed up against a deep-seated defence, but when it comes to the role Liverpool need him to play, Fabinho's strengths far outweigh his deficiencies.
Where Will he Fit in?
Any worries regarding the defensive fragility of a midfield containing Naby Keita and Nabil Fekir or Alex Oxlade-Chamberlain are now allayed with one fell swoop. Fabinho's arrival will ensure balance is brought back to the Liverpool midfield, whilst also ensuring Klopp once more has a team filled with footballers both technically capable and adaptable to multiple positions.
It also allows Klopp to further experiment with the 4-2-2-2 system he's tinkered with in the past, as well as the 4-2-3-1 that fans saw deployed against Brighton on the last matchday of the season.
If ever there was a signal of intent, this one is it. Merely days into the summer window, Liverpool are ready to take the next step: Enter Fabinho.