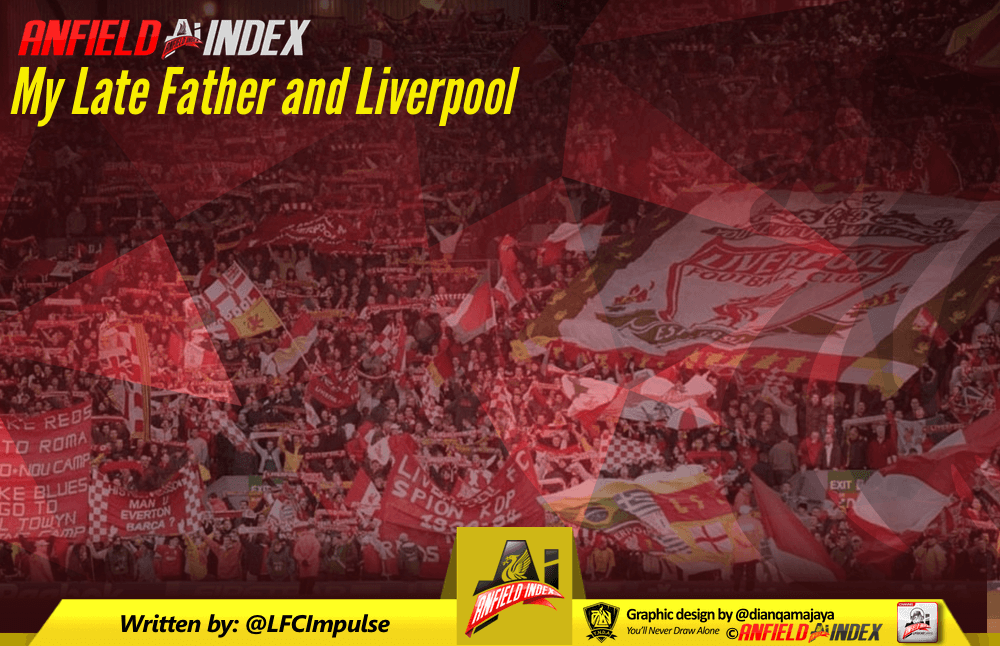 My Late Father and Liverpool
Being a Liverpool fan, I've fallen out of love with the game more times than I can count. Between marginally losing the league in 2008/09, and again in 2013/14, to seeing some of the icons I grew up supporting and adoring leaving the club one-by-one – who could blame me, right? This time, however, it was at a whole new level.
In early May, my Dad suffered a heart attack which effectively took him away from this world, my world, within an hour. He couldn't prepare any last words; encouragement for us to move on without him, or how he's ready to go after being able to see what we were able to achieve with his own eyes. Nothing – we are just left to hoping that he would leave us with his last words someday, through a dream or a sign from the universe.
Being his only son, it's only natural that I had the cliché father-son bond with him. He supported every single one of my hobbies, he shared all of his life lessons with me, and he showed me the world through his perspective, yet leaving room for me to have my own perspective as well. This is also likewise when it comes to my support of Liverpool.

I've sat down as a teenager just understanding the game simply by watching hours upon hours of football by his side. We'd plan our family dinners around Liverpool's matches on weekends, and we'd remind each other to sleep earlier than normal in order to get up at 2 in the morning to watch European Cup matches.
He'd always tell me to wake him up for these wee-hour games but what ends up happening is being gently woken up to his palm on the side of my arm with a slight nudge, asking me if I still want to watch the game. I'll head to the washroom to wash up and in the meantime, he makes a hot drink for me to indulge on during the game.
He'd be talking about the game in his usual, thunderous voice while I'd shush him repeatedly so as not to wake my Mum up in the middle of the night. Sometimes, he'd get hungry and say to me with a cheeky smile on his face, "Boy, I'm feeling a bit hungry". Most times, I'd nod and we head down to the kitchen at half-time to whip up sandwiches and ate side-by-side as we watched the game.
After a long day at work and having only an hour's worth of sleep, I got up at the usual time to watch a Champions League game – as always. Little did I know that that would be the last time I ever watched football with the person who got me into watching it. Liverpool was cruising past AS Roma in the first-leg of the semi-final match-up with 5 goals before conceding 2 late goals in typical Liverpool fashion.
Of course, all I heard was fury from my Dad on how we made things a lot more interesting for the Italian side. That was the kind of fan, nay – kind of person, my Dad was. It may be an Asian stereotype, but while he will give credit where it's due, he was always looking at how things could be improved. Throughout my life, he'd poke fun at the 10 marks I missed out on in school exams instead of highlighting the 90 marks I got, as his way of praising and motivating at the same time.
The next day, someone asked him if Liverpool made it to the finals and he replied, "We were winning by 5 goals and that would've basically guaranteed us in the finals, but then we conceded 2 stupid goals. We are still favourites though but who knows!"
During the wake, Liverpool played the second-leg of the semi-finals against Roma, and through sheer luck, Liverpool advanced to the finals of the Champions League from a 4-2 scoreline. That morning, I stood by my Dad's coffin, seeing his tidied-up face, telling him about the game and the results – the first and only time I would be doing such a thing. I told him that he was right, the 2 goals made it so much more interesting than it should've been and that even the club knows how to send him off by giving him the most "Liverpool" performance they could produce.
Fast forward, and the Champions League final against Real Madrid would've been the first for my Dad and me, as I only got into football after the back-to-back appearances in the early days of Rafa Benitez.
It was at 2.45am on a Saturday night / Sunday morning. I got up 10 minutes late because he wasn't there to nudge me to get up. I sat in the living room on my own instead of in my parent's room because he wasn't there to be kept accompanied by me. I scrolled through my phone at half-time because he wasn't there to ask me if I wanted a drink or a snack. I sat in silence through the blunders by Loris Karius and the equaliser by Sadio Mane because he wasn't there to complain or celebrate unreasonably loudly in the middle of the night. When the full-time whistle blew, I sat in disbelief for a second, got up to turn off the TV, and made my way back to sleep, because he wasn't there for me to sigh and say "Goodnight Dad".
That was the moment that I realised that I will never be able to enjoy football the same way again. I've thought to myself that if Liverpool were to have won the Champions League that night, it wouldn't be that Liverpool would not win another major trophy before my Dad passed, but instead, my Dad passing before Liverpool would win another major trophy. I've always dreamt of paying whatever it took to head over to Anfield one day to watch the Reds together but seems like that is a dream I would never, ever be able to fulfil.
It's alright, though, as while many others would gather at a friend's place, at a mamak, or at a bar or pub, my routine was always to watch Liverpool as I described – sitting by my Dad's side as I have done for the last 10 years or so. I've watched many Liverpool games with my Dad in restaurants, through a phone during dinners which we have to attend, in a pub in Hong Kong despite me being under-aged, and watching Liverpool live in stadiums, but nothing beats the routine.
However, I've always known that one day that the routine would end. I would have to either watch games alone at home or someplace with some friends, but yet, I'd trade all of the peace and quiet, or the added atmosphere and company just to be able to sit next to my Dad, just once more.
RIP, Dad.