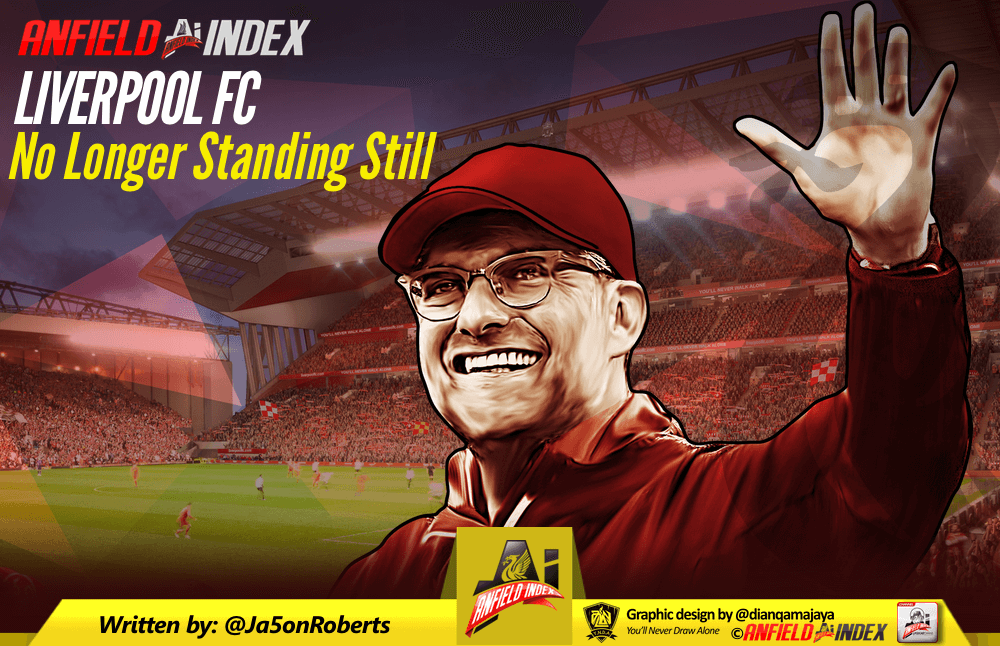 Liverpool FC - No Longer Standing Still
As the dust settles on an emotional week for Liverpool supporters, it's almost hard to believe that it began with the heartbreak of seeing our Champions League Final hopes washed away in a flood of tears. Those of Mohamed Salah, cruelly robbed of his chance to shine on the biggest stage in club football, with his World Cup hopes hanging in the balance. Those of Loris Karius, as he begged for forgiveness amid the realisation of the significance of his mistakes in the match. And those of the Liverpool supporters, whose hopes and dreams of seeing the club that we love lifting that coveted European Cup for the 6th time had been shattered in the most disappointing of circumstances.
In the days that immediately followed, that disappointment fueled anger. Anger towards Sergio Ramos for his actions that lead to Salah leaving the pitch in anguish after only half an hour and towards Karius whose own actions cost the team so dearly. The repercussions of these strong emotions, unfortunately, led to a degree of stupidity from some supporters in the form of death threats aimed towards our already distraught goalkeeper on social media and an online campaign calling for Fifa to retrospectively punish Ramos for what he did to our Egyptian hero. In an age where keyboard warriors need little to no excuse to spread hate and make "threats" from the safety of their bedrooms, these pathetic examples of venting emotion darkened the cloud that already hung over a club and a fanbase that was already suffering.
And yet it wasn't long before shoots of positivity began to sprout. Footage emerged of Jurgen Klopp singing with supporters in the early hours of the morning following the match itself. This was predictably met with the usual cynicism from opposition fans who – in the main – do their utmost to convince themselves that they wish he wasn't in charge of their team (when the truth is quite the opposite). Our fans though, we lapped it up. We're not only lucky to have him, but we're proud. What this showed was a man who is happy to immerse himself in amongst the very people who revere him. He's one of us. A man who knows that despite the hurt of the previous night's events, there is still so much to look forward to. After an event that was so emotionally draining for all involved, it served as a reminder that this match – despite its importance – forms only part of the journey, not the finale.

Jurgen knew what was coming next.
And so came Tuesday night, with the news that acted like a shot of adrenaline to many of us who were still emotionally hung over. In what seemed like a 2-hour timespan, news began to emerge that Liverpool had serious interest in Monaco midfielder and Brazilian international, Fabinho. That interest quickly accelerated into an offer, which then became an accepted offer and before we had time to process what was going on, official announcements were being made and we were witnessing footage of Fabinho having signed for the club. Talk about a whirlwind!
The significance of his signing simply cannot be underestimated. A highly coveted, exceptionally talented and versatile player who could have his pick of some of the biggest clubs in the world, Fabinho will hopefully add a combination of steel and dynamism to a new look Liverpool midfield that we already know will include Naby Keita. His signing not only shows that the club means business, but the nature of it is also highly impressive. To be able to conclude the deal and announce it without the information being leaked in advance is practically unheard of these days, especially when it comes to Liverpool F.C. This would have taken weeks or even months to plan and see through to completion behind the scenes, yet for us, it was out of the blue. The fee (a reported £43.7m) represents another potential bargain in today's inflated transfer market. On the face of it, the Fabinho signing not only shows the club identifying and addressing a long-standing, key position in the team being filled but also acts as an example that the club has learnt from transfer failings of the past.
With talk increasing about Nabil Fekir being next through the door, there is no doubting that Klopp, Edwards and co. are in no mood to hang around when it comes to securing their targets and improving the squad. They want quality, and they want it now!
Whether we get Fekir or not only time will tell, and there is still plenty of work that needs to be done to take this team to the next level again. However, when you consider the success of last seasons' signings – Virgil van Dijk, Andy Robertson, Alex Oxlade-Chamberlain and Mohamed Salah – and add Keita and Fabinho to this mix, it is impossible not to be excited about the direction that the club is going in. Signing players is not an exact science, however, we finally seem to be getting it right. No wonder Jurgen was singing with those supporters!
So on reflection, yes losing in the Champions League final was a bitter pill to swallow. It hurts like hell and rightly so. But if this week has taught us anything, it's that the club is refusing to stand still. The Champions League final, like the Europa League and League Cup finals before it, will be a milestone on the journey but the destination hasn't been reached yet. That may be a cliché, but it couldn't be truer.
We've already had some exciting times since Klopp has been in charge and this author can't help feeling that the best is yet to come.