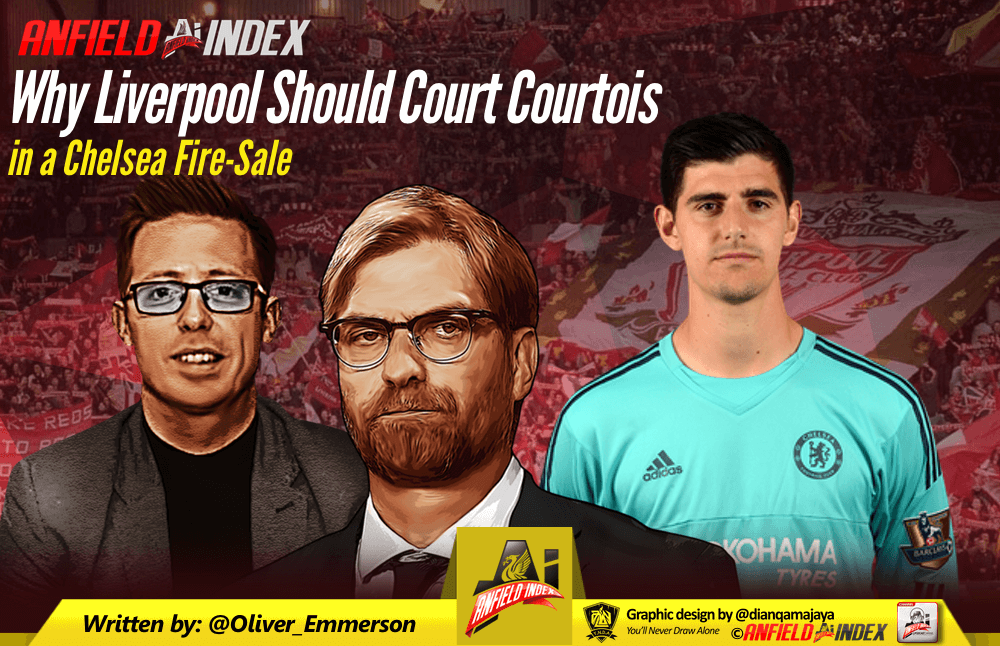 Why Liverpool Should Court Courtois in a Chelsea Fire-Sale

Chelsea fans have had quite a storm blowing their way over the last few months, haven't they?
A manager in disarray over his future after coming nowhere near to defending his league title and an owner refused a visa to the country that his club operates in.
An FA Cup win managed to push the storm back a bit, but Thursday's announcement that they're postponing their stadium development due to an 'unfavourable investment climate' seems to have thrown the Blues into full scale crisis.
Time for Liverpool to pounce
A goalkeeper is high on the agenda for Liverpool this summer, no less-so after Loris Karius' well-documented howlers in Saturday's Champions League final.
There have been a few names bounced around 394591452 times, namely; Jan Oblak, Alisson Becker and Jack Butland. All have their issues.
Butland – Nobody's actually quite sure if he's much good anymore.
Alisson – Roma think that their hideous negotiating in the Salah deal should be balanced out.
Oblak – His release clause is around one billion pounds and nobody's actually sure he wants to join.
So, why don't Liverpool look to the south of the country for an experienced international 'keeper who has already scooped two Premier League titles and La Liga?
Thibaut Courtois.
Courtois ticks boxes and saves shots
Chelsea's financial situation isn't what it once was and if Roman Abrahimovic looks to asset strip (a very real possibility), then the goalkeeper could be amongst the first out of the door.
It's already been muted that he'd be open to a move away, similarly to Eden Hazard, but there's been nothing concrete. Chelsea though, do need cash for a new manager to re-mould the squad. It's not like they're opposed to intra-league business either, having let Nemanja Matic depart for Manchester United less than 12 months ago.
With just a year left on his contract, you'd be surprised to see Courtois' value fly higher than what Liverpool paid Arsenal last summer for Alex Oxlade-Chamberlain, which is less than half the price being quoted for Alisson and Oblak, similar to what Stoke City are reportedly looking for when selling Butland.
Oblak is far and away the best of the goalkeeper's mentioned but the huge stumbling blocks when it comes to his signing leaves the other names worth evaluating. There's an argument to be had over who you'd take between Courtois and Alisson, both of whom far out-rank Butland.
Standing at 6ft 6″, Courtois would cut the imposing figure that Liverpool have lacked in goal for years. He's not as good at some as getting down quickly with his feet to keep shots out, but it's also worth remembering that Liverpool aren't after someone to save 10 shots a game, merely an imposing figure that doesn't make mistakes on the weekly.
Courtois is vastly experienced having racked up over 100 appearances for Chelsea and Atletico Madrid respectively, whilst having featured in international tournaments for Belgium – ahead of current Liverpool 'keeper Simon Mignolet.
He's amongst the best goalkeepers in the Premier League and has a winning mentality so often discussed as something the Liverpool squad are lacking, it makes all the sense to sign him.
Could it happen?
Courtois' name has been mentioned by the odd outlet when it comes to Liverpool but there's been nothing concrete. Then again, there was nothing concrete about the Fabinho news before the Reds simply popped up and showed him holding a shirt.
Butland is reportedly wanted by Wolves, the Alisson news has gone cold due to Real Madrid's interest and Oblak looks a little far-fetched.
Klopp has a sizeable budget this summer but can't afford to spend £70M on every position, so by saving a little cash on Courtois there's then room in the coffers to go out and buy better players to line-up ahead of him, namely a superstar partner for Virgil van Dijk.
Would it be a surprise to see Courtois at Anfield come August?
It certainly wouldn't be a mistake…