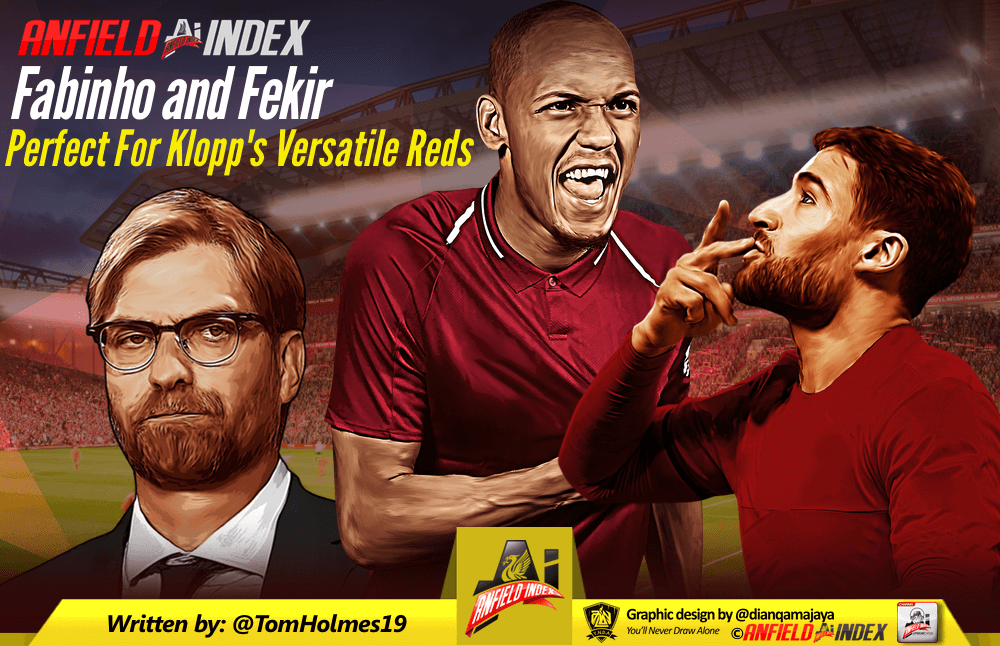 Fabinho and Fekir Perfect For Klopp's Versatile Reds
I hate starting any article about Liverpool with a comparison to Man United. But sometimes an opportunity presents itself for such a stark comparison and it gets stuck in your head to the point where it's impossible to avoid. So indulge me for a moment.
When talking to a United fan recently (I know), he mentioned that they desperately needed a right-winger and Bale would be perfect. I pointed out that they have Sanchez, Martial, Rashford et al, and he shook his head.
"They're all left-wingers. None of them can play off the right."
This is, of course, the same club that cannot have Paul Pogba, a £89m central midfielder, playing in central midfield without two other players beside him, because even one of the best defensive midfielders in the Premier League cannot compensate for his lack of defensive awareness.
The point I'm trying to make here is not that United are one-dimensional or even that their players are too one-dimensional (I don't believe for a second that their exciting young prospects need to be shoehorned into explicit positions), but rather that the entire philosophy and culture around their club is currently rigid and fixed. There's no flow to their attacking play, but moreover, the individuals involved cannot be versatile.
This brings us to Liverpool's (as of time of writing) latest signing, Fabinho. Fabinho is allegedly a player rejected by Man United for being too versatile, as he's able to play at right-back. Compare that to some of Jürgen Klopp's first comments on Fabinho: "He has ability and mentality to play at the highest level in a number of positions. He can play '6', '8' and '2'. This is cool."
Fabinho is, as Klopp says, a versatile player. Able to slot in at right-back when required, has the dynamism and skillset to work across the midfield, and although it's pretty much expected that his primary role will be in the defensive midfield position, that's by no means a given.
If Henderson starts and if we're being honest with Ox injured and Emre out the door, right now Hendo is a starter in our midfield, even though we're expecting that to change before the window ends, we could see Fabinho in a slightly more advanced role at times.
Another factor is the shape of Liverpool's midfield, as we could easily see, should more attacking individuals come in to replace Phil Coutinho, Liverpool shift to a double-pivot midfield, either an explicit 4-2-3-1 or merely a slightly modified 4-3-3, and Fabinho has the skillset to compliment Naby Keita or even Gini Wijnaldum in a two-man midfield.
So here we have a new signing who can play a variety of positions, depending on who is alongside him and is able to accommodate potentially a variety of formations. And that's not just useful on paper, but in terms of in-game nous. We know Liverpool's full-backs are extremely attacking, and Klopp will ask his midfielders to play as auxiliary full-backs, something that Wijnaldum and Oxlade-Chamberlain, in particular, have struggled with. Fabinho should have no such issues.
Moving briefly away from Fabinho then, to the other main name that has been linked with Liverpool this summer – Nabil Fekir. Whilst it is not a done thing yet (at time of writing), it cannot be debated that Fekir is a Liverpool target. Moreover, Fekir is clearly Liverpool's prime target, as that's what all of the reliable sources are telling us. So even if we can't say for certain what our team will look like with him in it, given that he's not in it, we can definitely comment on what Liverpool's move for him indicates.
And what Fekir brings to the table is that keyword again – versatility. Fekir's predominant position is the number 10 role, the middle of the three in a 4-2-3-1. To that extent, should he join, many are expecting to line-up ahead of the aforementioned double-pivot of Keita and Fabinho? However, that is far from the limit to his positioning. He's played as a second striker, an outright centre-forward and on both wings for Lyon, making him an ideal option to rotate with the front three, much as Coutinho was at the start of the 17-18 season.
However, what's most interesting about Fekir is how many expect him to take up a role that he's never even played before – the number eight position. Klopp has shown a clear preference for a 4-3-3 over the last two seasons and many expect that to remain the default, meaning that should Fekir sign, the only place he can slot right into our starting eleven is in midfield.
At this point in the article, I want to jump backwards in time to talk about the summer of 2016. Because back then, ahead of Klopp's first full season at the club, many had preconceived notions of how we were going to line-up and what to expect. I don't pretend otherwise – I expected us to line-up in a 4-2-3-1 with a Hendo/Emre double pivot, Firmino playing off Sturridge.
Instead, we got a 4-3-3 with Henderson as a DM, a position that he'd never really played before; Adam Lallana and Georginio Wijnaldum as midfielders, when both were expected to sign as number ten options or potentially as wingers; Bobby Firmino as a false nine, a position we thought we'd only seen him play because we had no other options; and James Milner at left-back.
And all of it worked. Not all of it worked perfectly, not all of it was hugely successful, but none of it was an outright failure. We can debate the merits of James Milner vs Alberto Moreno at LB until the cows come home, but Milly did a good job there for at least half, probably two-thirds of the season.
Versatility has been baked into the DNA of this Liverpool team. Look at the front three – Firmino, Mané and Mo Salah. Bobby is an attacking midfielder by trait, crafted into the perfect centre-forward by Klopp but still more than capable of playing deeper, or off either flank. When we signed Mo Salah, everyone was worried about how Sadio would do off the left (it's worth remembering that twelve months ago Sadio was starting on the opposite flank) but rather than fall into the Martial/Rashford category of falling apart, he's been as good as last season and remains an integral player.
Even Mo, who hasn't necessarily been asked to be as versatile as others, is more than capable of playing as a second striker, or even as a forward, and at times when Liverpool played 4-2-4, with Ox on the wing, Mo was the literal focal point of the attack, as opposed to being the metaphorical one.
Ox is another name who can play in three or four positions, another recent acquisition under Klopp, with Trent Alexander-Arnold playing in midfield for LFC, as well as a wing-back. The truth is that up and down this Liverpool side, versatility and fluidity is the name of the game. Most players can play at least two or three positions, and the ability to adapt to who is playing alongside them is extremely important for Klopp's players.
I want to finish this article by briefly speaking about a player that so far my analysis has largely ignored, the absolute game-changer that is Naby Keita. I could talk about Naby Keita until the world ends to be completely honest with you because he's not versatile as such. Versatile implies you have the skillset to operate in a variety of different positions. Naby doesn't so much have that, so much as he has just about every skill set. He can tackle, he can pass, he can shoot, he has the positional sense, the aggression, the ability and oh my word can this lad dribble.
To suggest that Naby can play anywhere across the midfield is almost an insult to his ability. He can't just play as a number eight, he is a number eight. He has the ability to run past anyone, to create attacks, to dominate a midfield. But at the same time, he can't just play as a six, he is a six. He is a brilliant transition player, who is exceptional at winning the ball back, recycling it, and moving it up-field. He was born to play in a double-pivot, as he's a jack of all trades, which helps because it means you can attack and defend depending on who your partner is, what his skill set suggests and what he's doing in any given moment. And to suggest that Naby is merely a box-to-box midfielder is an insult. Yes, he is a box to box, but he's so much more than that.
Having Naby Keita in your midfield is an absolute godsend because it doesn't matter where you stick him or who you stick next to him, the lad is going to be absolutely bloody brilliant. So having balance around him, in the shape of Fabinho and potentially Fekir, basically allows him to do whatever he is good at – everything.
The point here is that Liverpool are a club who have a real core of versatility and options at their disposal. Klopp named 37 different sides in 38 league games last season, and we keep bringing in players who aren't fixed into positions. A wealth of interesting, exciting, versatile midfield options, as well as attacking versatility – particularly if we bring in another versatile winger as is expected – means that nobody knows how the Reds are going to line-up, or how they'll look when they do.
To be honest, I just feel a bit sorry for the opposition. Up the Reds.