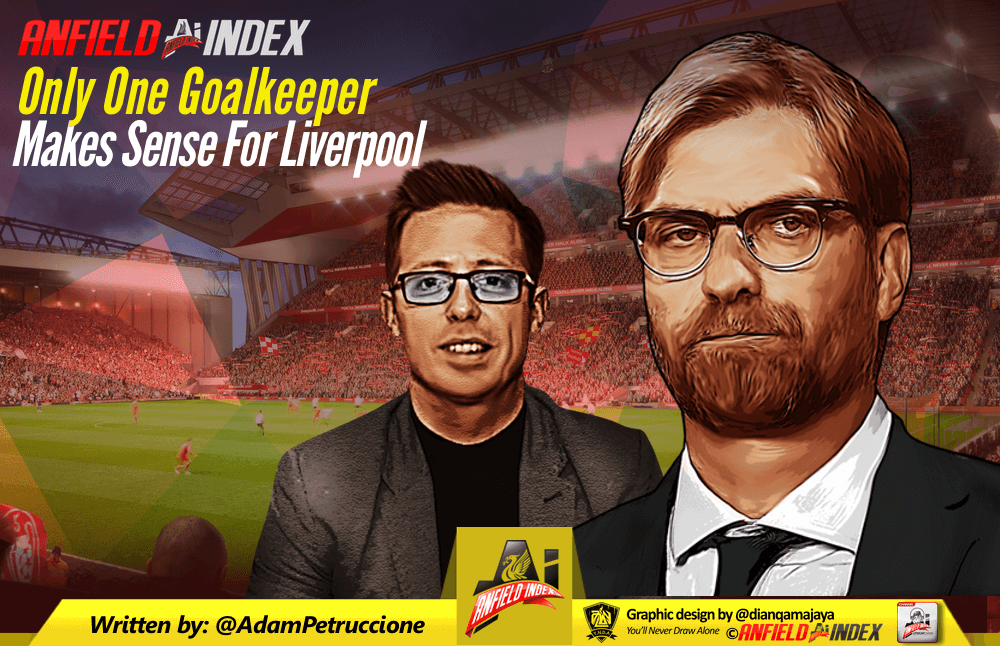 Only One Goalkeeper Makes Sense for Liverpool

With the Liverpool fanbase in resounding agreement over the sudden need to upgrade the goalkeeper position who is the player to take the number-one kit for the next ten years?
Liverpool GK tryouts this summer pic.twitter.com/FLi8bcuf3S

— Jeramy (@jeramye) May 26, 2018
KNOW WHEN TO HOLD 'EM
The Reds are in need of a 'keeper clear-out, but that shouldn't include Loris Karius, especially after the news of the concussion he suffered during the Champions League Final. Sell Simon Mignolet and Danny Ward as they deserve to play somewhere, but Loris Karius is too valuable an asset to sell at this particularly low point. Karius has been in goal for Liverpool during a stretch where they conceded the fewest goals in the Premier League, so there is certainly something to salvage from the Champions League final carnage.
KNOW WHEN TO FOLD 'EM
When you're on a roll like Michael Edwards is, and especially when you're playing with someone else's money, it can be tempting to keep pushing your chips out there. £75 million worked on Virgil van Dijk so, why not push the boat out again? The issue is that Roma and Atletico Madrid have the odds stacked in their favour. £36 million for City's Ederson was a world record signing for a goalkeeper just a year ago. The prices being thrown out there for Alisson and Oblak are more than double that. And as City have shown with Claudio Bravo, 'keepers are not guaranteed to duplicate their success in the Premier League. At a certain number, either would be worth the risk, but a £50-£60 million deal doesn't appear to be possible at the moment.
Donnarumma should, in theory, be ready to escape Milan with Financial Fair Play penalties pending and his fanbase turning on him. But should Liverpool offer refuge to him when he topped Serie A in errors leading to goals (7) last year? Is that the kind of "upgrade" that the Reds are looking for?
Jack Butland and Jasper Cillessen shouldn't even be in the conversation. 'Keepers coming off of injury or having been on the bench for multiple seasons need not apply for a club reaching for the heights that Liverpool is at the moment.
BEAT THE SYSTEM
If Karius has shown us anything over these past few months it is that Klopp's system functions at another level when the 'keeper fits the system. Mignolet may ultimately be a better shot stopper than Karius or at least on par with him, but the level at which the team functions in front of the German is night-and-day. Karius' remarkably high positioning and adept ball skills allow the Reds to counter faster and condense the pitch in a way that they can't with Mignolet. After seeing the benefits of Karius, there's no way that Jurgen Klopp will go back to a traditional goalkeeper even if they're twice the player in the six-yard box.
Alisson's smooth style would seem to fit, but Liverpool did manage to put 7 goals past him in 180 minutes of play and one wonders if we're the only team in the world capable of making him look that vulnerable. Is he going to fare much better against Manchester City or Spurs in critical matches next year? Oblak's Atleti play a pressing, counter-attacking style, but in a Mourinho-esque, grind it out way that would be foreign to Liverpool fans. He's a magician between the sticks, but his outlet passing is not a strength and we're talking about £80 million here. At that level, a 'keeper should be Neuer-plus. Frustrating as the Champions League final was, let's not overcorrect. The funds may be there at the moment, but a month into next season and there will be shouts to fix some other spot in the squad with big money.
WHAT'S THE RIGHT PLAY?
How can Liverpool hedge their bets? How can the club match risk with upside in an intelligent way? A French teenager named Alban Lafont may hold the answer.
"He's good with his feet. He can make two or three saves in quick succession or come out to claim dangerous crosses even if he's been quiet all game. That, for me, is what a top-class keeper is." Bernard Diomede (France U18 coach)
A mainstay for Toulouse since he was 15, Lafont is remarkably experienced for such a young player with 105 starts already, allowing only 129 while learning his trade in an awful team. He managed 11 clean-sheets against some strong Ligue 1 opposition. But, beyond the potential inherent in his youth, his athleticism is what should attract Liverpool. He is one of the few on the continent who can truly wear the "sweeper keeper" badge. Six foot four and quick off his line, Lafont could give Liverpool even more than what they have in Karius purely as an athlete and as an added bonus he hasn't given up two howlers in a Champions League final. Only City faced fewer shots than Liverpool in the Premier League this year, making the ball-playing ability all the more vital to Klopp and Guardiola than it might be for other clubs.
https://twitter.com/footballfutur/status/1001634887152136192
Holding on to Karius and allowing him to compete with Lafont would give Liverpool the chance to test whether or not the German has truly been damaged by his Champions League final experience or if there's still something there. If either proves themselves, then Liverpool would be getting a great return on their investment and in the unlikely event that both fail the loss wouldn't be immense. Let's remember that Karius is on only £25,000 per week, which is more than fine for an experienced back-up if that's what he ends up being for Liverpool. Meanwhile, the Reds would be able to bring along a teenage sensation and give him a chance to prove himself on the biggest stage. Briefly linked to Crystal Palace, Lafont must be gettable for the Reds if they want to make the move.
Michael Edwards is on such a roll, the temptation to keep making huge bets is understandable, but the right time to go all-in certainly isn't every time. The super-keeper sweepstakes of 2018 might be the right turn to sit out.