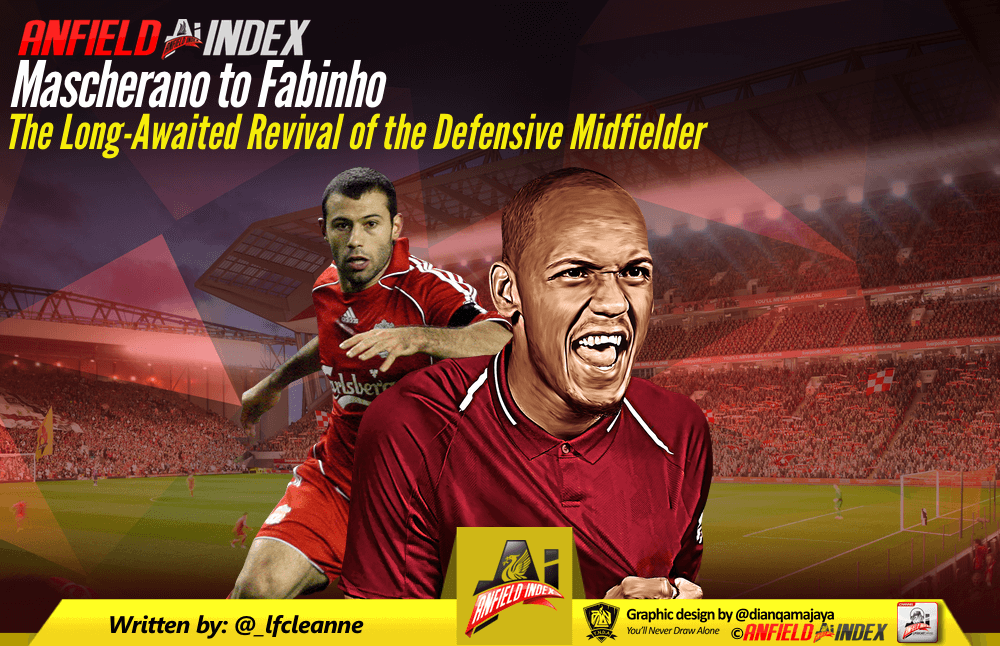 Mascherano to Fabinho: The Long-Awaited Revival of the Defensive Midfielder
Some players are real bastards of the game, plying their trade with the kind of snide and underhanded disregard of the rules that causes outright fury from opposition fans. (See Sergio Ramos for details).
Yet, they're also the type of player you desperately want in your team. A player who'd go the extra mile, commit the cynical foul and take the booking when the team needed it most. Those individuals are invaluable, doing the dirty side of the game to drag everyone else through the mud and out the other side.
That was Javier Mascherano, the king of bastardry.
Arriving at Liverpool after a short stint at West Ham following the birth of his career at River Plate, he played over 100 games for the Reds before moving to Spain, addressing a key weakness within Rafael Benitez's starting XI in the push for European glory.
Albeit only on Merseyside for three and a half years, Mascherano made a huge impact, described as "a monster of a player" by Benitez.
A man capable of retaining possession, always in the right position in relation to his teammates, able to alleviate the pressure and offer a security blanket to the back-four, he was exactly what the doctor ordered.
Just ask Diego Maradona, who described Mascherano as the most important player within the Argentinian squad back in 2008. "Mascherano and 10 others" is hardly bad praise considering the team carried some heavy hitters in Lionel Messi, Gonzalo Higuain and Carlos Tevez.
Delivering monstrous performances, the 33-year-old stared his opponents dead in the eye, halting over-zealous attacking runs from penetrating Liverpool's defence and gaining momentum.
He was the platform that enabled Xabi Alonso, Steven Gerrard and Momo Sissoko to go out and play, creating chances and carving open teams in their own independent style.
With El Jefecito, the little chief, in defensive midfield, everyone in Red was safe in the knowledge that he would be lying in wake, ready to bullishly mow down opposition attackers with unparalleled gumption.
A summer switch to Barcelona in 2010 bust that safety net wide open; Liverpool ceased to replace their midfield terroir, with a multitude of substitutes all failing to live up to the task in the years since.
No one will ever know quite what Roy Hodgson was thinking when he signed Christian Poulsen. Perhaps it was the impressive CV or the pearly gold locks that caught his eye, who knows? A total of 21 appearances for the club gives indication enough of how that experiment fared.
Lucas Leiva, a loyal servant of the club, switched roles in the second attempt to fill the Mascherano-shaped hole. The Brazilian was tasked with being that same madman; snapping into challenges with full force to shepherd danger away from the defence.
There were plenty of boos and jeers, as well as an uncanny ability to pick up a needless yellow card in the dying embers of games but transforming from box-to-box midfielder to defensive patroller, Lucas' willingness to put his body on the line could never be faulted.
Jordan Henderson and Emre Can have both had their own crack at the whip, although neither are what you'd call conventional defensive midfielders. Klopp's system requires his team to play on the front foot, nicking the ball and surging up the pitch to participate in the attack, thus going above and beyond the usual restraints of a defensive mid.
A team capable of many things, such as being the entertainers in the Champions League this season with a record number of goals provided by a scintillating trio, Liverpool still possess an element of fragility caused by the omission of a proper defensive midfielder. Opposition teams are able to wriggle their way through the midfield, running straight at the heart of a defence bereft of a terrier-like Mascherano.
It seems odd to regard a player who was only at Liverpool for a relatively short period as someone who's been so sorely missed. He won't go down in the history books as one of the flashiest players to ever put on the Red shirt, but the 33-year-old may just be one of the most important, with a strict diligence and strong presence in midfield enabling his teammates to express themselves. Flourishing in his presence, the Argentine set the foundations for Liverpool to reach their peak under Benitez.
Now, over ten years on from his arrival on Merseyside, the club have finally secured a fitting replacement to replicate such ruthless snide.
Reportedly destined for Old Trafford, Liverpool swept in to snap up Fabinho despite rife competition across Europe, making a strong statement of intent while finally giving fans the Mascherano replacement they've been craving.
The Brazilian made 39 Ligue 1 and Champions League appearances combined for Monaco in 2017/18, 26 of which were from defensive midfield. In that time, he managed 6 goals and 1 assist, while notching a further goal and two assists in 13 games via a slightly more advanced midfield role.
Fabinho exerts real control over the midfield, able to read the play ahead of him and nip in with timely interceptions to break up opposition attacks before they even begin.
A 6"2 technical bulldog, the defensive midfielder will fill a gaping hole in Klopp's team, completing an average of 3.4 tackles and 1.3 interceptions per game this season. Jordan Henderson boasts the best tally among Liverpool's current midfield crop with 1.9 tackles and 1.1 interceptions per game, stats comfortably surpassed by the Monaco man (Milner 1.8 tackles and 0.7 interceptions).
The 24-year-olds got a bit of a bite, too. Picking up 16 yellow cards in the last two league campaigns, he possesses the bastardy of Mascherano; a player willing to go above and beyond for his teammates, committing cynical fouls when needed in order to blanket those behind him.
Adding steel at the base of the midfield, Fabinho will offer protection and gusto in equal proportion. Energetic in the press with an incredible reading of the game to stifle opposition attacks, Liverpool have finally secured their Mascherano replacement eight years on from his departure.
The fact he's a bit of a bastard only helps his cause.