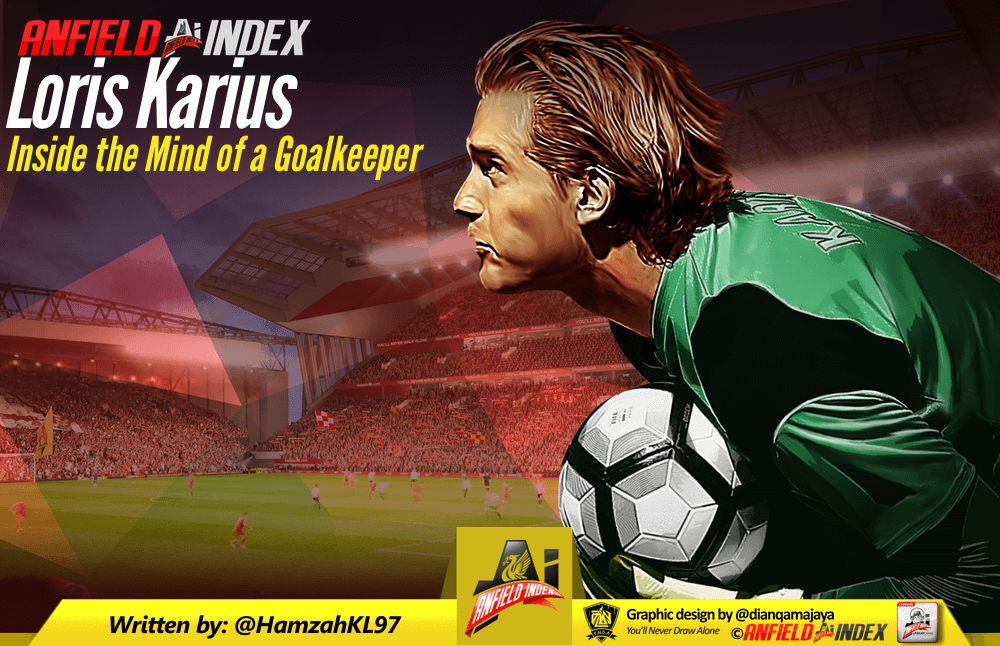 Loris Karius: Inside the Mind of a Goalkeeper
Recently, I found myself reviewing my notes for my FA level 1 coaching course, and came across the FA's "Four Corner Model" of long-term player development. In the four corners are "Technical/Tactical", "Physical", "Social" and, lastly, "Psychological". Very often, we focus on the technical/tactical and physical aspects of the game when we look at or analyse teams and players at the expense of those other two aspects, indeed, there's far more glamour and associability with the technical and physical sides of the game, and I, as a contributor to AI have indeed played to these types, with my writing often focussing upon tactics, positions, and the physical or technical abilities of players. But when it comes to the professional game, the psychological side is perhaps the most important of them all: if we were to drastically reduce a professional player's technical skills, they would likely struggle, but, providing they retained their physical attributes, they could probably still feature as a footballer in some capacity – players with great strength or straight-line speed have played for some of the top clubs in the Premier League without really having that technical ability. Similarly, there are players of immense technical quality who have also made it at the top level, without the physical attributes that you would expect from a footballer – the diminutive Leo Messi has put his case forward to be perhaps the greatest player of all time, despite his obvious physical disadvantage. But should we take away the psychological side of a player's game, or even reduce it, the player suddenly is not a player at all.
The pressure upon footballers at top level clubs is likely unimaginable, but I shall try to quantify it nonetheless. Every single stadium is a pressure cooker, packed with people whose support for the club completely contravenes rationality, and who would all swap places with any player on the pitch in a heartbeat.
Each misplaced pass is bemoaned. A pass backwards may even be derided. An error leading to the goal is heinous.

The striker is so often the hero. The player with the ability and largest likelihood to win the game and secure glory. The striker is fortunate too, for there is almost always another shot at redemption. At the other end of the pitch though, it's an entirely different story.
Upon a goalkeeper's shoulders lies the constant weight and responsibility to perform flawlessly. There is no margin for error. Whilst a striker can miss-hit a shot, and have another crack later on, a goalkeeper cannot afford to fumble a cross, for it's far more likely to be punished. The expectation upon goalkeepers is huge. Claim aerial balls. Organise the defence. Step up to intercept or cut out through balls. Pass accurately, and do not let the opposition forwards intercept it. Make saves. Save the unsaveable.
It's very easy for a goalkeeper to think negatively:
"I can't concede today"
"I've got to save this penalty"
"Don't mess up this goal kick"
Every time the ball is near the goalkeeper, it's extremely hard to be positive, for being a goalkeeper is an inherently reactive role. There are very few opportunities for creativity, let alone atonement.
Loris Karius has found himself in a similar situation during his time at Liverpool, so far. Karius came in, a young and promising goalkeeper, with a respectable but not prominent reputation. An injury led to him being sidelined early on, but upon his introduction to the starting XI, he struggled to make his desired impression. A season passed by, and Liverpool fans had still not yet seen much of the German goalkeeper. In the last three months of the 2016/17 league campaign, Simon Mignolet stepped up and produced some of his best performances in a Liverpool shirt consistently, and earned the right to at least compete to be Liverpool's goalkeeper.
Having purchased Karius though, Jürgen Klopp kept faith and offered him a crack at laying claim to the starting goalkeeper spot in December of 2017. Karius thus far had been competent in the Champions League, but largely untested, and fans were still largely ambivalent with respect to whether Karius was or is good enough for Liverpool FC. Conceding a near-post goal from Sané's vicious shot, in a mad and manic 4-3 home victory against Manchester City did not help, but as the season progressed, and Van Dijk entered the defensive scene, Karius started to show a bit more composure and confidence, and with that, his performances seemed to improve too.
Karius was no Iker Casillas but was starting to make saves in key moments. The expectation and pressure to prove himself as the de facto number one finally seemed to be falling away, and the real Loris Karius seemed to be emerging. A fine save against Everton sticks out in my mind, as one of his best. Karius was no longer making the saves he was expected to make, but also the ones he wasn't expected to do so.
Karius seemed lighter on his feet, liberated and confident. His position as Liverpool goalkeeper was secure. His defence was solid. He had the confidence of the manager, team, and generally, the fans were tending towards positivity with him.
Amidst Liverpool's mauling of Roma at Anfield though was a reminder of the precarious life of a goalkeeper. Karius completely misread a ranged effort, and somehow directed it onto the crossbar. Those at Anfield mostly thought it was a stunning shot, however, for those watching on television, it was clear Karius had got away with a stroke of luck.
Goalkeeping is a curious thing. You would expect it to be a challenging role, but one where there is a lot of standing around and time to relax or rest. It's entirely the opposite though. Anyone who has played as a goalkeeper to a decent standard is aware that goalkeeping is the most mentally draining position on the field. Threats lie everywhere. There are no opportunities to have a break, for utmost concentration is essential. As soon as the ball is in a wide area, or within 35 yards of goal, a goalkeeper has to be on full alert. Instantly, a goalkeeper will shift onto their toes, bend their knees and raise their hands. The goalkeeper might also check their positioning, then the positioning of every opposition player ahead of them, and also every teammate.
"Where's the ball?"
"Where's the space?"
"Who's covering the far side?"
"Watch the option on the left, but be wary of the short pass to the right."
The goalkeeper is on edge at this point, as the ball moves towards goal. The goalkeeper is primed and constantly assessing and evaluating possibilities. The ball is cleared. The goalkeeper drops their arms and appears to relax, and whilst the goalkeeper may not have moved much, the instant on-off nature of concentrating and focussing is mentally tiring. The same processes happen every time there's a potential threat. Goalkeepers may finish a game without a bead of sweat on them but maybe mentally worn out, from focussing on the game for a full 90 minutes.
Being a goalkeeper is an all-pervasive mindset. It requires total concentration, mental clarity and decisiveness. It is a constant self-critique, and can all too often be unrewarding – a goalkeeper may make zero mistakes, yet still find themselves picking the ball out of the net multiple times in a match, such is the nature of the game, and it's the mental resilience of the individual player which separates the good goalkeeper from the great goalkeepers.
Come the 26th May, Loris Karius had all of this to deal with, but every single aspect was dialled up to the maximum. Real Madrid had goal threats in every single area of the pitch. From left-back to right-wing, Madrid were brimming with players with the ability to punish the most minuscule of mistakes.
This pressure alone is enough to make most players crack, but once we factor in a head injury, now revealed to have been a concussion – likely a result of an off-ball foul made by Real Madrid captain Sergio Ramos, on Karius – we begin to see why goalkeeping really is the hardest role on the pitch.
Goalkeepers, more than any other player are supposed to be a constant, a rock, a touchstone of reliability and stability. Having taken the knock to the head, and it being a Champions League final, with Mo Salah having already left the field injured, I am sure in my mind, it would have taken a debilitating incident for Karius to have come off the pitch, even if he did not feel right after Ramos elbowed his head.
The foul, the concussion aside, almost certainly had a psychological effect on Karius. As a goalkeeper, he no longer felt like he was being treated fairly. The official next to the goal, the linesman and the referee failed to pick up the foul on him; insecurities began to creep in.
Instead of being able to focus on the game, now, in the back of his mind, Karius would likely have had a niggling slight about the foul. In a game and position which needed full concentration, Karius was not able to do so – and this was most probably not his fault either.
Nobody willingly goes off in a Champions League final if they can stay on, and for Karius to do so is more than admirable. But the concussion likely impacted his decision making, and in some way probably contributed to him throwing the ball into Benzema's path. We can't say for certain, of course, but we should at least empathise with Karius, and understand his predicament.
Indeed, as Klopp mentioned in his post-match presser, he believed had Karius not made the first mistake, he likely would not have made the second either, as the weight of a mistake weighs heavy on a goalkeeper, and I can speak from experience too: as a young goalkeeper for my school, I made a poor error from a direct free kick in a cup match. I struggled to shake it out of my mind, and from the same position only 15 minutes later. For the two years following those errors, I dreaded facing free kicks on the edge of the area. Goalkeeping is an unforgiving position, and it all relies upon a clear, confident, decisive mind, backed up by those technical and physical aspects.
For Karius, having being diagnosed with a concussion may actually prove to be a genuine relief in the long-term for him. Those errors, as bad as they may have seemed, were probably not his fault. Indeed, in those 32 minutes between minute 51 and 83, he made more mistakes leading to goals than he had in his previous 32 matches. Karius now has something to blame, and the road to mentally coming back from conceding two very preventable goals may be much easier than it would have seemed a week ago.
For most players, conceding two as Karius did could spell the end of a career at the highest level, and even be career-defining, if they aren't resilient enough. But Karius now has an opportunity to really prove his mettle, in what will likely be the biggest challenge of his career, facing his own inner demons. The only solace he may find might come from the fact that he was not entirely responsible for his performance in the final, but it is a long and hard way back for any goalkeeper.
Should he prove to himself that he is good enough to be Liverpool's number one, Liverpool will have a keeper of the highest mental robustness for years to come. But that is something only Loris Karius can do.
Who would be a goalkeeper…