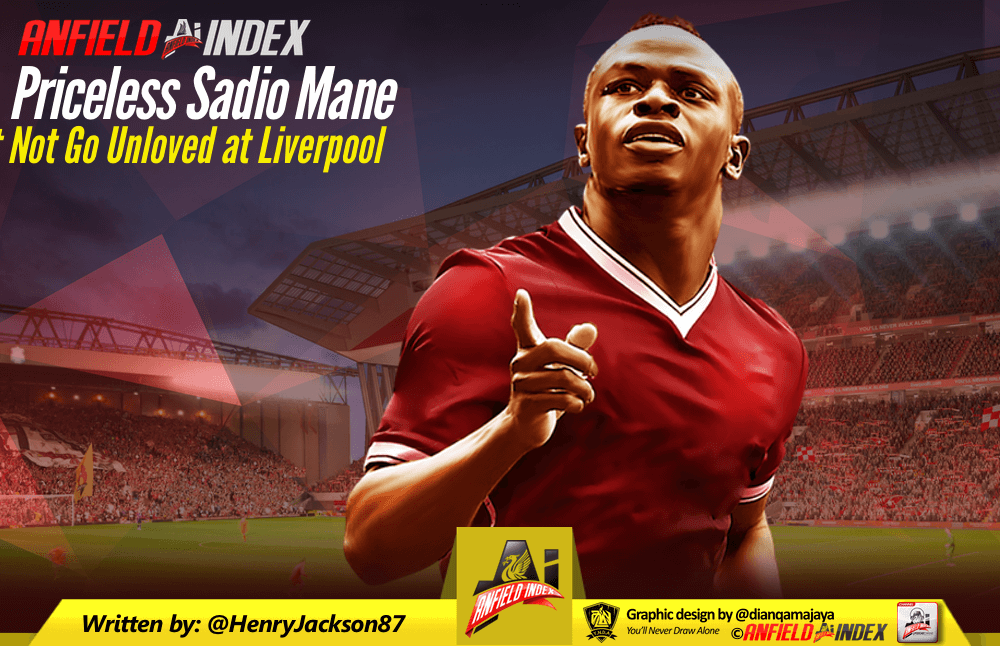 Priceless Sadio Mane Must Not Go Unloved at Liverpool

Football moves at a relentless pace.
It only takes a string of good or bad performances to completely alter an opinion on a team or a player, with the modern game as knee-jerk as it has ever been.
When it comes to Sadio Mane, this definitely applies, even though any sane Liverpool supporter knows full well how brilliant he is.
He has been a revelation since joining from Southampton, becoming a key component of Europe's most fluent, devastating attacking unit, scoring 33 goals in 73 appearances.
Mane has more than justified the £30million paid for his services, and the fact that Real Madrid have been linked with signing him is proof of his quality.
With his future, albeit very loosely, up in the air, it begs the question: do we love and appreciate Mane enough?
Just 18 months ago, the 26-year-old's participation in the Africa Cup of Nations felt like the fatal blow to Liverpool's hopes of glory in 2016/17.
The Senegalese speedster had excelled in his first half-season at Anfield, and his performances were the key reason for Jurgen Klopp's side being in a title race with Chelsea.
Philippe Coutinho was the easier, more mainstream choice as Liverpool's star man, but Mane's influence was unrivalled at the time. There was nobody else like him in the squad, and the Reds felt one-dimensional without him around.
His departure to Gabon in that January of 2017 saw Klopp's men lose all their pace, unpredictability and goal threat, and they endured a horrible month because of it.
Just one win was recorded in eight matches, away to Plymouth Argyle in the FA Cup third round, and Liverpool's title challenge evaporated.
Their domestic cup dreams also went up in smoke – Wolves knocked them out of the FA Cup at the fourth round stage, while Southampton prevailed in the two-legged League Cup semi-final – with Mane's enforced absence the key behind the slump.
Liverpool eventually limped over the finish line in the top-four battle, grinding their way to victories and failing to play the level of football that existed earlier in the campaign.
Once again, Mane's season-ending against Everton on April Fool's Day was the catalyst behind this, with Klopp having to make do without the African for the remaining eight Premier League games.
Heading into 2017/18, Mane was again touted as the man to spearhead Liverpool's season, as they looked to seal another top-four finish and go on a strong Champions League run.
His early-season form was majestic, with superbly-taken efforts against Watford and Arsenal sandwiched by a match-winning strike at home to Crystal Palace.
All of a sudden, however, the wheels came off.
Mane's unlucky sending off at Man City seemed to completely disrupt his momentum and rhythm, and his confidence appeared shattered for an extended period of time.
A hamstring injury in the autumn didn't help either, and his inexplicable decision to shoot instead of squaring a pass to Firmino in the derby at Anfield summed up his apparent malaise.
At the same time, Mo Salah was quickly becoming the new darling of the Kop, scoring for fun, and Roberto Firmino was proving to be a wonderful support act.
Coutinho was still working his magic, prior to upping ship and joining Barcelona, and Mane suddenly felt like the odd one out in the short-lived 'Fab Four'.
This brings us back to the knee-jerk nature of modern football.
It only took a few months of patchy form for the masses to turn on Mane, and he found himself being blamed for any attacking display that failed to click.
He wasn't playing well, but it was reckless for opinions to have changed so much, less than a year after he had been the first name on the team-sheet.
Thankfully, Mane found his feet impressively once Christmas had been and gone, and we saw him back to his best by the time the season came to an end.
He was comfortably Liverpool's biggest threat in the Champions League final defeat to Real Madrid, standing tall while others around him went missing in the post-Salah-injury period, and fired home the equaliser on the night.
Similarly, away to Roma, he was comfortably a greater influence than both Salah and Firmino combined, netting the opener at Stadio Olimpico, as well as scoring in the first leg.
Add to that a crucial strike against Manchester City and a ruthless hat-trick in Porto, and it's fair to say Mane was an integral part of Liverpool's memorable Champions League run. He was the only player to score in every round of the competition.
From the 2-1 win at Burnley on New Year's Day onwards, Mane found the net 13 times in 26 matches, laying on three assists in that time, too.
His unplayable attacking zest returned, and the low-key figure that had been on show in the weeks and months after his red card at the Etihad was long forgotten.
Hopefully, these Madrid reports that have surfaced earlier this week have made supporters sit up and realise how much Liverpool need Mane. His exit would hurt, should an unlikely move materialise.
There is a feeling that he is being under-appreciated because he wasn't always at his most devastating in 2017/18, and because Salah and Firmino, as well as the likes of Trent Alexander-Arnold, Virgil van Dijk and Andy Robertson, grabbed more headlines.
Moving forward, Mane may well end up being the least important of the three attackers, but let's not forget how many felt he was Liverpool's leading man this time last year.
And who's to say Salah or Firmino won't suffer a similar dip at some point next season?
Liverpool have a close-to-world-class player in their ranks in Mane, and he can become one of the best in the world in his position over the next few years.
He is going to be so vital to the Reds' future success, and losing him would make them significantly weaker.