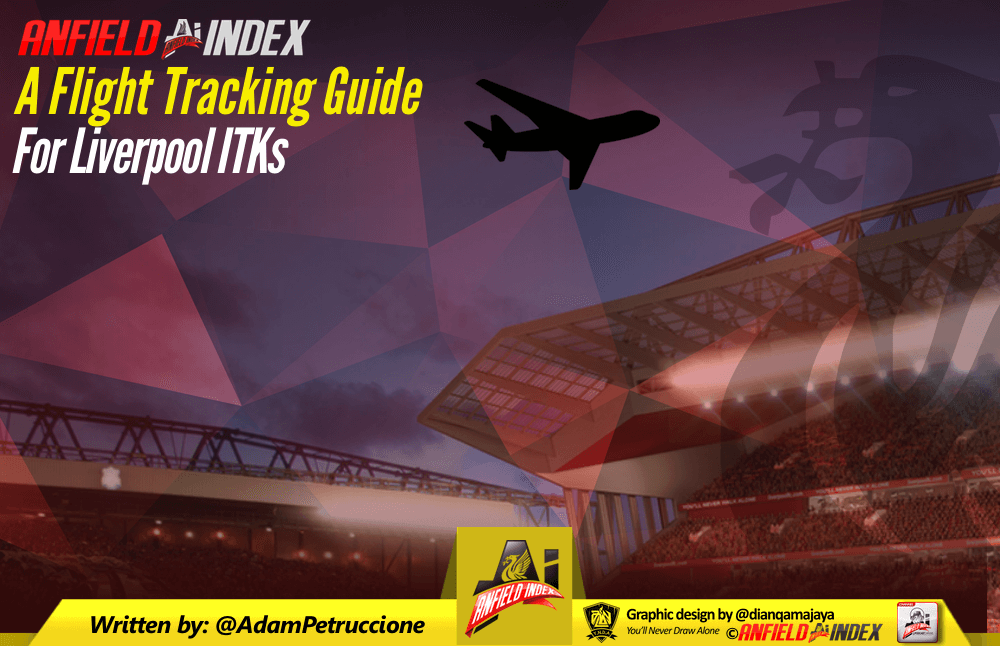 A Flight Tracking Guide for Liverpool ITKs
Trees in their full viridian pomp, flowers bursting into bloom; these are the first indications that summer is finally upon us.
Signs that the summer transfer window is in full swing are a little more subtle. TheFirm waking up from his winter hibernation, sending his first tweets of the season… FSGOut'ers brushing the dust off of their net-spend calculators…
The summer window hasn't officially started though until there's the first full-fledged private jet chase of the season. A note to the newly minted ITK's; do not take your first foray into flight tracking lightly. There are formalities and rules to the process and if they're not followed you can end up embarrassed and barred from polite society.

Like an English fox hunt, there are long-held ceremonies and procedures that you simply must know before you track your fist Gulfstream. So make sure your britches buckled and your boots strapped because we're going on a jet hunt.
FERTILE HUNTING GROUNDS
Why is it that LFC Twitter has become notorious for their expert tracking skills while other supporter groups scoff at such behaviour? The simple fact is that it's actually possible to get the jump on Liverpool transfer news rather than say, Chelsea or PSG. London or Paris have private jets flying out of their airports all day, every day to locations all over Europe and even places further afield.
If a private jet is landing in Liverpool or even more so, in Blackpool, there are decent odds that it has something to do with the club, whereas a plane landing in Luton or Biggin Hill isn't really evidence of anything. Spot an aircraft on approach that originates from a point in Europe which is home to one of the Reds' key targets and you may have hit the ITK jackpot!
Liverpool's last two major signings, Virgil van Dijk and Fabinho, were both flown in and out of Blackpool Airport (BLK/EGNH). To the trained flight tracker, these jets are fairly easy to spot. The sleepy airstrip is usually frequented by hobby aircraft. A corporate jet sticks out like a Maybach rolling through Bootle.
WHAT TO LOOK FOR
The most popular flight tracking websites are flightaware.com and flightradar24.com. If you're on the lookout for aircraft coming into Liverpool's John Lennon Airport the first step is to sort through all of the commercial flights and spot the private planes. The easiest giveaway is the aircraft type.  Commercial aircraft will all be on some type of Boeing or Airbus aircraft typically. These are indicated by B737 (Boeing 737) or A320 (Airbus 320). In contrast, private jets are usually Citations, Gulfstreams or Challengers. Look for aircraft type like C560 (Citation Bravo) or C56X (Citation Excel). To narrow the scope even further, Liverpool have been using light jets (5-7 seats) for signings from England and midsize jets (7-8 seats) for signings from Europe.
On Thursday night as news started breaking that a Nabil Fekir deal was close or already done a jet flew from Paris to Liverpool, but this was likely LFC's medical staff rather than the player himself. The clue is that the aircraft was a Citation Mustang, a small, four seater that wouldn't be typical for Liverpool to transport a major signing.
BREAKING. A private jet arrived on Liverpool approximately 90 minutes ago from Paris. pic.twitter.com/GDcbDUg3Vy

— DaveOCKOP (@DaveOCKOP) June 7, 2018
It's likely that Nabil Fekir was already in and out of town without anyone noticing. Last weekend French reports came out that that Fekir was in Liverpool to finalize the particulars of his deal and lo and behold a flight came in from Nice (where the French national team were training) and then flew back out to Paris where LFC staff were reported to have met with the player on Thursday. Not only is Michael Edwards a wizard at the transfer window, he's becoming a magician at sneaking new signings in to Liverpool without anything leaking out.
https://twitter.com/AdamPetruccione/status/1003361180612734976
In the case of Blackpool, rather than sorting through commercial flights, you'll have to check through hundreds of two-seater flights before you find anything of interest. In terms of aircraft type, an SR22 is a typical plane you'll see going in and out of Blackpool, but that type of aircraft might be used to fly in someone on the level of a Cenk Tosun, but it wouldn't be acceptable for any Liverpool signings.
The originating airport is also a major clue. One challenge with this transfer window is that the Reds' targets are in high-end vacation destinations. A private jet coming into Liverpool from Bordeaux, Nice or Naples in June is definitely worth checking out, but there's a shot it's just your average millionaire coming back from a Mediterranean vacation or even a current player coming back from a family trip. But, if there's a flight coming from an uncommon airport for a private jet, like Lyon or Dortmund to Liverpool/Blackpool… well then it might be time to ring the ITK alarm bells and click those google eye emojis like they're going out of style.
Remember, people who are lucky enough to fly private jets do so for the extreme convenience of it. If you're expecting a certain Lyon forward to rendezvous with Jurgen Klopp in Blackpool, he will absolutely not fly in from Geneva, Switzerland. If it's a close match, but not exact… it's not worth tweeting.
LET'S GET SLEUTHY
Maybe you're not a computer guy. Maybe you want to ring up the staff at Blackpool to get the inside scoop yourself. People in the private jet industry are a surprisingly chatty bunch. The thing is you'll need to know the lingo in order to cosy up to an aviator. First, they never use the actual name of an airport, just the three letter code. Second, when you're talking about the tail-number of a specific jet, you have to use the phonetic alphabet or they'll laugh you out of the room. So if you're asking about a jet with the tail-number G-505BC, you would call it "five-o-five-bravo-charlie."
Are you one of those Sprinter Van stalkers? It's not enough to know the date when a new signing is being brought in; some people want to know the exact moment their Mercedes van is going to drop them off. Well, I would recommend spending some of that free time with your kids, but if you must, the car isn't going to pick them up from the arrivals gate. It would pick them up from the special private jet hangar, called an "FBO." Airports that service a lot of private jets have several, but John Lennon only has one; the aptly named, Liverpool Aviation Services.  In Blackpool, the FBO is called Blackpool Ground Handling.
If you're a real-life journalist and not a pretend one like yours truly, then you might want to send a week's worth of Nando's over to the staff at Blackpool Ground Handling to see if they'll be nice enough to tip you off to the next private jet landing.
They'll probably just eat the Nando's and never tell you anything… but hey, it's either that or wait for James Pearce to confirm our next signing and who wants to do that?
Happy hunting!