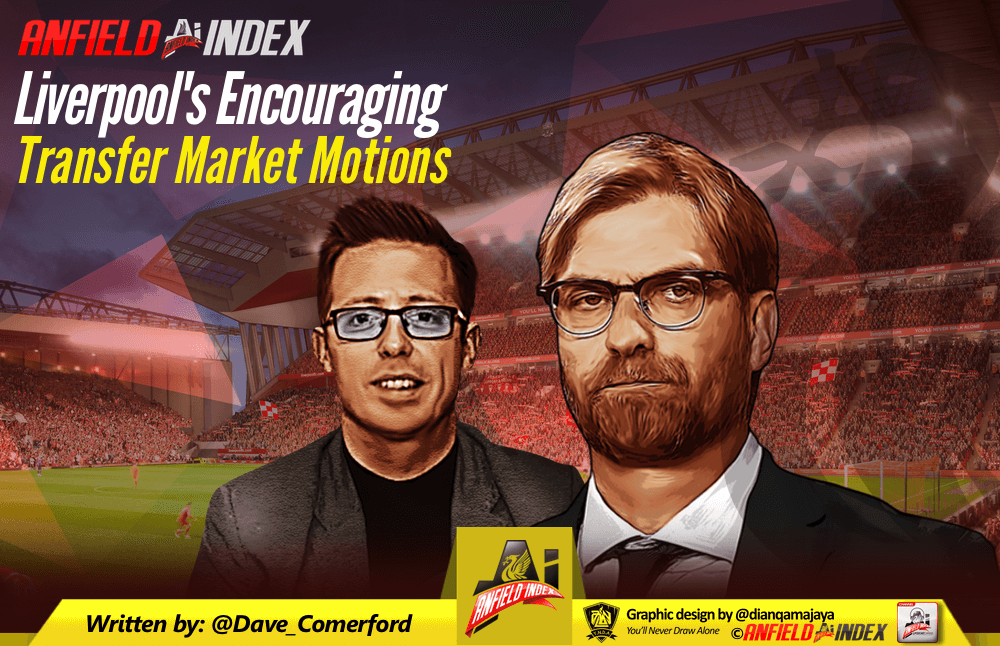 Liverpool's Encouraging Transfer Market Motions
The summer transfer window remains in its infancy but already there is cause for excitement as Liverpool look to wrap up their summer business in alarmingly swift fashion.
Jürgen Klopp wants his squad complete by the time it convenes for pre-season training at the beginning of July and if the club's present efforts to address their outstanding weaknesses prove successful, that squad might just be closed to the finished article.
No window is insignificant by any means but this one represents an excellent opportunity to build something truly special off the back of a staggering run to the Champions League final.

Progressively, weaknesses are being turned into strengths. The process began last summer with the eventual capture of Naby Keita in a pre-contract agreement. A midfield which often lacks vivacity is set to come alive on the introduction of a box-to-box powerhouse who will also inject a certain steeliness into a side which has been too polite on occasion.
Step two was Fabinho, who went from a target to a shirt-holding Red in a heartbeat. His arrival seems another leap towards the defensive solidity we have long pursued since, owing to his strength, athleticism and statistically-proven effectiveness in the tackle, he should be able to protect the back four better than skipper Jordan Henderson can, whilst matching his distributive capabilities.
Step three, it appears, will be Lyon attacker Nabil Fekir. Strangely, the Reds excelled even in the absence of Philippe Coutinho, but at times they did miss his renowned creativity and penchant for the spectacular.
There is a widespread confidence that the Fekir deal will be done (at time of writing) as the player looks to force his desired move, and if indeed an agreement can be reached, the Reds will not only have themselves a quality player but also remarkable depth in their midfield options. Having coped without Coutinho, they are being somewhat greedy in their pursuit of the £60million-rated Frenchman, and that is welcome.
Meanwhile, with Loris Karius' confidence likely in tatters, the hunt for Roma 'keeper Alisson has reportedly been renewed, though predictably Mohamed Salah's former owners are playing hardball. The question of 'stick or twist' in the case of Karius has divided the fanbase, but few would dispute the suggestion that the Brazilian number one, after a superb season for Roma, would be an upgrade. Alisson, the revitalised Lovren and the majestic Van Dijk – that is a trifecta which could snuff out the very best attacks.
Perhaps an even more important weakness, also magnified in Kiev, is a lack of attacking depth. Liverpool were fortunate that their attacking trio escaped any long-term lay-offs last term, yet when they were unavailable, the inadequacy of the current back-ups was clear to see.
But even at this stage moves are being made to rectify it. Interest in Xherdan Shaqiri and Moses Simon has emerged this week and while neither rumour is particularly awe-inspiring – the first prompted many to ask 'why?', the second to ask 'who?' – it is very difficult to find many players of a higher level who will accept what will quite obviously be very limited game time and whose clubs will not demand exorbitant fees. Indeed, dream options Ousmane Dembele and Christian Pulisic may not be realistic.
Shaqiri has the attributes – pace, power, creativity and set-piece prowess – and the Premier League experience to slot nicely into a prolific attack when required. Yes, there are question marks over his consistency and his attitude, but you cannot argue with the impressive attacking returns he has delivered in a deteriorating Stoke side for a number of years, and this move would surely be an energising change.
He has proven himself to be a real menace with explosive game-changing potential and, for a meagre £12 million, is perhaps worth a punt. After all, the club's most recent purchase from a relegated outfit turned out very well indeed.
Simon, meanwhile, will be 23 at the start of the season so is already a good way into his development, but you have to imagine Klopp would significantly speed up that process. He may not be a player that many, myself included, are familiar with but a quick search reveals a decent attacking output and a reputation for pace, surprising strength and top-notch dribbling. In a historically mental market, the mooted price tag of £10million is virtually nothing.
Liverpool may well sign both, one or neither. It may just be interest and nothing more. They may be plan Bs or Cs. But the main point here is that, clearly, Klopp is no longer taking the chances he took last summer, he has accepted the need for cover and is after players who, whilst a little rough around the edges, are broadly in the right mould. And he is also searching for bargains, which may well be necessary if the headline deals are to be pulled off.
If the last few windows have revealed anything, it is the importance of trusting his judgement.
The German is out to plug the gaps in a squad standing on the brink of silverware. If he can bring in a new goalkeeper, finalise the midfield transformation and dramatically bolster his attacking depth, he might well have the tools to lead his side to glory.