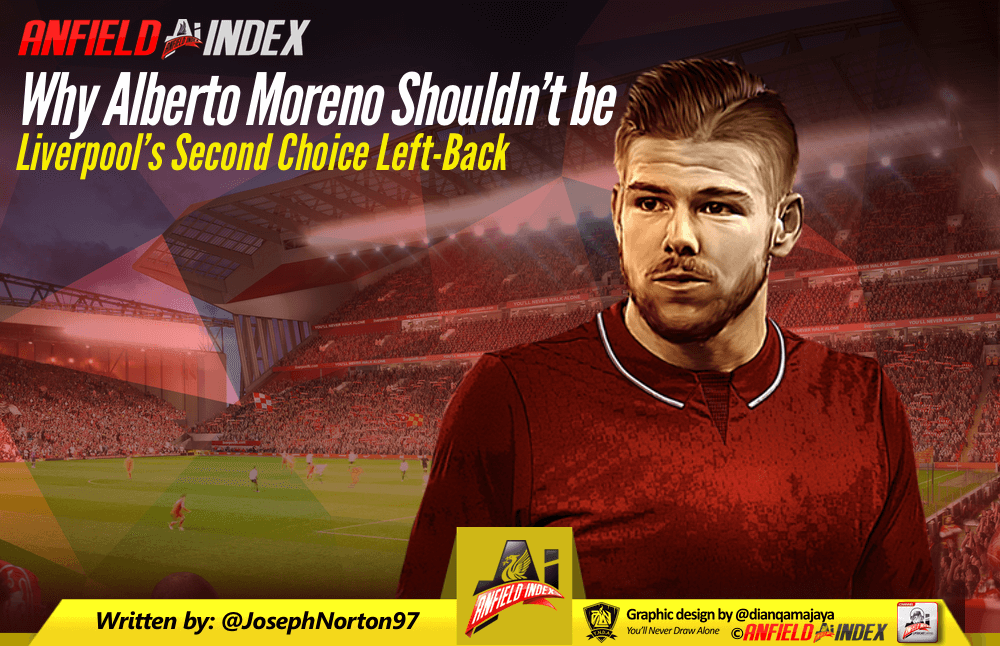 Why Alberto Moreno Shouldn't be Liverpool's Second Choice Left-Back
Despite a strong start to the season last time out, Alberto Moreno finds himself as Liverpool's second choice left-back – largely through no fault of his own. Our flying Scotsman, Andy Robertson, has been everything we've dreamt our left-back would be for the past six years. He's solid defensively, positionally sound and poses a real threat going forward. His link-up play with the likes of Sadio Mane, James Milner and Roberto Firmino is brilliant. Although Robertson has been superb since coming into the side, due to our exploits in the Champions League there has been times when the Scot has needed resting and unfortunately we've seen the Moreno of old return. Questionable positional play, rash decision making and poor end product. The Spaniard has always struck me as a player who needs rhythm to get the best out of himself and as Liverpool's second choice he's definitely not going to get that. As a result, Moreno should be sold and replaced by a player who Klopp can rely on to come into the odd games and deliver seven out of tens every game. Albie is far too unpredictable to be our backup left-back going into next season. 
When we compare the two players statistics from last season, they are pretty closely matched. If we look at things from a defensive sense first, Robertson is more aerially dominant, winning 56.52% of aerial duels per 90 compared with Moreno's 34.62%. As Trent and Clyne aren't great in the air either it is important the Reds have a left-back who is more than capable of winning his fair share of aerial duels – this is not the case with Moreno. It is Albie who has a better record with total duels per 90 though, winning 50.42% compared with Robbo's lowly 39.39%. Although this statistic might be fairly surprising, we have to remember that Robertson's defensive style is based on dictating where he wants the attacker to go rather than trying to make extravagant tackles which may begin to explain why he does worse in this category compared with the all-action Spaniard. Moreno's biggest defensive problems aren't highlighted by these statistics though, it's his rash decision making, lack of concentration and suspect positioning which are of main concern. We saw in the games at the end of the season against Stoke and West Brom that when the Spaniard hasn't had much playing time these bad habits tend to creep back into his game. Although many will argue judging him on a handful of performances when he's been sitting on the bench for so long is unfair… isn't that what a back-up is expected to do? Come into the side having not played much football and deliver instantly. It's one of the hardest skills in football to do and it takes a special kind of player to be able to do it effectively, for me Alberto Moreno doesn't possess these traits.
Again looking at the statistics from an attacking perspective, the two players are fairly closely matched. Moreno has the higher successful take-ons out of the two with 66.67% compared with Robertson's 56.25%. However, when we delve into the two's ability to influence play in the final third, it is Liverpool's number 26 who really shines. Robertson's xA90 (expected assists) is 0.22 compared with Moreno's 0.06. His xGBuildup90 and xGChain90 are also considerably higher than the Spaniards at 0.44 and 0.55 compared with 0.32 and 0.39 respectively. What these statistics demonstrate is how much more effective Robertson is in the final third, backed up by the fact he made 5 assists last season in 22 Premier League games. Although Moreno managed 3 assists in 7 starts, he lacks the ability to consistently provide quality service to the midfield and front three. Robertson has developed a brilliant relationship down Liverpool's left with midfielder James Milner and winger Sadio Mane with the trio regularly combining to open up defences. Who can forget the Scots' pinpoint cross to Firmino against Watford at home and his assist for Mane to seal a 4-1 win at home to West Ham following a brilliant flowing move down our left? When Robbo first came into the side he crossed the ball far too frequently and found it difficult to form relationships and combinations down his side. He's now developed the ability to regularly link-up with his teammates and thread balls through the oppositions lines. Although Moreno can do this as well, he is nowhere near as effective at doing this and often makes poor decisions in the final third which can be infuriating at times. As mentioned before, he seems to need a run of games in the side to get his rhythm before we see him making the correct decisions on a regular basis. This simply cannot be the case for a backup player. When called upon, they have to deliver. 

Although we must remember that Moreno's injury which he sustained in early December will have clearly impacted on his performance as it is never easy to return from a fairly lengthy injury. For me, we have seen the Spaniard make far too many mistakes and bad decisions over his Liverpool career for Klopp to trust him as our back-up for Robertson. If Moreno is to remain at the club he needs a good pre-season to develop rhythm and Klopp must trust him to play when needed to ensure he gets the very best out of both left-backs. Moreno has shown that when he thinks about the defensive side of the game he can be relied upon but he needs to do this more consistently and of greater importance is being able to do it without having regular game time. For me a new second choice left-back needs to be brought in, however, Klopp may decide recruitment in other key areas are more important, therefore, there is every chance Moreno faces the challenge of becoming a reliable back-up left-back for Liverpool. An extremely important role if we are to challenge on multiple fronts next season. Let's hope he delivers.